The Falcons are gullible laughingstocks for letting Michael Vick retire in Atlanta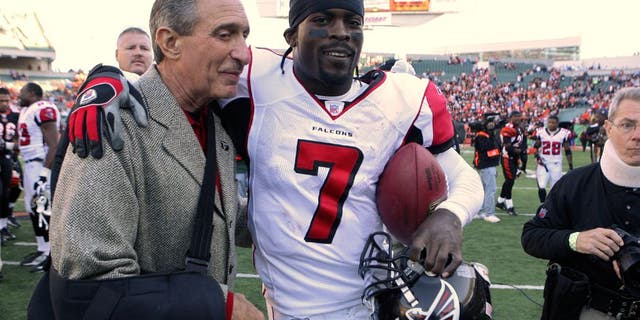 NEWYou can now listen to Fox News articles!
Showing that the bad decisions didn't stop with Kyle Shanahan's play-calling in the Super Bowl, the Atlanta Falcons announced Friday that superstar-turned-inmate Michael Vick, who took a $130 million contract from the team and reciprocatedby lying about his involvement in a dogfighting ring that eventually sent him to federal prison, willbe honored and feted with a retirement ceremony so he can call it quits as a member of the franchise he nearly brought to ruin.
We consider all former Falcons to be Falcons for life, and part of our family, said owner Arthur Blank in a 600-word statement that made no mention of dogs, fighting, jail, suspensions or why a "household name" who "generated excitement throughout the city of Atlanta" with his "historic" play and "legitimate dual-threat" talent played only six seasons for a team that deemed him so important that they'll hold a special ceremony so he can be recognized for those six years when he wasn't a convicted dog killer.
In a blatant attempt to mitigate any criticism of celebrating a felon whose biggest contribution to the team was getting suspended just in time for the team to take Matt Ryan in the 2008 draft, the Falcons also announced that former wide receiver Roddy White would receive the same honor. It didn't work. The Falcons could haveincluded Donald Glover, Outkast and the entire 1995 Atlanta Braves in the ceremony and it'd still be all about Vick.
Getty Images
"Both men have made a huge impact on my family, our franchise and this city," Blank said, in the only logical part of the announcement, though probably not for the reasons intended.
I wonder, would Blank, the Falcons and the people of Atlanta feel as compassionate toward Vick if hisimprisonment had sent the team careening down apath of mediocrity rather than leading to the most successful era in franchise history? If memories of Vick winningat Lambeau and those brilliant Nike commercials were the last fond memories for the team, is Vickback to get glad-handed by Blank? The team seems drunk on its (disastrous) Super Bowl appearance and the headiness of the last decade so much that it's willing to call up the old flames who burned itand offerabsolution with no strings attached.
There are ways to forgivewhile showing you don't forget. The Falcons did that in January, when they made Vick one of 30 former players invited back for the team's final game in the Georgia Dome. It got a little bad publicity at the time but not much as he was just one of dozens. Now that he's one of two and it's more than a Week 17 walk-on, it's harder to justify.
Atlanta is notablynot letting Vick sign a one-day contract, the way most players do in these ceremonial retirements. So if he's not afforded that honor, then why a ceremony at all? Why even make it an issue? Nobody would have been clamoring for Vick to retire as a Falcon or criticized the team for not allowing it.
Look, I'm not saying Michael Vick should be treated like a leper, shunned for the rest of his life and disowned for his stupidity in financing dog murder, not distancing himself from people who brought him into it and then lying to Blank's face about all of it. Vick has been a model citizen, at least in public, since getting out of jail. He played seven additional years in the NFL without incident. The man has a long life to live and shouldn't be fully defined bywhat he didin his mid-20s. But there's forgiveness and there's impotence, and letting Vick essentially dictate the terms of this event, which he apparently did in January by floatingthe idea of a ceremonial retirement with Atlanta, isfar closer to the latter.
Blank once played Florence Nightingale to an injured Vick by pushing him onto the field in a wheelchair. He invited Vick over to his house and treated him like a son. He gave him the richest contract in NFL history. Then, a few years later, Vick would repay hisowner and friend by lying when the law started closing in on him. The only one who seems to forget this is Arthur Blank. He'sthe patsy once again.
Brad Penner-USA TODAY Sports | Brad Penner