The Eagles and Rams defied logic in their quest to land a 'franchise' quarterback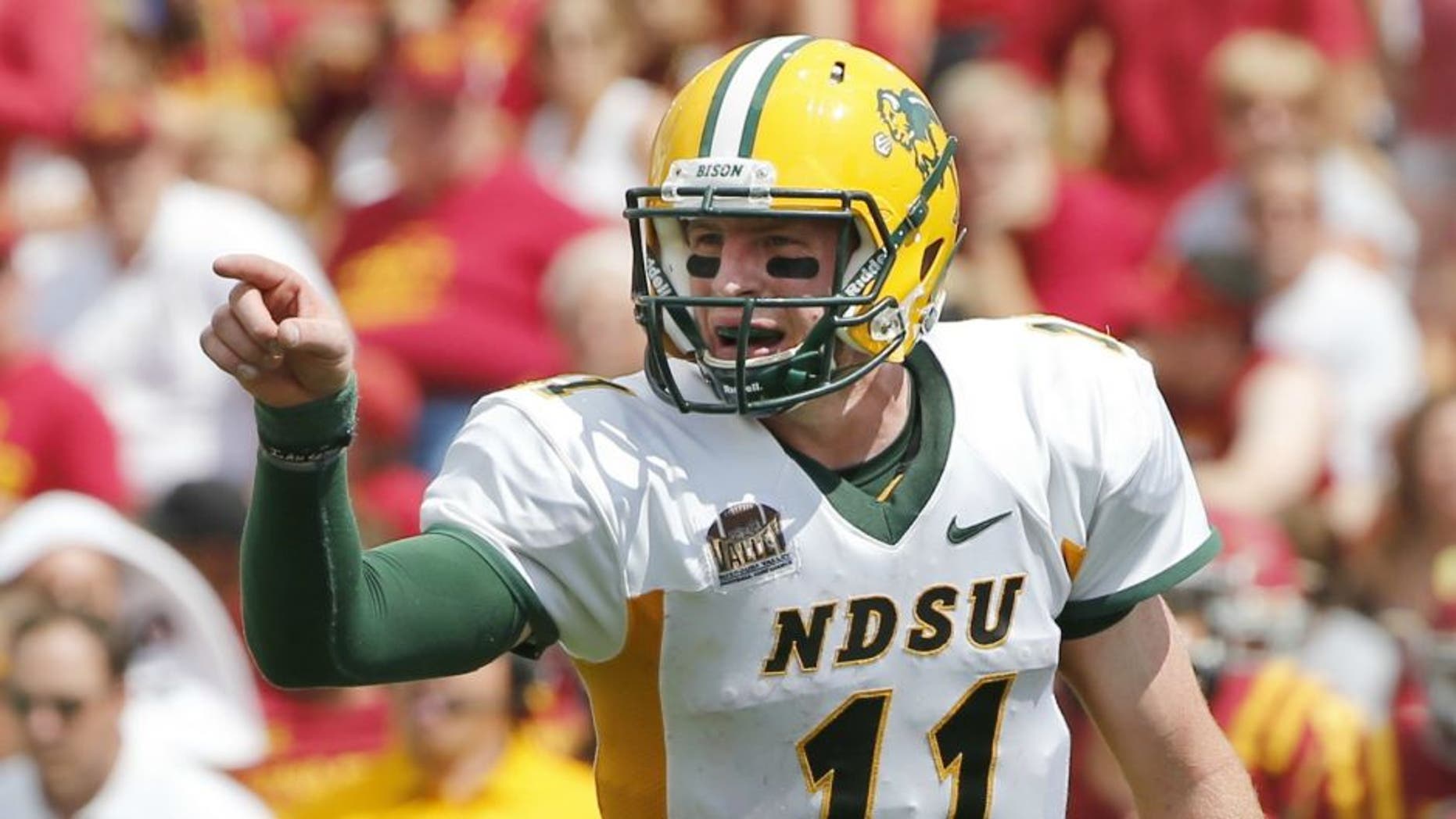 In October, Carson Wentz was a fourth-round graded quarterback from an FCS school.
He played four games since the start of October, completing 62 percent of his passes, averaging 228 yards per game, and throwing eight touchdowns to four interceptions. Maybe those performances turned him into a third-round pick.
But with one good week of practice at the Senior Bowl, he went from a day three pick to a viable No. 1 overall pick.
Jared Goff entered the 2015 season as the No. 1 quarterback prospect and the presumed No. 1 overall pick. But the more teams saw of Goff, the further his stock fell.
Over the next nine months, there was plenty of speculation and hearsay that Memphis quarterback Paxton Lynch was the better prospect. The same guy who said Goff was the top pick in the preseason said he should return to school for his senior season five months later.
But after Goff's fall, his stock rose again with a nice bowl-game performance.
The modern NFL draft marketplace leaves no stone unturned. The one-time cottage industry is now a 365/24/7 machine that churns out well-researched, well-sourced scouting reports on Division III prospects.
But that machine couldn't make up its mind on these two quarterbacks.
The same two quarterbacks that will almost certainly go No. 1 and No. 2 in the upcoming NFL Draft. The same two quarterbacks the Rams and Eagles just mortgaged their franchise's futures to select.
[To make matters even more comical -- €" the NFL's two most inept teams, the Titans and (quarterback-starved) Browns, traded away the top two picks with a smile.]
When teams are leveraging their futures for Goff and Wentz, it becomes official -- €" we've reached "peak quarterback." Teams are so starved for an "elite QB" that they'll do incredibly short sided and silly things. They'll gladly lose their mind.
Why are they doing it?
The "grades" of these quarterbacks are coming from scouts and personnel men around the league, and they reach the public through a slew of reporters who take the NFL Draft more and more seriously by the year.
In this market, an opinion -- €" negative or positive -- €" takes hold like a virus, and when it comes to a "franchise quarterback" prospect, teams are so afraid of doing the wrong thing (passing on him or taking him too high) that they allow the whims of a market to dictate their decisions. This is a market that is more temperamental than a post-recession NASDAQ; a market that is dictated by a bunch of NFL guys who, because all necessary information can be collected in minutes instead of months these days, have spent four months to overthinking things.
It's in this market that the Rams and Eagles each traded two first-round picks and a boatload of second and third-day picks to move up in the draft, so they could take Goff, the guy who was deemed overrated in November, and Wentz, the guy who was a fourth-round prospect in October, Nos. 1 and 2.
Why? Because if they didn't, another team was going to.
You need to have an elite quarterback to be an elite team in the NFL, that's unquestioned at this point. With the NFL's tranching of draft picks' contracts, the most fiscally responsible way for an NFL team to land an elite quarterback in this salary-cap era is to draft one.
But when you mortgage your future by selling the vast majority of your a draft picks in this year's draft and your most valuable asset in the next one to move up a few spots -- €" in the Eagles' case, six -- €" you fully negate the market inefficiency. That quarterback better be Andrew Luck or Cam Newton, or it's a disaster that will set the team back half a decade.
Wentz and Goff might turn out to be good NFL players, but right now they don't look anything like Newton or Luck. They're not blue chips. If they were, would the Browns -- €" the Browns! -- €" have passed on picking one of them?
There's going to be a lot of discussion over both players and we'll spend the next week talking ourselves into it, but never forget: In November, Wentz was a fourth-rounder, and Goff was perceived as overrated.
Now, two franchises' fates ride on their shoulders.