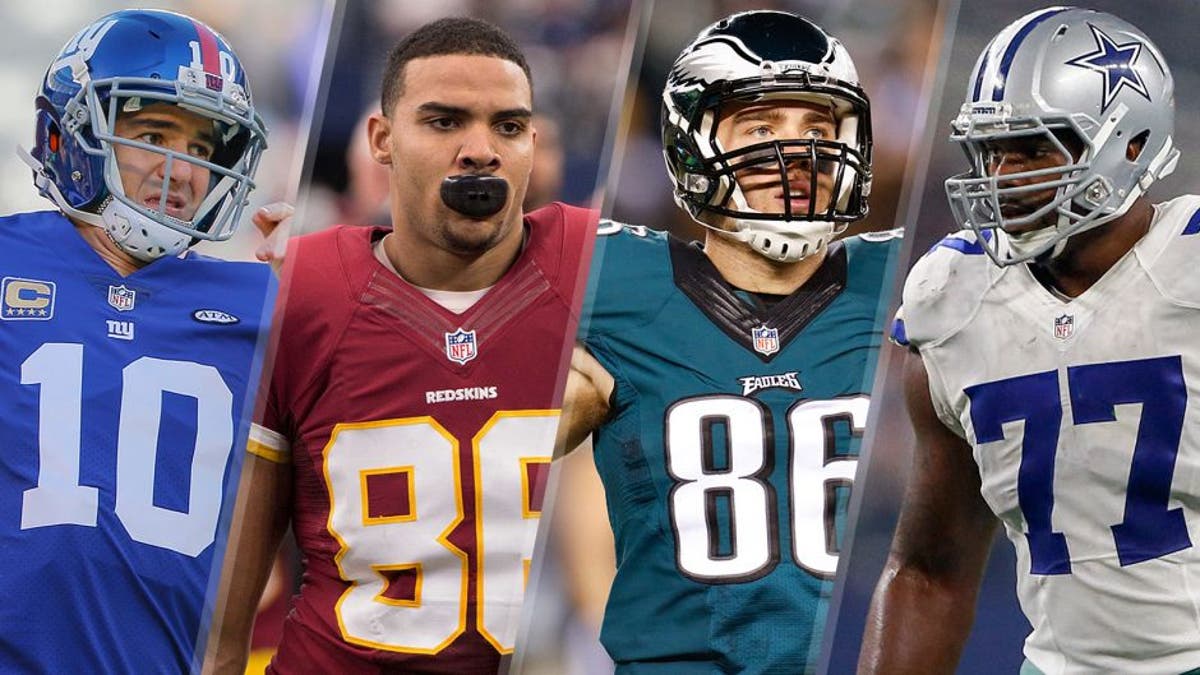 With the Super Bowl less than two weeks away, it's time to put the final touches on the 2015 season.
Using a "12" personnel grouping -- featuring one running back, two wide receivers and two tight ends -- we have constructed an All-NFC East offensive team. All four teams in the division are represented, but it's the Dallas Cowboys who emerged with the most players honored.
Eli Manning, quarterback
Quarterbacks Eli Manning and Kirk Cousins stood out this season in the NFC East this season, but Manning gets the nod. He was more consistent, put up better numbers overall and he had less to work with around him. In his second season in Ben McAdoo's offensive scheme, Manning threw for a career-high 35 touchdown passes with just 14 interceptions. He also threw for 4,436 passing yards and completed 62.6 percent of his passes. Manning is playing the best football of his career as he enters his age-35 season -- it's scary to think what he can do with another receiving threat, better pass protection on the edge and a lead running back.
Darren McFadden, running back
When McFadden signed as a free agent this offseason, there was immediately chatter about him not lasting on the roster through the preseason -- his contract was structured with very little guaranteed money. Instead, he emerged as the Cowboys' feature back and a workhorse within the offense. McFadden eclipsed the 1,000-yard rushing mark for the first time since 2010, and he also set a career mark with 239 rushing attempts. Is he still considered injury prone now after playing in all of his last 32 games? Those who claimed before the season that McFadden's straight-line running style was a perfect fit for the Cowboys' power-blocking scheme should be patting themselves on the back right now.
Odell Beckham Jr., wide receiver
Beckham made the list as a rookie, and after racking up 96 receptions for 1,450 yards and 13 touchdowns through 15 games, he's back. Once again, Beckham dealt with constant double-teams and rolled coverage over the top -- his Giants teammates couldn't pick up the slack. It didn't bother him. Despite racking up almost 100 receptions, Beckham maintained a 15.1 yards per catch average. Big plays were common for Beckham -- he compiled 10 receptions for 437 yards and six touchdowns on passes that traveled at least 20 yards in the air, per Pro Football Focus.
Jordan Matthews, wide receiver
It was a very disappointing season for NFC East wide receivers, but someone has to make the starting lineup, and Matthews had a strong finish to his second season in the NFL. After struggling with drops through the first half of the season, Matthews cleaned up these costly mistakes in the second half. He also started making big plays. Over the last three games of the season, Matthews racked up 21 receptions for 317 yards and four touchdowns. He finished with 85 receptions for 997 yards and eight touchdowns -- setting a new career high in receptions and yards. In 2016, don't be surprised if new Eagles head coach Doug Pederson used Matthews as an outside receiver more often instead of limiting him to the slot.
Jordan Reed, tight end
After being limited by several nagging injuries his first two seasons in the NFL -- including multiple concussions -- Reed stayed relatively healthy in 2015. He claimed before the season that a new offseason regimen would keep him on the field, and to his credit, he was right -- Reed suited up for 14-of-16 games. Reed has been a mismatch since he entered the NFL due to his unique lateral agility that helps him get open in space. He racked up 87 receptions for 952 yards and 11 touchdowns -- he also added another 9 catches, 120 yards and a touchdown in the Redskins' postseason loss. If Reed can continue to stay on the field and avoid another concussion, he will enter 2016 as the Redskins' top offensive threat.
Zach Ertz, tight end
Ertz did just about everything he could to become a complete tight end this past offseason. He met with Tony Gonzalez to learn some tricks of the trade, and the rest of his offseason was dedicated to improving his blocking. According to Pro Football Focus, it worked -- Ertz graded out as their fifth-best run-blocking tight end in 2015. His improvement in this area allowed him to stay on the field for 206 more snaps than in 2014. He responded with 75 receptions for 853 yards and two touchdowns -- the receptions and yardage totals were the best in his career. The Eagles signed Ertz to a five-year contract extension earlier this offseason.
Tyron Smith, left tackle
Smith inherited the torch from fellow NFC East left tackle Jason Peters as the most dominant run blocker in his division and the entire NFL. Smith's unique athleticism for his size allows him to get to the second level of the defense to finish off blocks. After several seasons in the league where he has meshed his ability with technique, you will rarely see him lose at the point of attack in the run game. Smith is also excellent in pass protection. He allowed just 22 total quarterback sacks, hits and hurries combined, per Pro Football Focus. The Cowboys are lucky to have him.
Justin Pugh, left guard
Through his first two seasons in the NFL, Pugh played right tackle for the Giants -- he was a serviceable starter there but failed to stand out. Despite losing their starting left tackle to a freak weight room accident in May, the Giants decided to stay the course with their plan to shift Pugh to left guard. It turned out to be an excellent decision. Pugh emerged as one of the NFL's 10 best left guards, earning high grades from Pro Football Focus as a run blocker and in pass protection. He allowed just 15 quarterback sacks, hits and hurries combined in 2015.
Travis Frederick, center
When the Cowboys selected Frederick in the first round of the 2013 NFL Draft, many draft pundits laughed off the selection as a major reach. The Cowboys got the last laugh on this one. Frederick emerged as one of the best centers in the NFL during his rookie season, and he has improved every season since. Already one of the most dominating run blockers at his position, Frederick evolved into one of the best pass protectors too in 2015. Per Pro Football Focus, he didn't allow a single sack and he allowed just one quarterback hit.
Zack Martin, right guard
Like Frederick, Martin has been a dominant player at his position ever since the Cowboys drafted him. Unlike Frederick, pass protection is Martin's forte. In 2015, he allowed just 13 quarterback sacks, hits and hurries combined -- he only allowed one sack -- per Pro Football Focus. Martin serves as a perfect example of why it often makes sense to select an offensive guard in round one if he is the best offensive lineman available. The Cowboys are set along the interior of their offensive line for years to come with both Frederick and Martin.
Morgan Moses, right tackle
During his rookie season in 2014, Moses struggled to get on the field. When he finally got an opportunity to start for the Redskins in Weeks 11 and 12, he was a liability in both pass protection and against the run. Entering 2015, he was projected to serve as the Redskins' reserve tackle after the team selected Brandon Scherff in the first round of the 2015 NFL Draft. Scherff struggled in camp at tackle, they kicked him inside to guard, and Moses was inserted at right tackle. It turns out, all Moses needed was a little experience at the NFL level. Moses emerged as an excellent run blocker in offensive line coach Bill Callahan's power-blocking scheme and he held up strong in pass protection. Moses will be a key component for the Redskins' offense going forward.