Tensions high for Game 2 between Cubs-Padres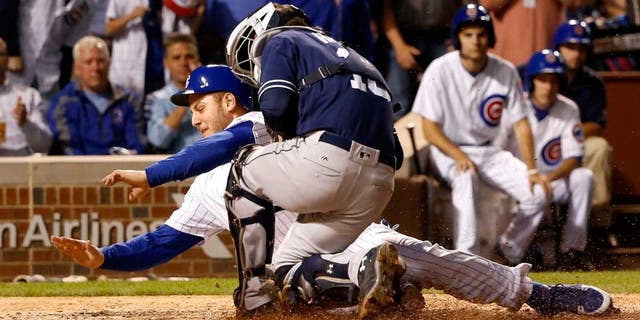 NEWYou can now listen to Fox News articles!
CHICAGO -- Left-hander Mike Montgomery has come up empty in seven career starts for the Chicago Cubs.
It is the longest run to begin a Cubs career without a win and Montgomery will try again for a breakout victory when he faces the San Diego Padres in the middle game of a three-game series at Wrigley Field on Tuesday.
Montgomery (0-3, 2.56 ERA) started the season in the bullpen but moved into the rotation when right-hander Kyle Hendricks was placed on the disabled list (right hand tendinitis) on June 8.
Montgomery is making his third start of 2017 after 18 relief outings to start the year. He's allowed four runs over nine innings in his two previous starts and gave up three runs (two earned) over five innings in his last appearance on June 14 against the New York Mets.
"I like starting," Montgomery told reporters recently. "It's just been one of those things where I've been in the bullpen and able to do different things. For me, it's just going out there and trying to keep my mindset where it needs to be no matter what the role is."
Montgomery is 1-0 with a 2.61 ERA in three career outings against the Padres. While with the Seattle Mariners, he tossed a complete-game shutout at Petco Park on June 30, 2015, allowing just one hit and four walks in a 5-0 victory.
Tuesday's start will be his first against San Diego as a member of the Cubs.
Montgomery will face Padres right-hander Jhoulys Chacin (6-5, 5.10 ERA), who makes his sixth career start against Chicago on Tuesday.
Chacin, who pitched for Venezuela in the preseason World Baseball Classic, has been tough to beat at home with a 1.72 ERA in seven starts but has struggled on the road with a 10.72 ERA in seven road appearances.
Opponents are batting .377 in those games.
In his last start on June 14 at Petco Park, Chacin held the Reds to two runs over seven innings for his sixth win as the Padres completed a three-game sweep with a 4-2 triumph.
He gave up two solo homers but otherwise allowed just five hits and one walk while striking out four.
"He was really pitch efficient all day, the two home runs being the only damage," San Diego manager Andy Green told reporters. "The rest of the day he was getting early action with pitches just outside the strike zone very often. That's a great recipe for success."
Chacin's best season came in 2013, when he went 14-10 with a 3.47 ERA while with Colorado. Last year, he was 6-8 with two teams (Atlanta and the LA Angels) and signed a one-year contract with San Diego last December.
The Padres swept the Cubs in three late May games at Petco Park, holding Chicago to just 12 hits in the series. Chicago only had seven but it was enough to get a 3-2 victory in Monday's series opener.
Anthony Rizzo extended his career-high hitting streak to 13 games, Javier Baez scored the tiebreaking run on an error by Jose Pirela and Willson Contreras homered.
Rizzo also scored on a sacrifice fly by Kris Bryant when he barreled into catcher Austin Hedges, who was defending the plate. Hedges left the game with a bruised thigh and is unlikely to play Tuesday, which drew the ire of Green.
"It's a cheap shot," Green said. "I'm not saying he's a dirty player, nobody's saying that (but) he clearly deviated from his path to hit our catcher. He took our catcher out."
Meanwhile, the Padres will try to rebound after going 0-for-11 with runners in scoring position and getting solo homers from Yangervis Solarte and Pirela.