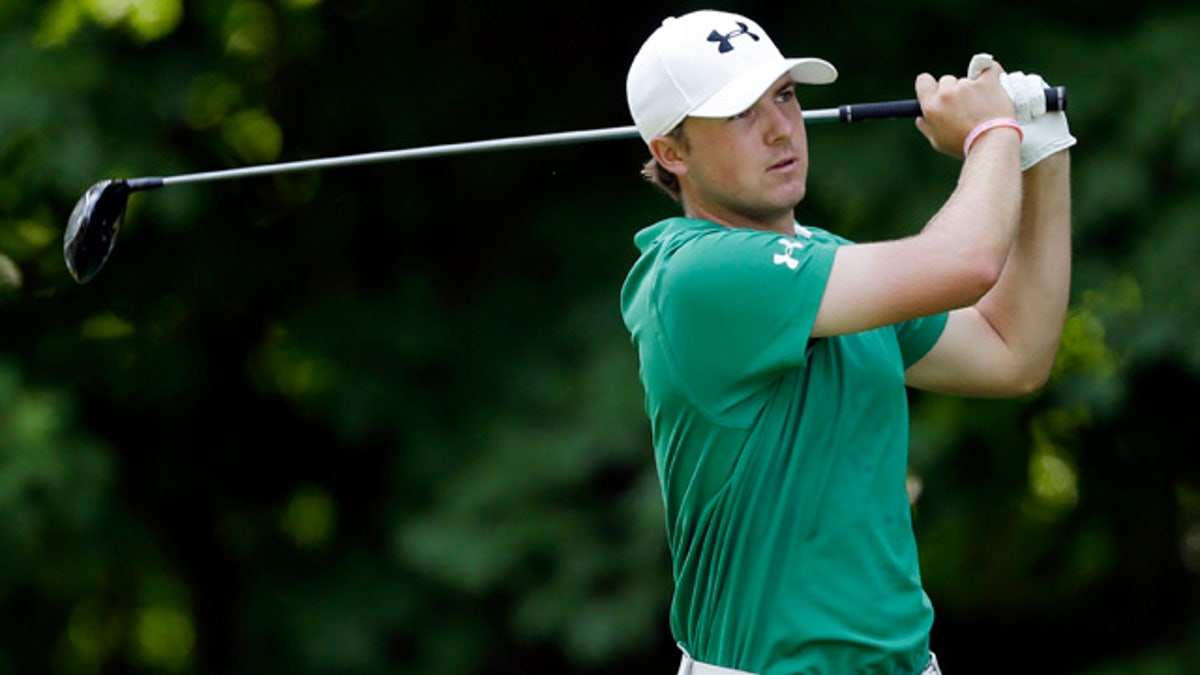 Jordan Spieth can say that he's accomplished something that Tiger Woods, Phil Mickelson and Rory McIlroy never did.
Spieth won a PGA Tour event as a teenager -- and now he's joining all those stars at next week's British Open.
The 19-year-old outlasted David Hearn and Zach Johnson on the fifth hole of a playoff Sunday to win the John Deere Classic, becoming the youngest winner on the PGA Tour in 82 years.
Spieth, a Dallas native who doesn't turn 20 for another two weeks, hit a short par putt to earn a spot in the field at Muirfield.
He is the first teenager to win since Ralph Guldahl took the Santa Monica Open in 1931.
"I didn't think it would happen this early," said Spieth, who turned pro in December after an All-American season as a freshman at the University of Texas. "I had a plan. I guess the plan got exceeded."
Spieth started the day six shots behind third-round leader Daniel Summerhays. A bogey on the first hole left him seven back with 17 to play.
But Spieth forced his way into the playoff with three straight birdies. The last came when he holed out of the bunker from 44 feet, delighting a crowd that had expected to see Johnson, the hometown favorite, defend his title.
Spieth caught a break when that 44-footer took a pair of fortuitous bounces. But he also put himself in that position with a brilliant final round.
"The shot on 18 was the luckiest shot I ever hit in my life," Spieth said. "The fact that it bounced right and hit the pin and dropped down to the cup, it's just extremely fortunate."
Spieth, Hearn and Johnson all made par on the first four playoff holes. Spieth simply made one more to stave off Johnson and Hearn on the fifth.
Johnson seized control from Summerhays midway through the final round of regulation and looked to be on his way to another win at Deere Run. But Johnson simply couldn't get enough birdies to put the field away, and his uncharacteristic bogey on No. 18 set up a three-man playoff.
All three players had their chances to make a winning shot before the final hole -- with Johnson narrowly missing from the back of the green on a shot that clipped the cup on the first playoff hole.
Johnson hit the ground in disbelief. It would turn out to be the closest he would get to victory.
"I had my chances on the back side in regulation. I mean, I hit some really good shots and just didn't make anything," Johnson said.
Hearn also had a shot at the win, which would have been his first on the PGA Tour, as well. But he missed a makeable putt on the fourth playoff hole.
"Congrats to Jordan. He's going to have an amazing career, obviously. He's an incredible talent to come on Tour at his age and have as much success as quickly as he has. So hat's off to him," Hearn said.
Spieth, Hearn and Johnson all went right on their final tee shot. Spieth scrambled out of the rough, though, finding the back of the green to save par and win his first PGA event.
Woods, Mickelson and McIlroy were all 20 when they picked up their first victories, but none of them could match Spieth, who is now the fourth-youngest winner in Tour history.
"Just got so lucky. That's what it is. But right now I'm extremely pleased, and a little worried about only having short sleeves going to Scotland," Spieth said.