Takanori Gomi on luster lost, and passion yet enduring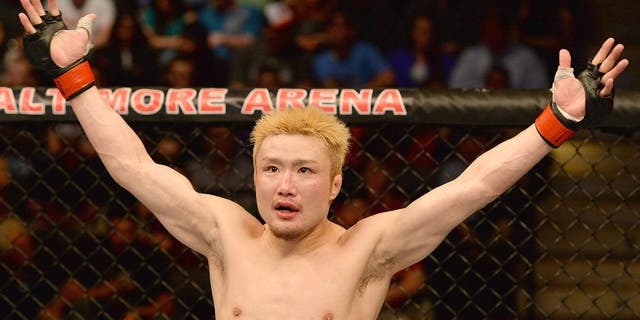 NEWYou can now listen to Fox News articles!
LAS VEGAS --- There's usually a predictable rhythm to interviews conducted through an interpreter. Question-listen– translation – consideration – answer- listen – translation – next question.
The listening is a combination of real (on the translator's part), and faux (on the part of whoever is listening while words not spoken in a language known to them), and there's usually a lot of awkward but polite silent nodding. For two questions, this past Wed. during a conversation with UFC 200 lightweight and former world champ Takanori Gomi, that rhythm kept.
Is there anything about your opponent Jim Miller that particularly excites you?
"I think it's going to be a great fight. I think both of us have nothing to lose."
"I'm just honored and privileged to be a part of this big event – UFC 200. Of course, I would like to continue as an MMA fighter so I have to maintain my level."
Then, Gomi broke the polite rhythm, and then seemed more unguarded and reflective than he usually does during formal interviews. I hadn't yet asked another question but the quiet fighter had evidently continued to consider his answer to the last one as he stared straight up and ahead.
Gomi's gaze met a banner with UFC 200 headliners' names and images on it. "Ten years ago, I'm pretty sure I would have been one of the fighters on the backdrop," he said with a smile, chuckle and nod of his head.
Indeed, a decade ago, Gomi was still a world champion. He was also fighting almost exclusively in his native Japan, for the the now promotional giant Pride.
Now, he's on the undercard, fighting far from home. He's also lost six out of his last 10, going back the past five years.
Everyone ages, and speed and reflexes diminish with age. At 37 years old, in the 18th year of his legendary career, Gomi has likely fought on too long.
Because of his power and savvy, he'll always be capable of winning. But he has naturally found it impossible to "maintain my level," as he desires, as he's gotten older.
We often talk about retired fighters looking back and having difficulty no longer being in the game as active participants. It can be hard to see others continue to do what you love, what you're good at, and make money and get the attention that comes from being an active competitor.
What Gomi hinted at was something a bit more subtle, and perhaps nearly as difficult to work through for an athlete – Still being in the sport, actively, but participating with a much smaller spotlight shining on you, and with diminishing results.
The last part Gomi doesn't cop to, of course. He's still fighting because he believes that he is yet capable of beating the best in the world.
On Saturday he'll certainly get his chance to prove that. But what he was honest and forthcoming enough to offer was that going from superstar to supporting player isn't an easy transition.
"It's something that I cannot help," he offered, when I asked if it was difficult to deal with.
"I've fought for many promotions, so I have experience."
That he does, to go along with his many accomplishments. "The Fireball Kid" has long been a man, and even worn veteran.
It all comes with less fanfare than he was accustomed to in a previous professional life, sure. But, he reminded, it isn't really that bad.
The Kid turned Man, MMA pioneer's longtime international star still burns brightly enough to warrant him being included on one of the biggest cards in UFC history, after all. "Even so, despite the fact that I'm older than I was 10 years ago, I've got the opportunity to fight at UFC 200," he reasoned.
"So, I'm very happy."