Surviving the grind: Crews had some curves thrown at them this year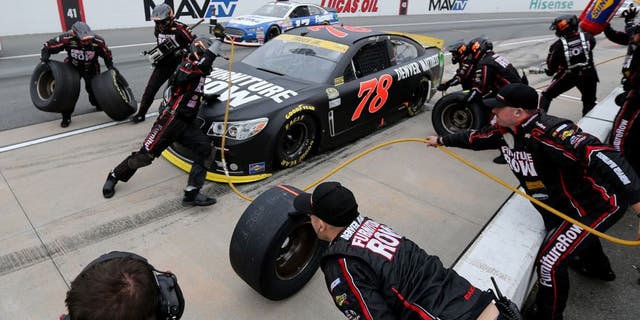 NEWYou can now listen to Fox News articles!
In NASCAR, preparation is key. A massive amount of hours go into preparing race cars in the shop before they ever hit the track. Once at the track, the preparation and hard work intensifies.
Teams not only have to focus on the upcoming week, but also work and plan for future races down the road, all while staying competitive and pushing the envelope to get better.
However, this season has been much more trying for the crew members both in the shop and at the track. Not only have they had to prepare for the 2015 season, but NASCAR also threw in two additional rules packages, making things much more difficult for everyone involved.
Take into consideration the additional testing required and the poor weather that has plagued NASCAR throughout the season, and the man-hours and work this season have taken a toll on everyone in the garage.
Still, for the 16 teams that qualified for the Chase for the Sprint Cup at the end of the regular season, that work had to intensify as they prepared to battle for a championship over the final 10 races.
"I think this is one of the toughest years I've ever seen on those guys in the garage," said defending series champion Kevin Harvick. "With the way that the schedules have been, they haven't been favorable to the teams and the guys working on the cars that are in the trenches. You know, I think with the rules packages, it's definitely put a strain on where you've put your resources, and people and all the things that you need to make your race team go around have kind of been deviated a little bit, from high-drag to low-downforce to current package to testing that you didn't expect. So there's definitely been a lot of forks in the road that you didn't expect that you had to navigate."
Fellow Chase driver Martin Truex Jr. echoed Harvick's thoughts, but explained Furniture Row Racing has been pushed even harder given the fact they are a small team with limited resources.
"I think that the amount of effort put in this year by our guys is just incredible," said Truex. "You've got to remember, we're a single‑car team and we have 50‑some employees. You look at these guys with four cars, they have 300, 400 (employees). I mean, you look at a place like Hendrick Motorsports, they've probably got close to 500 employees. We do a lot with less people than most people, and our guys have worked really hard to bust their butts, and honestly, we didn't put in the effort that we could have on the low downforce and the high‑drag package, simply for the fact that we couldn't."
Truex's crew chief Cole Pearn explained the added workload this season has been tough to deal with, but making the Chase and contending for the championship has given the team members extra motivation.
"It's a huge weight for sure, but it's just part of it," Pearn old FOXSports.com of the hectic 2015 schedule. "I'm just glad we've got something this time of year to race for and something to keep you going. If we didn't it would definitely be showing its wear more than it is right now. We're lucky; we've got a young group so it helps you keep pushing on.
"I think the biggest difference for us is the testing. Being a single-car team we test every one of them. Every single test there is we go."
The team was recently added to the Nov. 14-15 test at Homestead-Miami Speedway, which falls right in the middle of Pearn's planned skiing vacation.
While the teams have been thrashing throughout much of the 2015 season, Team Penske crew chief Todd Gordon explained that winning early in the year has helped ease some of the potential strains on personnel.
"I think having the off weekend at the end of August kind of gave everyone a refresh and reset," Gordon told FOXSports.com Friday at Charlotte Motor Speedway. "Once you've got wins and you're not struggling to make the Chase, you use that month, month-and-a-half going into the Chase to prepare yourself for it. You make sure you get your testing -- what you can get done -- ahead of time. You just get your ducks in a row."
With Joey Logano and Brad Keselowski earning victories early on in the season, Gordon explained Team Penske has had a bit of an advantage over other organizations when it came to preparing for the Chase.
"We had both of our cars -- for all intents and purposes -- locked into the Chase by race four," Gordon said. "Then you have a common focus for the whole shop. Whether it's fabrication or engineering. You're not working at, 'How do I get one (car) in?' You're focusing on what we need to do to be competitive come Chase time. That common focus clears up a lot of that and doesn't divide up the shop."
While many look at the drivers' schedule as intense week-in and week-out, Joe Gibbs Racing's Carl Edwards said it is clear to see how it grinds on the guys in the garage and at the shop.
"This sport is so tough on all the guys and everybody talks about the schedule for the drivers and everything, but we've got jets and motorhomes and all this stuff. It's a cake walk for us," said Edwards. "For the guys that are working on these cars, building them, traveling to the racetrack -- they're the first in and last to leave -- and all the officials and everyone. This is a grind. It really is tough on these folks and you can see it throughout the season.
"You watch Daytona (International Speedway), everybody's got a little bounce in their step," he said. "By the time you get to Phoenix (International Raceway) let's say or Dover (International Speedway), yeah, everybody's just like, 'Man, I just want to get through this weekend.' I think that's a neat part about our sport -- you see who can really step it up and when it's tough it's hard to do that."