Sunday Wrap: Browns don't give up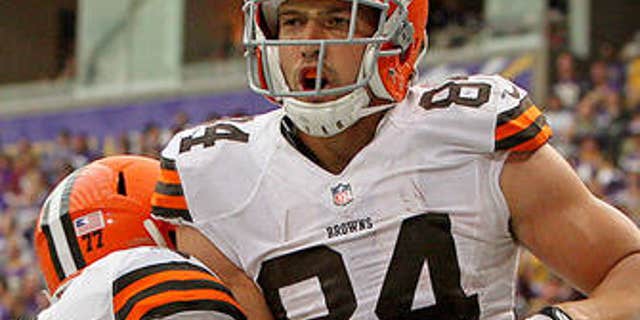 Jordan Cameron talked about having trust in the Cleveland Browns' organization in the wake of the Trent Richardson trade, about expecting the unexpected and "rolling with the punches."
And then, surely relaxed by the team's 31-27 comeback victory over the Minnesota Vikings on Sunday, he spoke candidly.
"We were all shocked. ... Yeah, I don't think you can get any more up and down. We were all over the place," Cameron, who caught the game-winning touchdown on a corner route from Brian Hoyer, told FOX Sports by phone while sitting on the plane in Minnesota. "But we showed a lot of resilience as a team. There was a lot of times in the game we could've thrown the towel in, like, 'All right, they're giving up on us.' But we trust where this organization is going and we prepared like nothing happened.
"We had team leaders that really stepped up and talked to us, calmed us down and got us going."
Cameron revealed those team leaders - linebacker D'Qwell Jackson and offensive tackle Joe Thomas - spoke to the players last week in the wake of the Richardson trade. Jackson and Thomas were two of the players coach Rob Chudzinski called into his office to notify them of the trade and make sure they were on board with the notion the team wasn't quitting on the season.
Perhaps even the captains didn't believe what they were saying, but they passed on the message. And given the Browns' rallying to score the game-winning touchdown with 55 seconds to play, it apparently took.
"They were adamant about telling us we're not giving up, everything's going to be fine and we're going to be OK," Cameron said.
Chudzinski has his first win as an NFL coach and the players have at least a week of believing the team hasn't quit. But the Browns are still 1-2 in a tough AFC North and might not be done making moves on the roster.
FOX Sports' Jay Glazer reported Sunday the team is fielding offers for wide receivers Josh Gordon and Greg Little. Meanwhile, there could be a quarterback controversy brewing.
Hoyer threw three interceptions but led the comeback victory in the end. Combine that effort with the fact the current regime has yet to throw a lot of public support behind the injured Brandon Weeden, and it's easy to envision a scenario where Hoyer could keep the job.
A source told FOX Sports that Weeden has yet to demand clarity on his future or perhaps a trade but wouldn't take kindly to losing his job on account of injury. The source said a hand specialist told Weeden last week he's recovering nicely from his sprained thumb and chances are he'll be able to practice this week.
It's pretty clear this current Browns regime, which didn't draft Weeden, isn't enamored by him. At 29 years old going on 30 next month, Weeden doesn't have time to waste.
The Browns might soon quit on Weeden. But for now, they're not quitting on the season. That was the message after an eventful couple of days that ended with a victory.
Or, as Cameron put it with a chuckle, "Just another week in the NFL."
THE OTHER END OF THE RICHARDSON TRADE
By adding Richardson, the Colts got themselves a tough runner.
And as Sunday showed, they also fired up the one they already had on the roster.
Ahmad Bradshaw ran for 95 yards and a touchdown on 19 carries in the team's win over the San Francisco 49ers at Candlestick Park. As is often the case with Bradshaw, they were mostly tough yards, as he ran downfield and hard against a physical Niners defense.
It was one big don't-forget-about-me performance.
"Definitely," Bradshaw told FOX Sports by phone. "Me and Trent are going to be a two-headed monster. They made a business decision and it was a great decision. Trent is an excellent player and it's going to work out for both of us, two great running backs."
One other factor motivating Bradshaw on Sunday was the death of his grandmother, Nancy Ruth Bradshaw, last week at the age of 82. Bradshaw lived with her during his high-school years because his father had moved across the border into West Virginia and he didn't want to switch schools.
Bradshaw had some behavioral issues as a teenager and was arrested for an undisclosed offense. He credited his grandmother with being equal parts supporter and disciplinarian.
"Just her patience with the family and so much she'd been through, it's amazing what she did for my family and how she kept the family very close," said Bradshaw, who left straight from Sunday's game to fly to Virginia for his grandmother's funeral.
Of Sunday's game, he added: "I gave all the glory to her. I know she's watching. She's my biggest fan. She loved football, she loved Tiger Woods, she watches all sports, she was that type of woman. But these last five years have been hard on her. She had a type of breast cancer and she beat it but it came back. Just what she went through, her struggles, she was a fighter."
GIANTS TRY TO AVOID TURMOIL
As for Bradshaw's former team, the last time a Tom Coughlin-coached team started a season 0-3 was 1995 - his first year with the Jacksonville Jaguars. That's where the New York Giants are right now after Sunday's 34-0 loss to the Carolina Panthers.
According to a couple of Giants players, Coughlin's message in the postgame locker room was simple: "Stick together."
He obviously realizes this is a pivotal point for a frustrated team with key players from the two recent Super Bowl championships still on the roster. Coughlin's message to the players indicated they should resist the temptation to start fracturing.
The Giants' next game is against the 3-0 Kansas City Chiefs on the road next Sunday. After that, they face the Philadelphia Eagles, Chicago Bears, Minnesota Vikings, the Eagles again and then the Oakland Raiders. There are winnable games in there and, if the Giants can win them, they'll stay afloat in a division where no team will likely run away.
QUICK TAKES
* Chiefs rookie RT Eric Fisher struggled mightily in Thursday's loss to the Philadelphia Eagles, giving up a bunch of sacks and pressures while also being called for two holds. Though it appeared Fisher was merely getting beat because of technique and physical reasons, a source told FOX Sports the biggest issue with Fisher has been mental. A left tackle in college, he's now getting adjusted to playing on the right side and on Thursday had issues making adjustments to the Eagles' blitz scheme. The Chiefs are hopeful Fisher, a former engineering major, will soon be able to correct the issue.
* The San Francisco 49ers' decision to allow LB Aldon Smith to play on Sunday won't sit well with many observers, no matter the reasoning. That said, team CEO Jed York gave the critics a statement toward which to point when he said, "Our opinion was sitting somebody down and paying them to sit down when they're going to seek treatment in the future, that didn't seem like an appropriate punishment." The Niners could have tried to suspend Smith, though the NFL Players Association would've surely fought that decision. Only the league can suspend a player for a drug-related offense and commissioner Roger Goodell plans to wait for the legal process to play out. Even if the Niners had convinced Smith to sit out, he'd have been paid his weekly salary because he was on the active roster on Wednesday. The 49ers decided if Smith was getting paid, he might as well play.
* Cameron, who had three touchdowns on Sunday, has proven to be a terrific red-zone threat for the Browns and he credits some of that success to speaking with the Atlanta Falcons' Tony Gonzalez this offseason. Then again, one of Cameron's touchdowns on Sunday was due to trickery on the part of Browns special-teams coordinator Chris Tabor. The Browns blocked Tabor from interviewing with other teams this offseason and his design on a successful fake field goal in Minnesota showed why Cameron walked toward the sideline but stopped short of it, all the while pretending he was angry with a missed first down. Cameron was wide open against a napping bunch of Vikings for the completion and an 11-yard touchdown. "It's all about whether that corner looks out or not. Luckily he didn't," Cameron said. "When he threw the ball, I was like, 'Hurry up.' That ball was just sailing forever. You're like, 'Oh my gosh, come on, come on, come on.' But we made it work. It was a good throw and a crafty play from our special-teams coach."
* He was missed: Ray Rice. That was quite the impressive showing by the Baltimore Ravens in a 30-9 victory over the Houston Texans, but the absence of Rice was noticeable. (Bernard Pierce averaged 2.7 yards per carry Sunday and Rice's ability to get up the gut on quick-hitting runs up the middle in a hurry is what makes him so good. Rice's status for next week's game against the Buffalo Bills is uncertain at this point.
* He will be missed: Vincent Jackson. If the Buccaneers' top receiver misses a game or a few with a rib injury, it'll be a huge blow to the offense. He and backup tight end Nate Byham are the only players with catches of more than 30 yards this season. An already-anemic offense might've lost a big-play threat.
EVEN QUICKER TAKES
Detroit Lions: About to get tested after an opening slate vs. teams that are a combined 1-7.
New Orleans Saints: Worst scoring defense in the NFC last year (454 points); second-best in the NFC so far this season (38 points to the Seattle Seahawks' 27).
Ryan Tannehill: More clutch than you realize. Sunday's victory over the Atlanta Falcons will go down as the second fourth-quarter comeback of his career, but he and the Miami Dolphins also tied or took the lead in the fourth quarter three other times in games they lost last season.
Tom Brady: Hall of Fame player, Hall of Fame facial expressionist who need not apologize for it.
Jay Cutler: Any more questions about his toughness after throwing a shoulder into Pittsburgh Steelers S Robert Golden to key what was essentially a game-winning drive?
Maurice Jones-Drew: In a league where Richardson can get dealt, why can't Jones-Drew? At this point, the Jags should take whatever value they can get.
Geno Smith's deep ball: New York Jets WR Stephen Hill told us in the preseason it was the part of Smith's game that had him salivating to catch passers from the rookie in a game. See Hill's 51-yard touchdown and Santonio Holmes' 69-yarder for examples of what he meant.
RGIII's mechanics: They're getting there. Slowly. There's no doubt he stepped into the 57-yard pass to Aldrick Robinson that was almost a touchdown, only to be reversed on replay.
Kenny Britt: First of all, he's very fortunate he didn't get hurt badly when he was dropped on his head at one point. Secondly, there should be little surprise he tweeted the Tennessee Titans aren't willing to pay him, seeing as how he was benched late.
The Denver thin air: If the Eagles' offense appeared to be gasping for air against the Chiefs last week, imagine how it might look when they're actually gasping for air at Sports Authority Field at Mile High on Sunday.