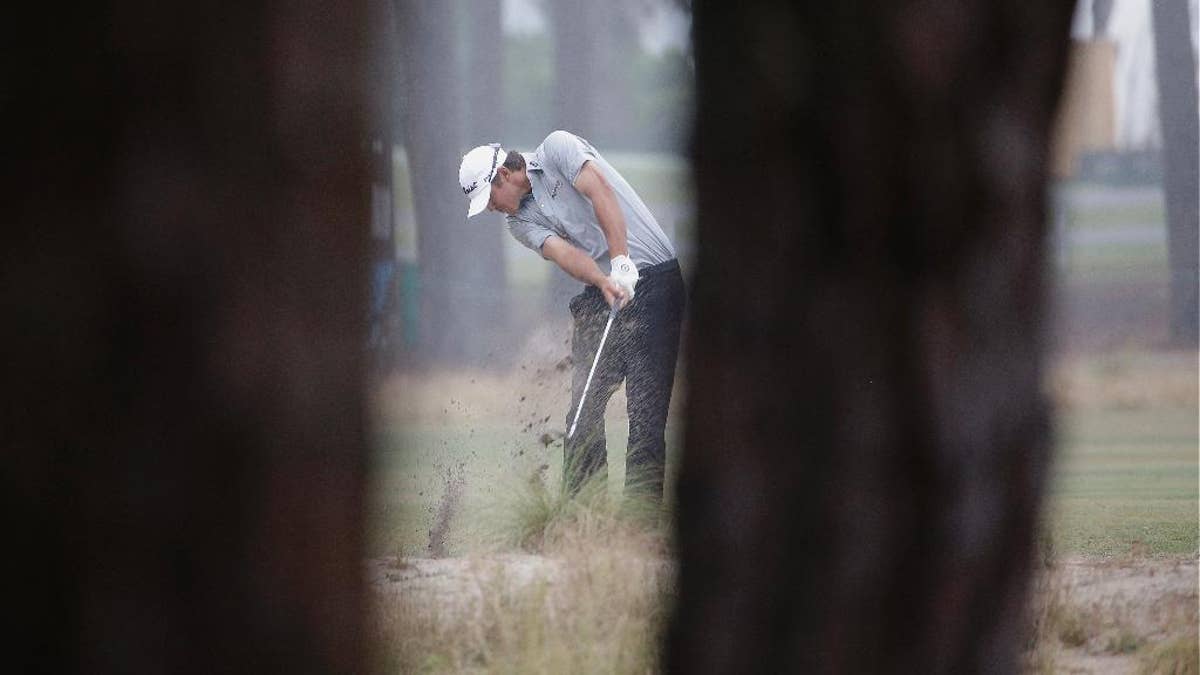 PINEHURST, N.C. – So many of the really good stories about Brooks Koepka are about where he's been. This week, it's about where he could be going next.
Calling the 24-year-old Florida native's route to the PGA Tour unconventional doesn't tell the half of it. Whether Koepka gets to stay here, though, could depend on how well he gets around Pinehurst No. 2 at this U.S. Open. He followed up an even-par opening round with a 68 Friday that left him at 2-under, but still eight shots behind leader Martin Kaymer.
But a strong showing would make Koepka a virtual lock to stick.
"That seems like a long way back, "but just (have to) keep doing what I'm doing and everything should take care of itself," he said. "I'm playing well. I just keep grinding it out and hopefully we'll see. Martin seems to be playing a different golf course; 10-under is incredible.
"But just take care of myself," Koepka added, "and I should be fine come Sunday."
After missing the cut at the 2012 U.S. Open, then turning pro and failing to get through qualifying school, Koepka decided to try his luck on Europe's minor-league circuit. He quickly collected four wins and full playing status on the European Tour — as well as 48 pages of government stamps in his passport and almost as many adventures.
He ate horse meat in Kazakhstan and learned how to maneuver through the bureaucracy of a dozen different countries — and almost as many languages — to get a visa.
The last part of his master plan is to play the tours on both sides of the Atlantic. Koepka has already taken advantage of his temporary membership on the PGA Tour to play 10 tournaments on these shores this year. He's allowed as many sponsor exemptions as he can get, but those have become increasingly hard to get.
Either way, Koepka needs to pick up enough FedEx Cup points by the end of the season to rank 125th on the PGA Tour. Currently, he's no. 106.
"It's tough to kind of prepare for a U.S. Open. It's the hardest golf course you're going to play all year, in my opinion," Koepka said. "So it's really tough to prepare from that aspect. I think ... I played well last week (at Memphis), so that was good coming into this. I'm feeling good and just trying to build on it."
A month of chipping practice with teaching pro Pete Cowen has paid dividends on the humps and hollows surrounding Pinehurst's tricky turtleback greens. But just as important, Koepka's ball-striking has spared him a lot of aggravation and his putting has been good enough to get him out of a few tight spots already.
"You just try to take double (bogey) out of play. Double will kill you. You give up two (strokes) on a hole, that's big, because you're not making many birdies out here," he said. "We got in some awkward spots, but was just trying to make bogey and keep grinding it out and leaving the uphill putts.
"For two days now, I haven't really missed a shot," he added. "In fairness, I putted pretty well. I just need to keep leaving it in those spots."
Koepka knows the next two rounds could prove a tough balancing act. Play too aggressively and he risks tumbling down the leaderboard and dropping those precious FedEx Cup points. Play too cautious and he might squander an opportunity to win, especially if Kaymer comes back to the field.
"You never know what can happen. One shot out here, one bad shot could cost you two, maybe three. So you are never too far out of it, I don't think," he said, "especially in a U.S. Open."