Starting lineup for Bristol Night Race with Carl Edwards on the pole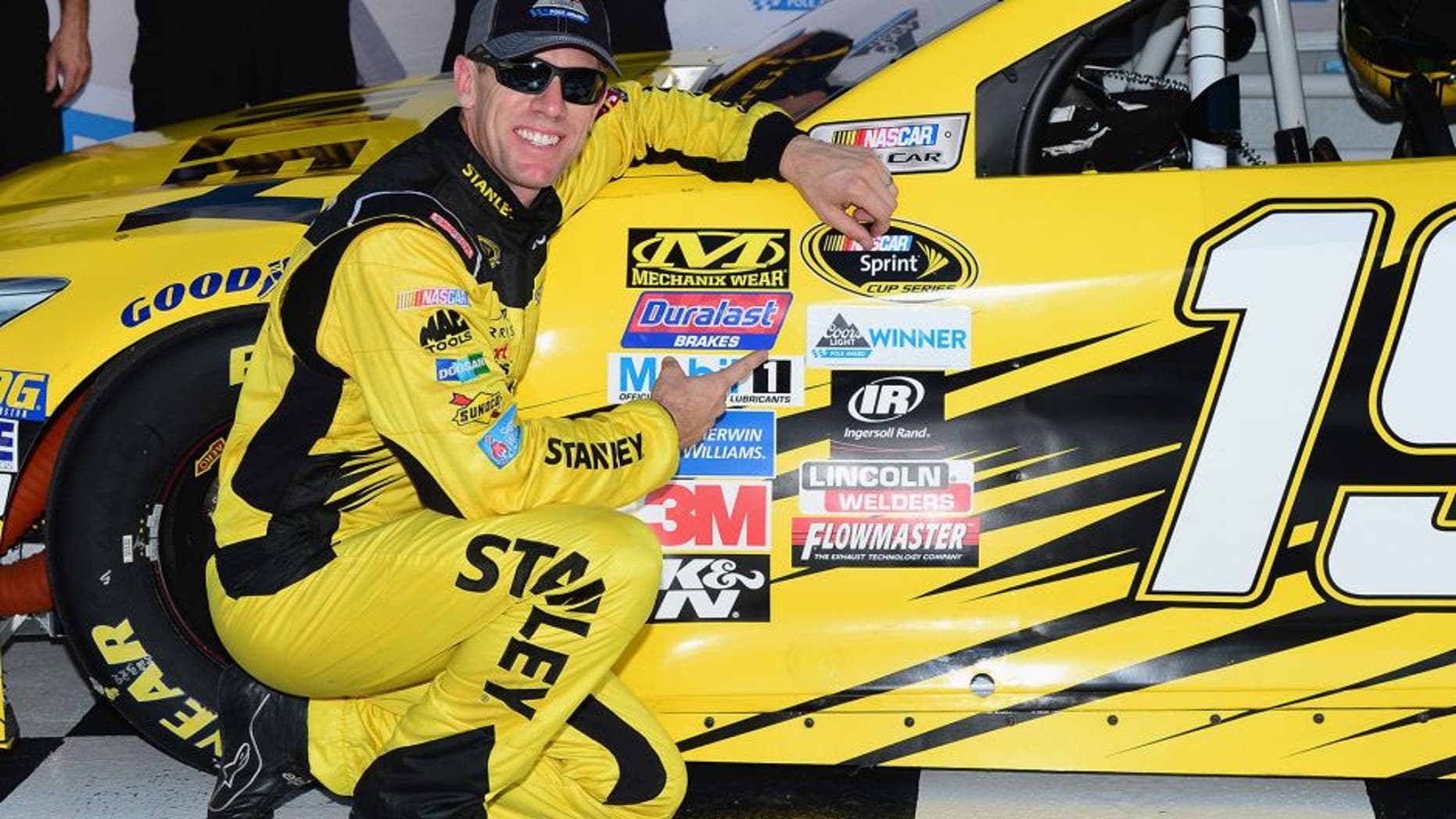 The Battle of Bristol appears to be solely a scrum among already highly successful teammates.
In other words, it's shaping up like another Joe Gibbs Racing runaway.
JGR's Carl Edwards won the pole for Saturday night's Bass Pro Shops NRA Night Race at Bristol Motor Speedways ahead of teammates Denny Hamlin and Kyle Busch.
Matt Kenseth was fifth in the final JGR Toyota, with Ryan Blaney and the Wood Brothers Racing Ford fourth, the only non-Toyota to crack the top five.
Collectively, JGR's four drivers have won 10 of the first 22 races of the year.
In the first of three qualifying rounds, Hamlin broke his own track record with a speed of 131.668 miles per hour. But because the third and final round determines the pole, the official pole speed was Edwards' 131.407 mph.
"It's cool to come to Bristol and know that we can just go race for the trophy and really we can be more aggressive," said Edwards, who earned his fifth pole of the season and the 21st of his career.
"There are going to be guys in the next few weeks that are racing really hard for a position to compete for the championship and everybody will be aware of that, but for us guys that have wins we just get to go just try everything and that's a fun way to go race," Edwards said.
Joey Logano, winner of this race in each of the last two seasons, qualified 10th, one position behind his fellow Team Penske driver Brad Keselowski.
The six men who currently drive for JGR and Penske have a combined 18 NASCAR Sprint Cup Series race wins at Bristol. Not surprisingly, all six qualified in the top 12.
The biggest names who failed to advance from the first of three rounds of qualifying were Tony Stewart, who qualified 27th, and his Stewart-Haas Racing teammate Danica Patrick, who was 29th.
Greg Biffle spun his Roush Fenway Racing Ford at the exit of Turn 2 during the first round of qualifying, making light contact with the wall. Biffle qualified 34th.
Later in the session, Clint Bowyer also tagged the wall, damaging the right side of his HScott Motorsports Chevrolet en route to a 31st-place starting spot.
Saturday night's race is the 23rd of 26 races in the NASCAR Sprint Cup Series regular season. After the 26th race at Richmond, the final grid will be set for the Chase for the NASCAR Sprint Cup.
Eleven drivers have won races and are in the top 30 in points, and a 12th, Chris Buescher, has a victory and is just outside the top 30. That leaves five Chase spots still up for grabs and Saturday night's race could play a big role in who gets in and who doesn't.
Buescher helped himself Friday, with a career-best qualifying effort of 12th.
Check out Saturday's row-by-row starting lineup, as set by Friday's qualifying results, below.