Stanford picked by media as Pac-12 football champs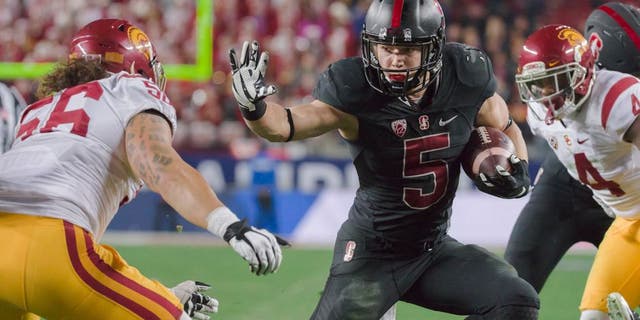 NEWYou can now listen to Fox News articles!
For the first time in the 56-year history of the conference preseason poll, Stanford was chosen the favorite to win the 2016 Pac-12 Conference football title in a vote of 33 media members who cover Pac-12 football.
The prognosis was less positive for Arizona and Arizona State, which were picked to finish fourth and fifth in the Pac-12 South Division.
Stanford, led by Heisman Trophy candidate Christian McCaffrey, got 24 of 33 first-place votes in the Pac-12 North, and of those 24 votes, 20 predicted the Cardinal to win the Pac-12 title game.
UCLA was the media's top choice to win the Pac-12 South with 19 first-place votes, but the Bruins only got three votes to win the title game -- fewer than USC (5) and Washington (4). Utah was the only other team to be picked to win the title game -- getting one vote.
USC got 12 first-place votes in the Pac-12 South, while Washington got eight in the Pac-12 North. Oregon, which has been a frequent championship contender in recent years, was picked behind Washington in third place in the Pac-12 North, getting only one first-place vote.
Arizona, with major questions on defense following an overhaul of Rich Rodriguez's coaching staff, finished two points ahead of ASU in the media voting. The Sun Devils have rebuilding to do on the offensive line and will be starting an inexperienced quarterback.
The media poll has correctly selected the Conference Champion in 29 of 55 previous polls, but only twice in the last nine polls. Following are the results of the preseason media poll (points 6-5-4-3-2-1, first-place votes in parentheses):
Pac-12 title game champion: Stanford (20 votes), USC (5), Washington (4), UCLA (3), Utah (1)