Something's rotten at Baylor and it's way past time to pay attention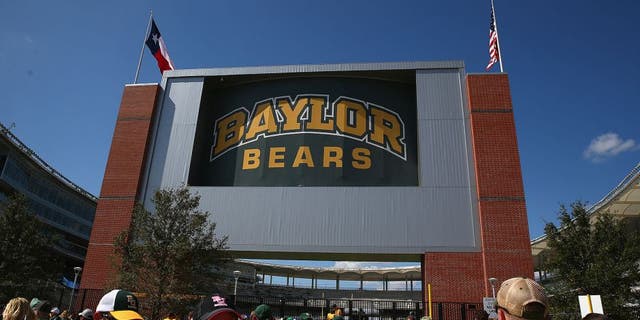 NEWYou can now listen to Fox News articles!
There has been no shortage of notable numbers associated with Baylor football the past several years. For example, Art Briles' team averaged 52.4 points per game in 2013. The Bears amassed 645 rushing yards in last year's Russell Athletic Bowl.
Today it's time to focus on another number that's turning one of college football's purported feel-good stories into a human tragedy.
That number is nine. As in, at least nine women have reported to police they were raped or assaulted by Baylor football players since 2009.
One is too many. Nine is unconscionable. Especially when you realize most of those attacks could have been avoided.
Earlier this month, Waco police arrested Bears All-American defensive end Shawn Oakman on one count of sexual assault. The alleged April 3 incident involving a Baylor student took place several months after his last college game. Thus, one might suggest it unfair to tie that event to Briles' program.
Except that earlier this week, Texas-based reporter Alex Dunlap uncovered a January 2013 police report in which a woman identified as Oakman's ex-girlfriend accused him of assault. She described the lineman -- then listed at 6-foot-9, 270 pounds -- lifting her by the armpits and shoving her into brick walls and cabinets. The woman did not want to press charges, and the outside world knew nothing of it.
Worth noting, that alleged incident occurred less than a year after Oakman's dismissal from his original school, Penn State, following a misdemeanor charge for getting physical with a convenience store clerk. If Briles was made aware of that initial Baylor incident -- Dunlap reported that he was, but that's not yet been confirmed -- Oakman, who redshirted during the 2012 season, never should have played a down for Baylor, much less remained in town three years later to allegedly sexually assault a student.
Unfortunately, his is only the latest in a string of incidents where people in authority at the university either willfully or negligently downplayed violence toward women. There have been so many, in fact, that this week a Reddit commenter saw fit to compile a comprehensive timeline of the events.
First up was defensive end Tevin Elliott, sentenced in 2014 to 20 years in prison on two counts of sexual assault but not before five women reported to police being sexually assaulted or attacked by him. According to an ESPN Outside the Lines report, one accuser who met with the school's chief judicial officer was told she was the sixth woman to report an incident involving Elliott. She was also told, essentially, there's nothing we can do about it.
Last year, a Waco jury convicted lineman Sam Ukwuachu of second-degree sexual assault, a story that received considerable attention because Ukwuachu, like Oakman, transferred from another school, Boise State, where he'd faced disciplinary issues. His ex-girlfriend at Boise testified about their abusive relationship at his trial last August. Many questions were raised as to what exactly Briles knew of Ukwuachu's time at Boise before taking him and why he was allowed to remain on scholarship during the 14 months between his indictment (which was never reported by the local media) and his trial.
And only recently did it come out that two other former players, Tre'Von Armstead and Myke Chatman, were named in an April 2013 police report in which a woman reported being sexually assaulted. Somehow the school did not get around to investigating the incident for more than two years, at which point the Bears dismissed Armstead for a "team rules violation."
The poor handling of sexual assault cases on college campuses is a nationwide crisis. Specific to college football, Florida State recently paid former star Jameis Winston's accuser $950,000 to settle a Title IX lawsuit. In February, six women filed a Title IX suit against Tennessee saying the athletic department created a "hostile sexual environment." Unfortunately, Baylor football is not alone in its place in this epidemic.
Yet there's something uniquely troubling about the headlines in Waco, which is, three of the alleged attackers -- Elliott, Oakman and Ukwuachu -- were abusive to multiple women. Be it from incompetence, apathy or both, neither their coach nor their university took any steps after the first incident to prevent another.
During his eight years on the job, Briles has turned Baylor into a national power while enduring a fraction of the scrutiny most of his counterparts at high-profile programs endure. His is a small private school with modest football history. There are not 20 reporters waiting to interview him after a spring practice like at USC. Sports radio shows don't spend 365 days talking about Baylor football like those in Alabama or Nebraska. And national writers like myself don't devote nearly as many words to Baylor as we do Ohio State or Michigan.
Sadly, that likely played a part in how this happened. Void of accountability, Briles was free to focus on winning football games, whether that meant pursuing a future All-Big 12 pass-rusher (Oakman) kicked off of Penn State or holding a roster spot open for a former freshman All-American (Ukwuachu) while awaiting trial for sexual assault.
Until recently, few cared enough about the Bears to ask Briles difficult questions, and even when they have, he's kept his answers vague.
"As those things come up and come around, you deal with them the best that you're capable of doing, then you try to educate and make aware where hopefully it never happens again," he said on our podcast The Audible on Signing Day.
A school spokesman said Tuesday that Briles was not available for comment at this time.
Briles has few equals when it comes to drawing up plays. He transformed Baylor from a 14-year Big 12 punching bag to a two-time league champion. He's the main reason the school's sparkling new stadium on the Brazos River even exists.
But his budding legacy is now squarely in the crosshairs. It's becoming impossible to talk or write about Baylor football now without mentioning the program's sexual assault issues. The Bears' dazzling 50-15 record over the past five seasons still happened. But so did the violence against women.
That record will likely grow gaudier this fall, what with talented quarterbacks Seth Russell and Jarrett Stidham back to steer Briles' prolific offense. McLane Stadium will roar as Shock Linwood and Johnny Jefferson race to the end zone.
But when those offensive numbers start popping, try not to forget that other, more heartbreaking number of victims. And pray that nine never becomes 10.