Soccer Roundup: La Liga Season Begins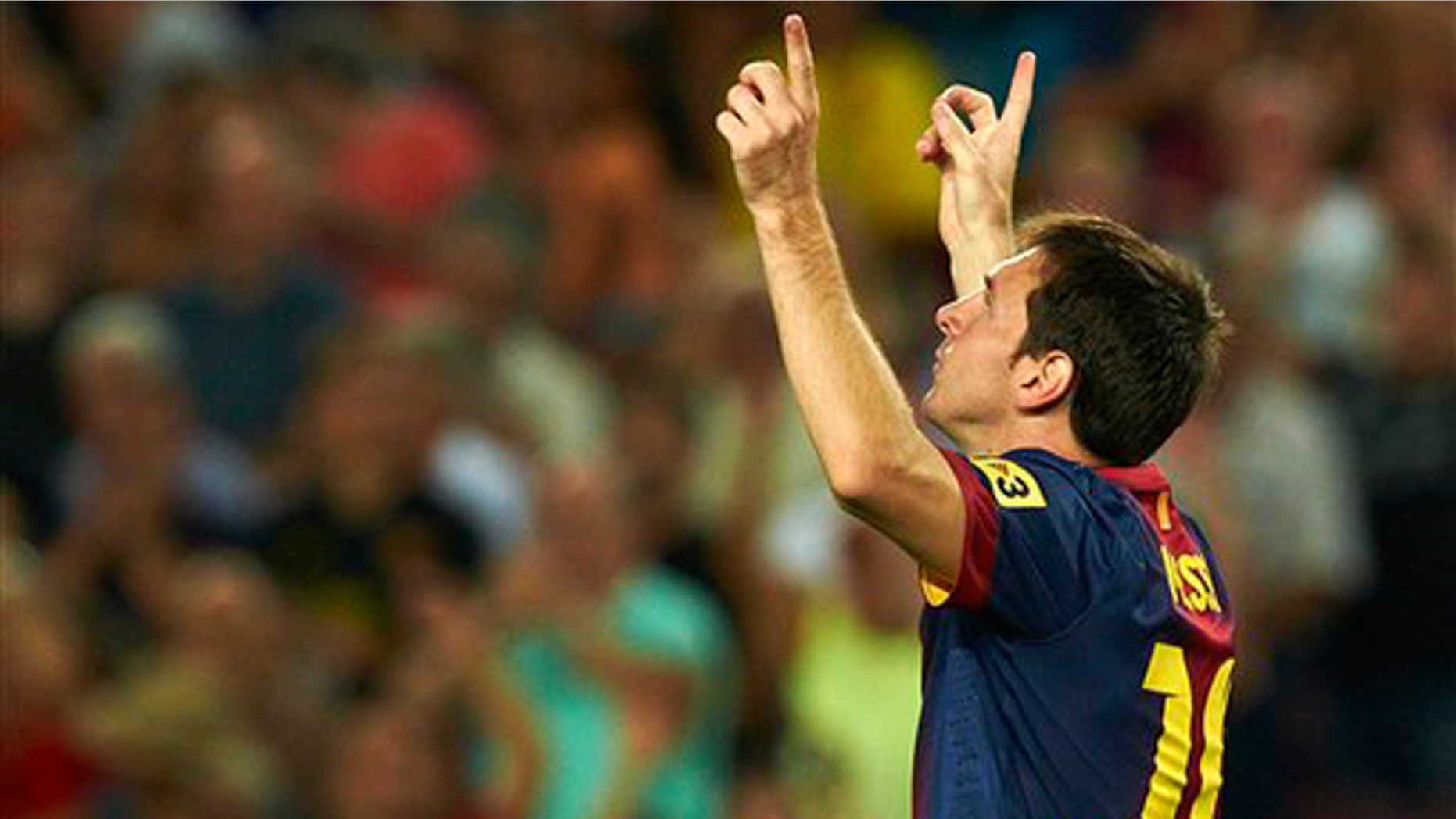 It turned out to be a win-win-win situation for Barcelona as the Spanish powerhouse opened its La Liga season with a big win on Sunday.
Argentine striker Lionel Messi secured a brace, but two Spanish international teammates who returned from season-ending injuries last year also scored in Barca's 5-1 triumph over Real Sociedad.
The game was a winning debut for new coach Tito Vilanova, in his first game in charge since taking over for Pep Guardiola, who resigned after last season.
It also did not hurt that Barcelona's No. 1 rival, defending champions Real Madrid, struggled to a 1-1 home draw with Valencia and Mexican international midfielder Andres Guardado.
Team captain and central defender Carles Puyol, whose leg injury kept him out of Euro 2012, had given Barca a 1-0 lead, heading home Xavi's corner kick in the fourth minute before Gonzalo Castro tied it. But Messi was at his Messi best, striking twice within a five-minute span. Messi, who tallied an amazing 73 goals last season, found the back of the net in the seventh and 12th minutes, and Barcelona never looked back. Pedro Rodriguez made it 4-1 prior to halftime.
In his first club appearance since breaking a leg at the FIFA Club World Cup in December, 2011, David Silva scored in the 84th minute, nine minutes after coming on as a substitute, slotting home Andres Iniesta's feed.
"It was a good win but the best news of all is the return of 'El Guaje' [Villa]. We have missed him," Xavi told Spanish television.
Villa is Spain's all-time international scorer with 30 goals.
"It has been a difficult time and it is nice to be back," Villa told Spanish TV.  "I am pleased to be able to say I can forget about the injury now. I have had five weeks training at the maximum level but my body still struggles to reach the levels necessary to play more minutes.
"I'll keep on working until I can eventually play a full game again."
Two Argentines combined on Real's lone goal of the match in the 10th minute as Gonzalo Higuain converted Angel Di Maria's cross. Valencia equalized as Jonas headed in a free kick late in the first half. Guardado was back in La Liga after playing with Deportivo Coruna in the Second Division last year.
"I expected more from my team," Real coach Jose Mourinho said. "We haven't played a great game, but we did enough to win."
ENGLAND
Sergio Aguero, Carlos Tevez
A pair of Argentine strikers wound up in the headlines. Aguero, whose 11th-hour goal lifted Manchester City to the English Premier League crown last year, told the club's players and fans not to worry about an injury in suffered in the 3-2 season-opening victory over Southampton.
Aguero, the team's top goal-scorer last season, was stretchered off in the 13th minute with a knee injury. He appeared to be in extreme pain after he was tackled. But Aguero said the situation looked worse than it appeared.
"The studies I had done revealed there's no significant injury but it was a very tough hit to my knee," he said on twitter. "Tomorrow [Monday], the physicians will evaluate the time it will take for me to recover.
"I can't muster words to thank (you) for your concern and, with this much support, I'll probably get back up on my feet soon. And I want to congratulate my team mates for their effort in turning this game around."
As defending champions, City will need as many healthy bodies as it can use given the likes of Manchester United, Chelsea eye winning the title themselves. On Sunday, City was up to its comeback habits, rallying from a 2-1 deficit. Tevez lifted the hosts to a 1-0 lead. After falling behind, Edin Dzeko and Samir Nasri scored to boost City to the win.
Michu
Spanish off-season signing Michu made an impressive debut for visiting Swansea City, scored eight minutes into the match and eight minutes into the second half of its 5-0 triumph over Queens Park Rangers. Michu, who joined the Welsh club in a $3.1 million deal from Rayo Vallecano, scored his first goal off a 25-yard effort past newly acquired goalkeeper Rob Green.
Luis Suarez
Suarez, a Uruguayan international striker, could not make up for Liverpool's defensive woes in its 3-0 defeat to West Bromwich Albion. Early in the second half, Suarez sent a free kick wide after he was brought down on the edge of the penalty area by Youssouf Mulumbu. Later on, his six-yard shot went over the bar after goalkeeper Ben Foster dropped a Steven Gerrard corner kick.
Luciano Becchio
The Argentine striker scored off a diving header in the 18th minute to boost Leeds United to a 1-0 win over Wolverhampton as it began its quest for promotion to the EPL.
Santi Cazorla
The former Malaga winger had a disappointing debut for Arsenal in its scoreless home draw with Sunderland. The Spanish player did have his Chances, though. His first opportunity was tipped over the crossbar by goalkeeper Simon Mignolet early on. He also sent a shot wide after an entertaining run by Gervinho. He fired a volley just wide of the post before sending Olivier Giroud alone on goal, but the French striker shot wide just before time was called.
Bryan Ruiz
Ruiz, a Costa Rican international midfielder, did not join in the scoring of Fulham's 5-0 rout of Norwich, although he tried. His 42nd-minute free kick was saved by John Ruddy.
Javier Hernandez
Chicharito, who fired blanks in Mexico's 1-0 home loss to the United States in an international friendly on Wednesday, and his Manchester United will make their season debut against Everton on Monday.
FRANCE
Guillermo Ochoa, Ezequiel Lavezzi, Javier Pastore
Ochoa, who was in goal in that Mexico defeat to the Americans, stopped everything send his way in Ajaccio's home scoreless draw with big-spending and highly regarded Paris St-Germain. The visitors had Lavezzi, an Argentine, red-carded. His countryman and striker Pastore had a relatively quiet match.
Lisandro Lopez
The Argentine striker scored one goal and had a penalty kick saved as Lyon scored four goals in the second half to rally past Ligue 1 newcomer Troyes. After he was brought down in the penalty area by Granddi Ngoyi in the 49th minute, Lopez had his penalty saved by goalkeeper Yohann Thuram-Ulien. On the ensuing corner kick, however, Lyon equalized as Bafetimbi Gomis headed it home. Lopez finally found the back of the net in the 88th minute as he fired a shot between Thuram-Ulien's legs.
Emanuel Herrera
Another Argentine forward, Herrera gave Montpellier a 1-0 lead in the 37th minute, but his teammates could not hold the lead, falling to Lorient, 2-1. Lorient tallied in the 90th minute and in stoppage time. Herrera almost doubled the lead just before halftime, but he was denied on a superb save by goalkeeper Fabien Audard.
PORTUGAL
Lornezo Melgarejo, Oscar Cardozo, Eduardo Salvio
Melgarejo, a Paraguayan defender, endured a distressing start to the season, scoring an own goal and giving away the ball for another for Benfica in its 2-2 tie with Braga. Countryman Cardozo managed to secure a tie by converting a penalty kick in the 73rd minute. Salvio, an Argentine midfielder, had given Benfica a 1-0 advantage early in the second half before the 21-year-old Melgarejo headed the ball into his own net while trying to clear a cross. He added to his woes when his poor clearing attempt helped Brazilian Mossoro score in the 61st minute.
THE NETHERLANDS
Renato Ibarra
The Ecuadorean winger scored the lone goal in the 63rd minute to lift visiting Vitesse Arnhem to a 1-0 victory over PEC Zwolle. In a dramatic finish, Bart van Hintum had an opportunity to boost the hosts into a tie a minute into stoppage time, but he was unable to convert his penalty kick.
RUSSIA
Felipe Caicedo
Caicedo, an Ecuadorian striker, came on at halftime and broke a scoreless deadlock in the 65th minute to start Lokomotiv Moscow to a 2-0 away victory over FC Volga Nizhny Novgorod.
BELGIUM
Carlos Bacca
The Colombian scored Club Brugge's opening goal in its 3-1 victory over Beerschot in the 19th minute. After Beerschot equalized, Brugge struck for two late goals.
TURKEY
Ricardo Pedriel
Pedriel, a Bolivian forward, tallied in the 49th minute to lift visiting Sivasspor to a 1-0 victory over Gaziantepspor.
SCOTLAND
Emilio Izaguirre
The Honduran international started and went the entire way for Scottish champion Celtic, which needed a goal by Kris Commons in the third minute of stoppage time to salvage a 1-1 draw with newly promoted Ross County. Playing on the left side of a five-man midfielder, Izaguirre created a pair of scoring opportunities. In the 18th minute he sent a cross in for Georgios Samaras, but the Greek headed the ball over the crossbar. Later in the half, Izaguirre tried again off a break, but goalkeeper Michael Fraser caught his cross.
UNITED STATES
Fredy Montero, Mauro Rosales
Only two minutes after coming of the bench in the 62nd minute, Montero, a Colombian, scored the first goal of the Major League Soccer match to help the Seattle Sounders to a 2-0 victory over the Vancouver Whitecaps. Rosales, an Argentinean midfielder, chipped a 35-yard free kick into the penalty area to Jeff Parke, who played the ball off his chest and sent it to Montero. The Colombian knocked it past keeper Joe Cannon.

Juan Pablo Angel
The former Colombian international came off the bench to fire home the equalizer for Chivas USA in a 1-1 road draw at the Colorado Rapids.
Oscar Boniek Garcia
The Honduran international midfielder's fourth assist in 10 matches helped give the Houston Dynamo a 1-0 lead in the 19th minute, setting up Brad Davis' goal in its 2-2 draw with the Columbus Crew.