Soccer Round-Up: The Tevez Telenovela, Chicharito and Sergio Aguero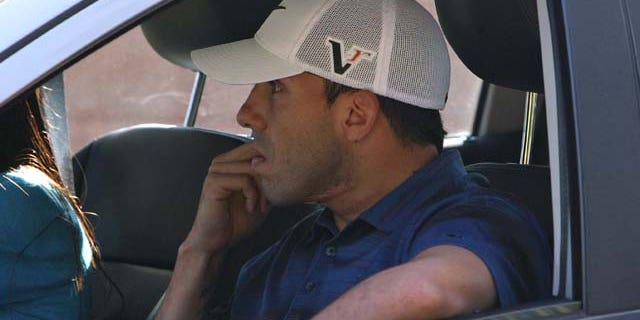 The soap opera known as "As the Soccer Ball Turns" continued in Manchester, England Monday as Argentine striker Carlos Tevez was scheduled to meet with Manchester City officials into the investigation into his alleged refusal to play against Bayern Munich in the UEFA Champions League last week.
Tevez was slapped with a two-week suspension after City manager Roberto Mancini said he would not come on as a substitute in the 2-0 Group A loss. His fate is expected to be determined as early as this week.
Mancini claimed that Tevez refused to enter the game.
Tevez had two accounts of his story. He first said: "I didn't feel I was right to play, so I didn't." He later said "there was confusion on the bench."
Tevez cannot train or play for City until Oct. 12. Since there are no English Premier League matches this weekend, due to FIFA international playing dates, Tevez won't miss many games -- if the club takes him back.
At the moment, that doesn't seem very likely. Speculation is rife in the England media that the 27-year-old Tevez would be transferred to another club, including one in his native Argentina.
Tevez has not had much support.
City legend Francis Lee told BBC Radio 5 that there was "no way back" for Tevez, adding that his actions were "unforgivable."
Former Argentine international Ossie Ardiles, who has coached and played in England, told BBC Sport that Tevez should apologize to the club.

ENGLAND
Javier Hernández
Teamed with Wayne Rooney up front, Chicharito and the England standout did not score in Manchester United's 2-0 home win over Norwich City. He did not have very many scoring opportunities. This is what the United website said about the Mexican star striker:
"Caught offside on too many occasions and struggled to provide any decent noteworthy moments in front of goal. A despairing tackle . . . blocked his shot after linking up well with Rooney but the organized defense snuffed out much of his threat before he was substituted."
The Manchester Evening News gave Hernández a five out of 10. The newspaper said of the Mexican: "Fergie says 'He's got something in the box' but Reds never gave him anything in box."
Sergio Aguero
The Argentine international striker limped off the field at Blackburn with a groin injury in the 30th minute of Manchester City's 4-0 road win. "I don't think it's as bad as we first thought," City coach David Platt said. Aguero was just as optimistic that he was ready to join his Argentina teammates for World Cup qualifying matches vs. Chile and Venezuela. "I am very happy because the doctor told me I have only a muscle bound! Tomorrow I come back to the national team!!" he said on twitter. Platt spoke with the media after Mancini declined to talk in wake of the ongoing Tevez controversy.

SPAIN

Andres Guardado
The Mexican midfielder started Deportivo La Coruña's 4-0 onslaught of Guadalajara with a goal in the sixth minute of the Second Division encounter. Guardado, who was replaced by Rochela in the 76th minute, received a yellow card eight minutes prior.

GERMANY
Claudio Pizarro
Pizarro, a Peruvian forward, scored again, this time off a spectacular volley in the 83rd minute in Werder Bremen's 3-2 loss at Hanover 96. Pizarro hit the left post in the 48th minute.

ITALY
Alejandro Gómez
Argentine midfielder Alejandro Gómez struck in stoppage time to lift Catania into a wild, 3-3 away draw at recently promoted Novara.

FRANCE

Javier Pastore
The Argentine playmaker continued to show why deserves to be French soccer's most expensive signing, scoring yet again in Paris St. Germain's 2-0 victory over Olympique Lyon as his team moved to a three-point lead in Ligue 1. Pastore, acquired by the club for a $53 million transfer fee this summer, embarrassed goalkeeper Hugo Lloris, scoring from a tight angle at the near post after an impressive run down the left flank past defender Bakary Kone in the 64th minute.
Guillermo Ochoa
The Mexican goalkeeper played another strong game for Ajaccio in its 1-1 road draw with Dijon FCO as he made six saves. Dijon outshot Ajaccio, 18-4. Dijon coach Patrice Carteron certainly wasn't happy with the result. "It's frustrating because it's a shame to just get one point after dominating like that," he said. "This draw is a pretty lucky result for Ajaccio." Ajaccio coach Olivier Pantaloni felt the exact opposite. "Defensively, we have a good basis to our play even though our attack was a bit lacking in my opinion."

UNITED STATES

Rafa Márquez

Márquez's confounding play continued in the New York Red Bulls' 1-1 Major League Soccer draw at Toronto FC. The captain of the Mexican National Team started played casually at central midfield and was replaced by Dax McCarty. McCarty's corner kick set up Thierry Henry's equalizer in the 88th minute. The Red Bulls haven't won with Márquez in the lineup since a 1-0 home win over Sporting Kansas City on April 30. That amounts to a 10-game winless streak (0-3-7). In contrast, when Márquez doesn't play, the Red Bulls are 4-3-7, which has been good for 19 points in 14 games.

Fredy Montero

The Colombian forward struck twice to lift the Seattle Sounders to a 2-1 comeback victory over the host New England Revolution. Montero scored in the 36th and 48th minute.

Fabian Espindola, Javier Morales

The two Argentine players teamed on Real Salt Lake's lone goal in its 2-1 loss to the LA Galaxy. Espindola headed in Morales' corner kick in the 45th minute before the Galaxy rallied.

Michael Lewis, who has covered international soccer for three decades, can be reached at SoccerWriter516@aol.com.
Follow us on twitter.com/foxnewslatino
Like us at facebook.com/foxnewslatino