Soccer Round-Up: Goals, Brawls and Chicharito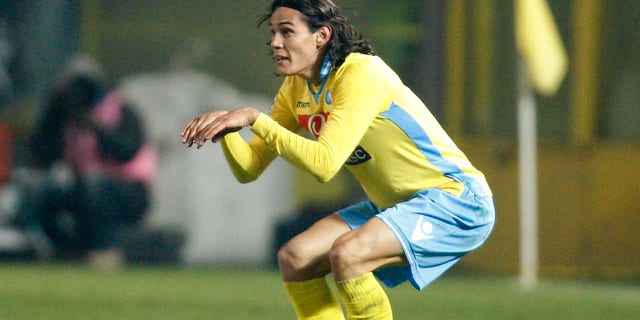 For better or worse, Latino players found themselves in the headlines over the weekend, whether it was finding the back of the net, finding the bench for underachieving, or finding the jaw of a teammate after a scuffle.

The fabulous Chicharito scored for Manchester United, Lisandro López struck twice for Lyon in France, German Denis scored for Atalanta in Italy, high-priced Pablo Osvaldo reportedly was fined and suspended for punching a Roma teammate after a loss in Italy, and high-scoring Javier Pastore was taken out in the second half of Paris Saint Germain's loss in France.

It turned out to be one busy weekend as players from Uruguay, Chile, Venezuela, Argentina, Costa Rica and Mexico.

Italy

Edinson Cavani, German Davis

Rivals from two South American countries scored. Cavani, a Uruguayan, tallied deep into stoppage time to lift Napoli to a 1-1 tie at Atalanta and into seventh place in Serie A. Argentine striker German Denis struck for his 10th goal of the season to give the hosts the lead in the 64th minute.

Mauricio Isla, Pablo Osvaldo

Isla, a Chilean, connected for an insurance goal to give Udinese a 2-0 win over Roma. After Antonio Di Natale broke the scoreless tie in the 79th minute, Isla found the back of the net off a counterattack in the 88th minute. Colombian midfielder Pablo Amero created the goal, stealing the ball and setting his teammate up from the left flank.

Osvaldo, an Argentine forward reportedly was fined and suspended by Roma for 10 days for punching teammate Erik Lamela in the face after not receiving a pass in a 2-0 loss at Udinese. Lamela threw a plastic bottle at Osvaldo, according to reports.
England

Javier Hernández

It took him to the final Saturday of November, but Chicharito finally found the back of the net at Old Trafford this English Premier League season. Hernández almost scored a second home goal about a half hour later, but the Red Devils were forced to settle for a disappointing 1-1 draw with Newcastle United. The Mexican international thought he had scored into second-half stoppage time, but his goal was ruled to be offside during a late surge. Ryan Giggs had sent a let-wing cross in front of the net. Michael Carrick touched the ball, which put Hernández in an offside position.
"We kept making chances and that's the normal pattern of these last 15-minute surges," United manager Sir Alex Ferguson told MUTV. "We do get chances and usually do okay. We were unlucky with the offside as, if Michael doesn't touch it, Chicharito is onside."

It certainly wasn't one of the "Little Pea's" classic goals, but his 49th-minute score all counts the same. Hernández was fouled by Steve Taylor in the 49th minute. English international striker Wayne Rooney smashed a 25-yard free kick that was blocked by the defensive wall. The ball bounded back to Rooney, who volleyed a shot that was blocked by Taylor. The ball went straight to Hernández some seven yards yard and deflected off of him into the net for a one-goal advantage.

It was Hernández's first home goal of the season after tallying six on the road.

Luis Suárez

The Uruguayan World Cup hero came close to scoring in Liverpool's 1-1 tie with Manchester City, but was denied by goalkeeper Joe Hart.

Mauro Formica

The Argentine could have changed the course of Stoke City's 3-1 win over Blackburn Rovers. With his team trailing 1-0, Formica's free kick missed the net by a yard on a free kick early in the second half. A goal would have tied things up at 1-1.

Spain

Carlos Vela

Mexican international Carlos Vela found the back of the net in the 76th minute for Real Betis in its 3-2 home victory over Real Sociedad in La Liga. After Imanol Agirretxe had given the hosts a 1-0 advantage in the 56th minute, Vela doubled the lead 20 minutes later. Betis certainly needed his goal as Jonathan Periera struck twice within a four-minute span (81st and 85th minutes) to equalize. Inigo Martinez, however, scored in the 90th minute to boost Betis to the win.

Andres Guardado

Sometimes you've got to take matters into your own hands. Just ask Guardado. After setting up teammates on scoring opportunities on free and corner kicks, Guardado fired home a penalty kick in first-half stoppage time to ignite Deportivo La Coruña to a 3-1 win over UD Almeria in the Second Division. Guardado helped Deportivo dominate the opening half, but it couldn't solve the visitors' backline. He certainly did his best. Guardado sent a free kick toward the Almeria net in the 13th minute that Álex Bergantiños headed wide. The Mexican international midfielder was at it again in the 25th minute as Colotto headed his corner kick that goalkeeper Esteban Suárez saved and knocked out of bounds for another Coruñacorner.

Finally, Guardado got his chance in injury time. Carlos Garcia pulled down Colotto in the penalty area while Coruñatook a corner kick. Referee Valdes Aller called a penalty kick and Guardado fired home the ensuing spot kick for a 1-0 lead and his fifth goal of the season. It was also the second consecutive game Guardado had scored. Guardado wasn't finished. With Coruña leading 2-0, he was fouled in the penalty area to set up another spot kick. This time Lessard took the attempt and converted.

France

Lisandro López

The Argentine striker struck for a brace for fifth-place Lyon in its 3-0 victory over Auxerre. López headed home a cross from Michel Bastos in the 20th minute. He beat the offside trap in the 69th minute to beat goalkeeper Olivier Sorin. "It was important to win," López was quoted by the club's website. "This result does good to the whole squad and makes up for the three points lost against Rennes [last weekend]."

Javier Pastore
Pastore, an Argentine who got off to a quick start for Paris St. Germain, could not find the back of the net in its 3-0 defeat to Marseille. PSG fell out of first place. In fact, he was so ineffective that he was replaced by Mathieu Bodmer in the 59th minute.

Guillmero Ochoa
To say AC Ajaccio suffered through a nightmare first half in its 3-1 French Ligue 1 loss to AS Saint-Etienne would be an understatement. The visitors were outplayed at Stade Geoffroy-Guichard and lost Leti N'Diaye to a red card in the 36th minute, as Ajaccio was forced to play the rest of the match a man down.

Mexican goalkeeper Guillermo Ochoa did his best to stop the onslaught of 21 shots the hosts peppered him with. He allowed goals by Max-Alain Gradel (seventh minute), Florent Sinama-Pongolle (33rd minute) and Banel Nicolita (84th minute). Ochoa, who missed last week's 2-2 home tie with SM Caen, made four saves and blocked three other shots.
Germany
Jorge Arango

The Venenzuelan scored Borussia Moenchengladbach's second goal in its 3-0 Bundesliga triumph at FC Cologne.

Lucas Barrios

He did not figure in the scoring for defending champions Borussia Dortmund's 2-0 wn over Schalke O4, but the Argentine played his first game for the defending champions as he returned from an injury suffered at Copa America over the summer.

Portugal

James Rodríguez

A cross from the Colombian set up the first of two Brazilian striker Hulk's two goals in FC Porto's 3-2 victory over Braga as the defending champions moved into first place. Rodríguez created the first goal in the 37th minute.

Australia

Carlos Hernández

Hernández, a Costa Rican, scored his second goal of the match, heading home the winner for the Melbourne Victory in the 80th minute in its 3-2 victory over Gold Coast United in the A-League in Australia. The win, only the team's second this season, boosted Melbourne from seventh to third place. Melbourne had grabbed a two-goal advantage behind first-half penalty kicks by Australian international Harry Kewell (third minute) and Hernández (24th minute). However, defender Rodrigo Vargas was red carded and Melbourne saw its 2-0 lead disappear, forcing Hernández to play hero.

United Arab Emirates

Former Argentina international midfielder Gabriel Calderón was named coach of United Arab Emirates club Baniyas, which is in seventh place in the UAE Pro League, eight points behind first-place Al Jazira. Calderón, who represented Argentina at the 1982 and 1990 World Cups, had signed a contract to coach the team for the remainder of the season. He directed Saudi Arabia to the 2006 World Cup, but was fired before the tournament started. He also coached top Saudi teams Al Ittihad, guiding the latter to the Saudi title in 2009 and the 2009 AFC Champions League final. He also directed Al Hilal to the Saudi title earlier this year.

FIFA rankings

Mexico remained atop CONCACAF in the latest FIFA rankings. The CONCACAF Gold Cup champions moved two spots up the FIFA ladder while continuing to solidify its rightful hold on the No. 1 ranking in its confederation. The United States stayed in second place in CONCACAF and 34th overall. The Americans were followed by Jamaica (47th), Panama (51st), Honduras (54th) and Costa Rica (64th).

Haiti, which is ranked ninth in CONCACAF and 78th overall by FIFA, is the highest team in the rankings that failed to reach the CONCACAF semifinals of World Cup qualifying next year. Trinidad & Tobago, which was No. 11 in the confederation and 86th in the world, also did not qualify for the semifinals.

Guyana, which was 14th in CONCACAF and 97th in the FIFA rankings, was the lowest ranked team to move on in qualifying.
The complete CONCACAF listings (first number is the FIFA ranking, followed by the CONCACAF ranking; the numbers after the country's name are the number of points it has accrued and whether it moved up or down or stayed the same in the FIFA rankings):

20 1 Mexico 866 2

34 2 USA 721 0

47 3 Jamaica 609 3

51 4 Panama 585 2

54 5 Honduras 570 3

64 6 Costa Rica 503 -2

69 7 El Salvador 463 13

72 8 Canada 455 11

78 9 Haiti 438 29

83 10 Antigua and Barbuda 418 7

86 11 Trinidad and Tobago 409 -7

90 12 Guatemala 397 9

92 13 Cuba 390 8

97 14 Guyana 370 0

106 15 Grenada 309 10

106 16 Puerto Rico 309 31

109 17 Bermuda 307 23

117 18 St. Kitts and Nevis 284 -8

122 19 Suriname 261 -18

129 20 Dominican Republic 247 -1

140 21 Belize 194 3

146 22 St. Vincent and the Grenadines 170 0

149 23 Curaçao 154 22

153 24 Bahamas 141 1

153 25 Nicaragua 141 7

161 26 Barbados 125 -13

172 27 Aruba 92 0

173 28 Dominica 90 -21

177 29 US Virgin Islands 82 -8

181 30 Cayman Islands 74 4

184 31 St. Lucia 65 -5

194 32 British Virgin Islands 23 -2

195 33 Turks and Caicos Islands 13 -1

197 34 Anguilla 9 0

Michael Lewis, who has covered international soccer for more than three decades, can be reached at SoccerWriter516@aol.com.