Soccer: Carlos Tevez Leads Manchester City, Lionel Messi Resting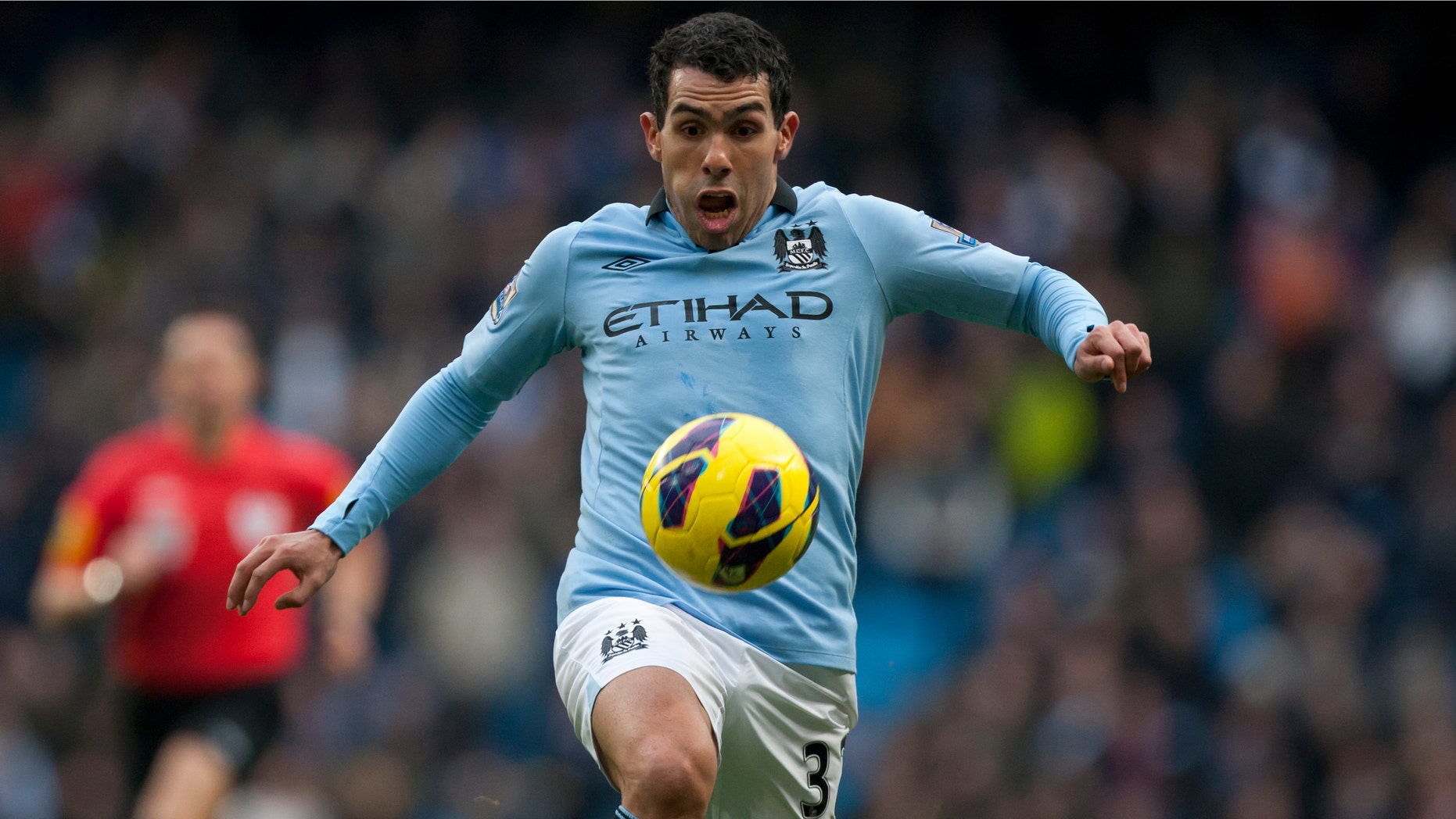 Carlos Tevez might not have a license to drive around England these days, but he certainly has a license to score.
Only two days after he was arrested for allegedly driving with a suspended license, the Argentine standout recorded a hat-trick in Manchester City's 5-0 mauling of Barnsley in the quarterfinals of the English F.A. Cup on Saturday.
Two days earlier, on Thursday, he was arrested for driving with, as England called it, "a disqualified license." Tevez could face up to six months in jail if convicted.
"It is his problem – not ours," Manchester City manager Roberto Mancini said. "If it has this affect on him I hope the police can stop him every day."
On Saturday, Tevez's was Barnsley's problem.
"Tevez is a ghost. The players in there are telling me how he just pulls away from you and gets a shot on target," Barnsley manager David Fitcroft told reporters. "It's his power – he's frightening."
The Argentine started his personal onslaught in the 11th minute, putting home a rebound of David Silva's shot off the post into the goal. He turned playmaker in the 27th minute, setting up Aleksandar Kolarov. Only four minutes later, Silva set up Tevez, who struck from close range before he completed his hat-trick five minutes into the second half. Silva, a Spaniard, finished the rout up with a 65th-minute score.
SPAIN
Lionel Messi, Alexis Sanchez
Messi came off the bench to score a spectacular goal in the 88th minute to seal his team's 2-0 win over struggling Deportivo Coruna.
Chilean striker Sanchez had given the hosts the lead on a header in the 38th minute. Messi, who replaced David Villa around the hour mark, squandered a great scoring opportunity in the 85th minute, but the Argentine atoned for his miss only three minutes later. He exchanged passes with Sanchez before chipping goalkeeper Daniel Aranzubia for the insurance goal.
In case you're counting – with Messi, it is quite easy to lose track – the Argentine has scored in a league-record 17 successive matches and has 40 goals this La Liga season.
It also was Barca's first shutout in 14 games.
Barcelona (71 points), which had lost three of its last four games, leads Real Madrid (58) and got a confidence boost before Tuesday's vital UEFA Champions League confrontation against A.C. Milan in the round of 16. The Italian side surprised Barca, 2-0, in the first leg last month.
"We have been a great team, but we've never completed a historic comeback," Barca defender Dani Alves said. "Perhaps the moment has come to do it. We will try to win, if we don't take risks we won't win. We are not afraid."
Real Madrid moved past Atletico Madrid (57), which dropped a 1-0 decision to Real Sociedad, into second place on the strength of a 2-1 away win at Celta Vigo. Cristian Ronaldo scored twice within a 10-minute span in the second half. He gave the visitors the lead in the 61st minute. After Iago Aspas leveled things at 1-1 two minutes later, Ronaldo converted a penalty kick in the 71st minute for the final goal. Atletico had won all of its 13 home matches this season.
SPAIN
Alejandro Dominguez
The Argentine player scored Rayo Vallecano's first goal in the ninth minute in its 2-0 win over Espanyol.
Jorge Molina
Molina, a Chilean, found the back of the net to give Real Betis a 1-0 lead in its 2-1 home victory over Osasuna.
ENGLAND
Javier Hernandez
Chicharito scored an early goal to give Manchester United the lead, but the hosts could not hold a two-goal advantage and settled for a 2-2 draw with Chelsea in the English F.A. Cup quarters. The tie forced a replay of the match. The Mexican striker gave United the lead in the fifth minute before Wayne Rooney increased the advantage to 2-0 in the 11th minute at Old Trafford. Chelsea rallied behind Eden Hazard (59th minute) and Ramires (68th).
Luis Suarez
The Uruguayan striker helped Liverpool end Tottenham's 12-game unbeaten streak as he scored the first goal in a 3-2 home victory. Suarez connected for his 50th goal for the Reds in the 21st minute, beating goalkeeper Hugo Lloris at the near post. After the visitors rallied to a grab a 2-1 edge, Liverpool staged a rally itself between Stewart Downing (66th minute) and Steven Gerrard (82nd-minute penalty kick).
Maynor Figueroa, Jordi Gomez
Taking advantage of the absence of injured U.S. goalkeeper Tim Howard, Figueroa, Gomez and their Wigan Athletic teammates scored three times within a four-minute span of the opening half of their 3-0 triumph over Everton in the English F.A. Cup quarterfinals. Figueroa, a Honduran international defender, started Wigan's streak, heading hoe a corner kick past goalkeeper Jan Mucha in the 30th minute. Callum McManaman added one a minute later before Gomez, a Spaniard, curled home a 20-yard shot in the 33rd. Howard has been sidelined by two broken bones in his back.
ITALY
Edinson Cavani
Cavani might be the leading goal-scorer in Serie A with 18 goals, but he can't find the back of the net these days. The Uruguayan's goal-less streak reached eight games as he missed a penalty kick as second-place Napoli dropped a 2-0 decision at Chievo. He has not scored since the end of January, a streak that includes six league matches and two Europa League games. Cavani, who had several close encounters, had his PK denied by goalkeeper Christian Puggioni in the second half.
"There are moments when the ball just does not want to go in. Look at the penalty and Christian Puggioni's save," Napoli coach Walter Mazzarri told reporters. "This sort of spell, where nothing goes right, happens every year."
Victor Ibarbo, Maxi Lopez
Ibarbo, a Colombian, struck for all three goals for Cagliari in its 3-1 triumph past Sampdoria, although no fans witnessed his feat. Lopez, an Argentine, had a stoppage-time goal for Sampdoria.
FRANCE
Guillermo Ochoa
The Mexican goalkeeper was credited two saves and two blocked shots in A.C. Ajaccio's a 1-0 win over visiting FC Lorient. Ronald Zubar scored the lone goal in the 75th minute.
PORTUGAL
Eduardo Salvio, Nicolas Gaitan, Lorenzo Melgarejo
Benfica's South American contingent was a full throttle in its 5-0 home victory over Gil Vicente as it retained its two-point advantage over FC Porto. Salvio and Gaitan are Argentine, while Melgarejo is a Paraguayan defender.
Jackson Martinez
The Colombian standout doubled FC Porto's lead in the 13th minute by converting a penalty kick in its 2-0 victory over visiting Estoril Praia.