Simone Biles makes history with fourth all-around world championship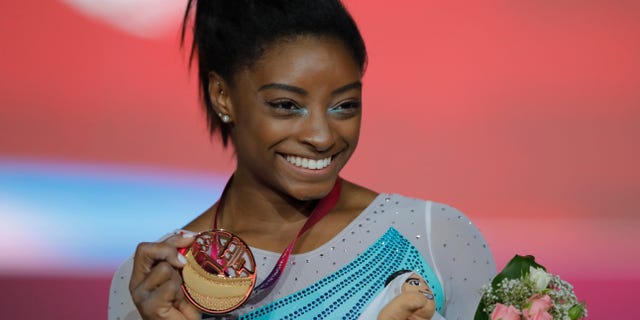 Simone Biles didn't let uncharacteristic mistakes and a trip to the hospital with kidney stones on the eve of competition stop her from being the best gymnast in the world.
The 21-year-old American star won her fourth world all-around championship title on Thursday to become the first woman ever to complete the feet.
Despite errors on vault, beam, and floor --- she sat down her vault in the first rotation, came off the beam on her third and stepped out of bounds on floor – Biles earned a 57.491 score, putting her nearly 1.7 points ahead of silver medalist Mai Murakami of Japan.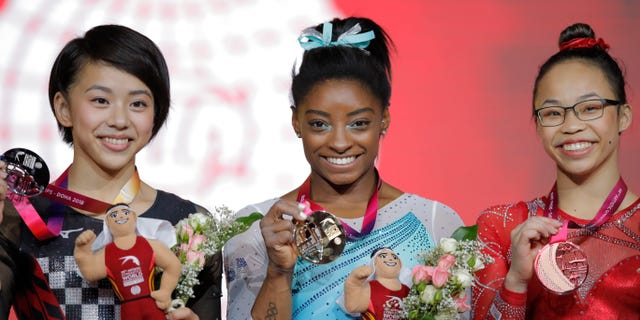 Fellow American Morgan Hurd came in third.
The uneven bars were the Olympic champion's cleanest routine, despite it traditionally being her weakest discipline.
"This is definitely the scariest one from the ones from the past," Biles told reporters, according to BBC Sports. "I wish I could have put out a better performance because that's not the gymnast that I am. But we all make mistakes and fall – it's just how you get up and prove yourself."
Earlier in the week, Biles, who won four gold medals at the 2016 Olympics in Rio de Janeiro, helped the United States to an emphatic women's team gold.
In the end, the meet finished the way they have always finished for the last five years when Biles is involved: with her atop the podium standing above a sport that is desperately trying to keep up.
The Associated Press contributed to this report.