Shooting victim Stedman Bailey will join West Virginia's coaching staff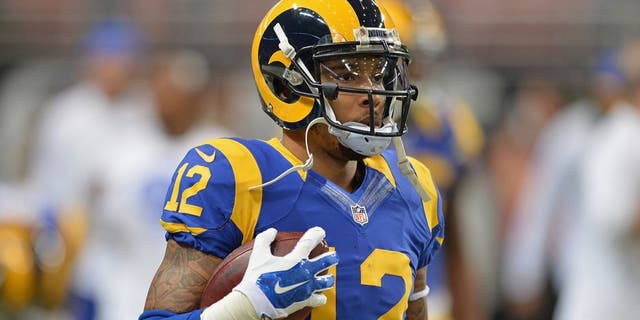 NEWYou can now listen to Fox News articles!
Stedman Bailey is heading back to college.
The Los Angeles Rams wide receiver will join the West Virginia University staff as a student assistant coach for the 2016 season, Mountaineers Coach Dana Holgorsen announced Sunday.
Bailey is still recovering after being shot twice in the head last November while sitting in a car near his home in Miami. He has not been cleared to return to playing football, so the Rams placed him on the reserve non-football injury list, which allows him to be around the team while not counting against its 90-man roster.
The 25-year-old wideout attended the Rams' offseason workout program, helping out with the receivers and on special teams.
An All-American at WVU, Bailey racked up 3,218 receiving yards on 210 catches and scored 41 touchdowns -- the most in school history. The Rams made him a third-round pick in the 2013 NFL Draft, and he has 59 receptions and two touchdowns in 38 NFL games.
Bailey will enroll full-time at WVU to complete his bachelor's degree in multidisciplinary studies. He said in a statement that his playing career isn't over yet but that returning to WVU will give him more time to heal.
"We couldn't be happier for Stedman and this opportunity he has to complete his degree and join West Virginia's coaching staff," Rams coach Jeff Fisher said in a statement released by WVU.
"His presence during our offseason program meant a great deal to his teammates, and his mentorship was invaluable to our young rookies. Stedman's ability to teach, and his remarkable drive and determination, will serve him well at West Virginia, and we wish him and his family the best as they step into the next chapter of their lives."