Sharks ready for well-rested Red Wings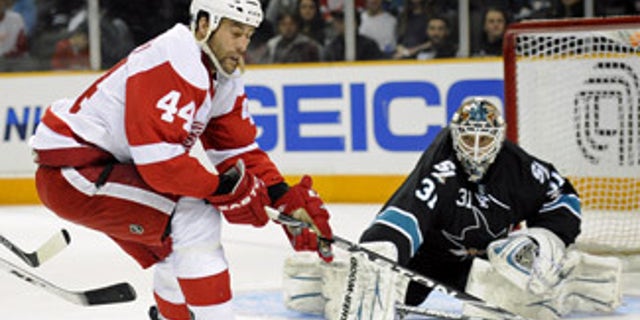 SAN JOSE, Calif. -- Recent history, which in this case means last season's playoffs and the 2010-11 regular season, says the San Jose Sharks just might have Detroit's number.
The Sharks beat the Red Wings 4-1 last season in their Western Conference Semifinal series, then won three of the four regular-season meetings in '10-11. That makes seven wins for San Jose in its past nine games against Detroit.
So what does it all mean entering this year's rematch between the Sharks and Red Wings?
"For the most part it goes out the window," Sharks forward Ryane Clowe said after Wednesday's practice. "We played pretty good against them in the regular season and obviously beat them in five last year, but I think it's a different situation.
"I think, if anything, we take some confidence because Detroit sometimes puts fear in teams just by (the fact) it's Detroit and they've been to the finals a couple times. They've won a Cup. They've been successful in the last few years. The fact that we had a good record gives us a little confidence and knowing that if we put our game on the ice, then we've got a pretty good chance."
The Red Wings won the Stanley Cup just three years ago, when Sharks coach Todd McLellan was in his final year as a Detroit assistant under Mike Babcock. That marked Detroit's fourth title since 1997 and the 11th Stanley Cup in franchise history, which points directly to the postseason fear factor for teams that face the Red Wings -- especially teams like the Sharks that have yet to win a Stanley Cup.
Before last season, Detroit had won back-to-back series against the Sharks, beating them 4-0 in 1995 and 4-2 in 2007.
Last year, though, the Sharks flipped the script. They jumped on the Red Wings in Game 1, taking a quick 3-0 lead in the first period and holding on for a 4-3 victory at HP Pavilion with a red-hot Joe Pavelski scoring two goals. Pavelski scored two more goals in Game 2, another 4-3 Sharks win. Then in Game 3 at Detroit, Patrick Marleau took a pass from Joe Thornton and hammered home the game-winner at 7:07 of overtime for yet another 4-3 win.
After a 7-1 Red Wings rout in Game 4, the Sharks closed out the series at home with a 2-1 win, as Thornton scored the first goal and Marleau the second.
"We did a lot of things well," Pavelski said of that series. "Power play was good, PK was good, but I think to beat them this year we're going to have to be even a step better than last year. They're a hungry team. They're playing well. We need to be on top of our game."
The Red Wings will definitely be more rested this year than when they came to HP Pavilion last year for Game 1. Detroit took seven games to oust Phoenix in the quarterfinals last season. That series ended on April 27. Two days later, the puck dropped in San Jose, and Detroit faced a Sharks team that had taken full advantage of four days off to rest and prepare after beating Colorado in six games.
This year, Detroit swept its first-round series with Phoenix, winning Game 4 on April 20. The Sharks needed six games to beat Los Angeles in a series that ended Monday.
"They're going to want to prove something, that last year was a fluke," Sharks captain Joe Thornton said of the Red Wings. "It's a good test for them to see if they can beat us again this year."
"They're going to be healthier," Sharks defenseman Dan Boyle said of this year's Red Wings team. "They're going to be better and they're going to be probably more motivated. We'll have to be better than we were last year to beat them.
"We only saw them in the playoffs for four games, but they looked like they picked it up a notch and are more physical than they have been in the past and they're healthier. (Henrik) Zetterberg is coming back probably. They won that series without arguably their best player. That's only going to make them better."
McLellan has already warned his team about expecting history to repeat just because they're facing the Red Wings again in the conference semis.
"It's a completely different series, different teams, different circumstances," McLellan said. "If we fall into that trap of looking back to last year we'll sorely regret it. They're a healthier team, they're much more rested. They'll have a revenge factor. There's a lot of things that will be different this year. Our team will have to be very cognizant of that."
Message delivered.
"It's not going to be easy," Pavelski said. "Last year was not easy. It went five games but it was not easy. They're a good team and they fight for everything. Obviously they push teams to the max, and we do that as well, so it should be a good one."