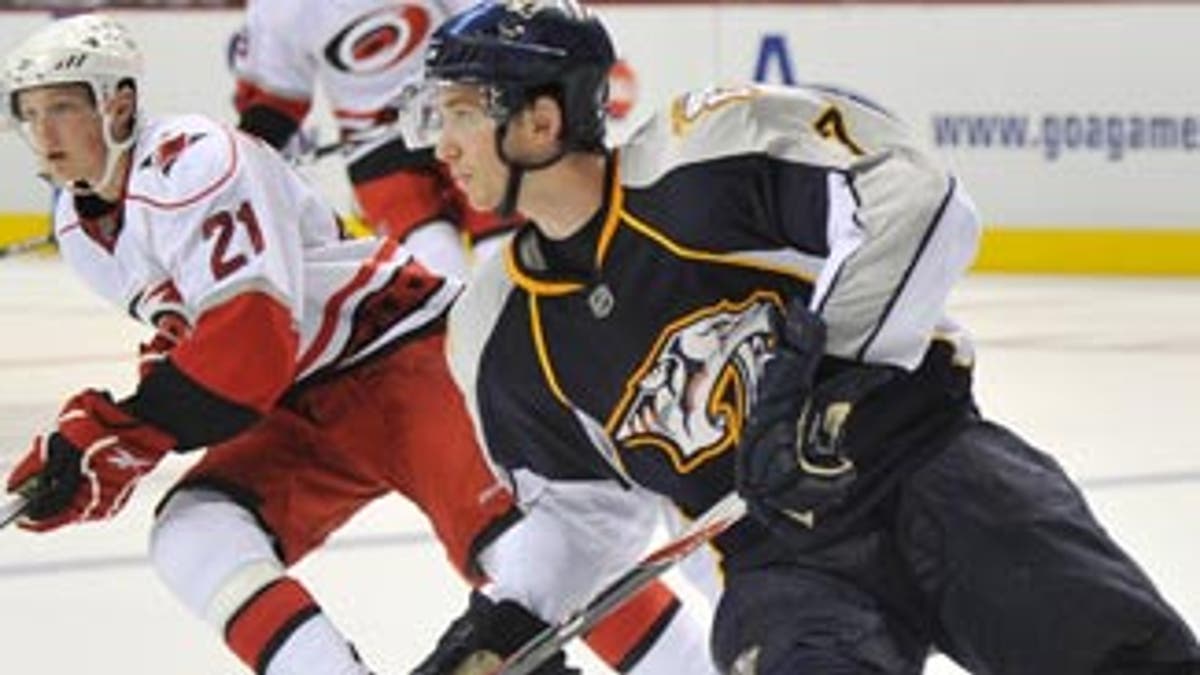 ANAHEIM, Calif. -- The unorthodox journey of Jonathon Blum came full circle when he stepped on the ice for the morning skate.
Honda Center was empty on this Wednesday morning, of course, but the memory came back to Blum.
"The last time I skated on the ice I was probably 6 years old at intermission at one of the games," Blum said. "It was pretty cool."
That would aptly describe Blum's unique odyssey, from the first California-born-and trained player drafted in the first round to a regular defenseman role for the Nashville Predators, who play his hometown Anaheim Ducks in the opening round of the playoffs.
Blum grew up down the freeway in Rancho Santa Margarita, deep in south Orange County. His parents, John and Dana, were Ducks season ticket holders when he was a kid. The last time he visited the arena, he sat in the stands for the 2007 Stanley Cup Final.
He never envisioned that his first NHL playoff series would be against the team in his own backyard.
"No, not at all," he said. "I was expecting to have to wait until next year to come to town and see all the family and friends. They're excited for me. I'm just excited at the opportunity to get to play here … It's a pretty crazy feeling to play your hometown team for the playoffs."
Blum has about 30 game passes for friends, family and others who helped him get to the NHL. It's been a swift rise.
Blum, 22, was recalled in February to fill in for Francis Bouillon on Nashville's blue line, and it could have happened sooner, according Predators coach Barry Trotz.
"He's really ready to make the next step," Trotz said. "I mean, we kept him in the minors for a long time. We felt so comfortable with his play that we actually moved a more veteran player in Alex Sulzer, on to Florida at the trade deadline. Jonathon did the job and he's done a really good job."
Nashville will lean on Blum early in the series because host Anaheim has the last line change and gets its top-six forwards, notably the Bobby Ryan-Ryan Getzlaf-Corey Perry line, away from Shea Weber and Ryan Suter.
That translates to matchups against depth defensemen such as Blum, who handled it well in Game 1 when he was plus-2 with an assist in Nashville's 4-1 victory.
Everything about Blum's path suggests he is ready for any challenge.
Growing up in a non-traditional hockey market, Blum played street hockey in his neighborhood and eventually took to roller hockey before he honed his game on ice for the aptly-named California Wave, a well-known traveling youth program.
He moved away from home as a teenager to play for a WHL team, the Vancouver Giants, an unheard of move for a Southern California-based player.
When he was drafted with the 23rd pick by Nashville in 2007, it practically knocked down the door for California kids dreaming of the NHL.
At last summer's draft, the Pittsburgh Penguins made Beau Bennett the highest drafted (20th) California-born-and-trained player in NHL history, and Anaheim selected Emerson Etem of Long Beach 29th to mark the first time two California players were picked in the first round.
Blum isn't even the only Orange County-based defenseman in the Nashville organization, which picked Placentia-product Taylor Aronson in the third round.
"You've got to give a lot of credit to the coaches that started these organizations," Blum said. "They all started programs for kids just to learn hockey and I think you're really starting to see that talent come through. I think they're really taking hockey seriously now."
For Blum, it doesn't get more serious than playoff hockey. Trotz is confident that the 6-foot-1, 190-pound Blum is up to the task.
"Jon is a really, really smart defenseman, outstanding stick. He reads the play very well," Trotz said. "He's got lots of poise, and he handles weight very well. He actually looks bigger off the ice than he looks on the ice. He uses a great stick. He's got good leverage, great instincts. He's been tremendous for us."
Anaheim isn't terribly familiar with Blum but at least one member of their vaunted top line has seen enough tape to get an idea of the youngster.
"Incredibly poised is probably best way to put it," said Ryan, who, like Blum, started out playing roller hockey in Southern California.
"He grew up playing a Southern California-style of hockey, which is no contact and pretty passing plays, so he can certainly do that, and he's a big kid so he can play both games. He's going to be a good player."
Trotz made it a point to mention that Blum was "a good kid," which could be a nod toward how he was raised and what he endured: Blum lost his twin sister, Ashley, to a house fire in 2004, and Dana is a cancer survivor.
Blum has said that his hockey dream was Ashley's as well. So every time he steps on an NHL rink, it carries added significance.
Not surprisingly, Blum is humble and talkative with the media, the ideal poster boy for aspiring California players. During the summer he returns to the area and visits his old haunts and is reminded of how far he has come -- geographically, developmentally and beyond.
"I go up to my old coaches and talk to the kids that are 10, 11 years old," he said. "They look up to me. I was just starting out like them and I know what they're feeling. I can just help them with a couple of words. Really, I think it's about younger education. I give a lot of credit to my minor hockey coaches because they really showed me the way."