Sean Weatherspoon set to play in Cardinals' preseason finale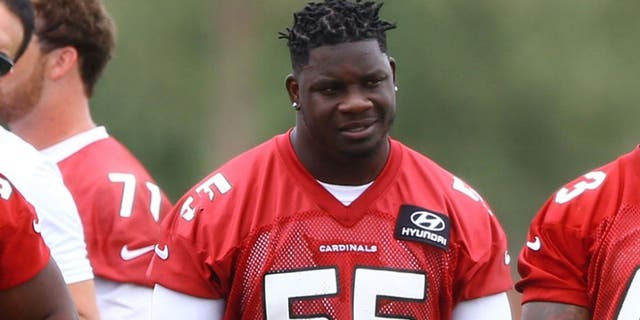 NEWYou can now listen to Fox News articles!
TEMPE, Ariz. -- Inside linebacker is supposed to be the weak link in an otherwise strong Arizona Cardinals defense.
Coach Bruce Arians begs to differ.
So does Kevin Minter, who is slimmed down and healthy after an injury-plagued second pro season in 2014.
And it looks like Minter finally will have Sean Weatherspoon alongside him when the season opens Sept. 13 against New Orleans.
Weatherspoon, sidelined virtually all of the preseason with a hamstring injury, practiced on Tuesday and, according to Arians, will play in Thursday night's preseason finale at Denver.
And Deone Bucannon, still listed as a safety, will play what really is a linebacker's position, especially in passing situations.
Add Kenny Demens to the rotation, and the Cardinals believe they will be just fine.
"People say we have a problem there, I don't see it," Arians said after practice on Tuesday. "I think Kevin and Spoon and Kenny and when Buc's down there, we're more than solid."
Minter knows he has yet to show he was worth the second-round pick the Cardinals used to select him in the 2013 draft.
As a rookie, he played only on special teams.
And he tore a pectoral muscle in the first preseason game a year ago. Rather than opting for surgery, he played all 16 regular-season games wearing a harness for protection and support.
"With that injury it was kind of hard to push off," he said. "I wasn't able to do push-ups by midseason, so I definitely wasn't going to get a 300-pound guy off me. So it was just me throwing my body around last year. It wasn't really efficient."
Still, playing in mostly run defense situations, he had 49 tackles last season.
Weatherspoon is supposed to be the loud signal-caller for the defense, but in his absence, that role fell to Minter.
"Kevin's grown," Arians said. "His command of the huddle, he's loud now. Even if he's wrong, he's loud, and he thinks he's right. That's OK, because everybody is on the same page."
Minter is healthy and some 20 pounds lighter, thanks to a change in diet and an offseason workout regimen. At 238 pounds, he believes he's faster and can be an every-down player and not just someone who is in the game periodically.
"This is part of the reason I dropped so much (weight) this offseason," he said. "It's the game now. It's pitch and catch. I feel better. I feel more alert. Meetings aren't as bad anymore. I don't need as much coffee."
And his confidence, he said, "is through the roof."
But he knows that the two inside linebacker positions will be in much better shape if Weatherspoon is there.
Arizona signed the five-year NFL veteran to a one-year, $3.85 million contract. It's a strategy general manager Steve Keim used to great success with Karlos Dansby two years ago and Larry Foote last season.
Weatherspoon missed all of last season with a torn Achilles tendon and played in just seven games in 2013 due to injuries to his foot and knee. He has played in every game in a season once, in 2011.
But he came to training camp healthy and out to prove himself.
In the first practice of training camp, he injured a hamstring.
"It stinks, man," he said after a limited workout on Monday, "because a new free agent signing, you want to show people what you can do. When you're banged up you don't get a chance to do that."
He watched the starting defense put in strong showings without him in all three preseason games.
"There ain't no pressure (to get back on the field)," Weatherspoon said. "The defense is playing well. That's a bonus right there so I feel I have enough time to get ready for whenever they need me."
Notes: Running back Chris Johnson, also out with a hamstring injury, practiced Tuesday and will play Thursday night. ... Wide receiver Michael Floyd, recovering from surgery to repair three dislocated fingers, said he has no timetable for his return and doesn't know if he will be ready for the season opener. ... The Cardinals reached Tuesday's 75-man roster limit by releasing offensive tackle Robert Crisp, a 6-foot-7, 300-pound undrafted rookie out of North Carolina State. ... Tight end Jermaine Gresham (hamstring) did not practice and will not make the trip to Denver.