Seahawks GM explains why hes exploring a Richard Sherman trade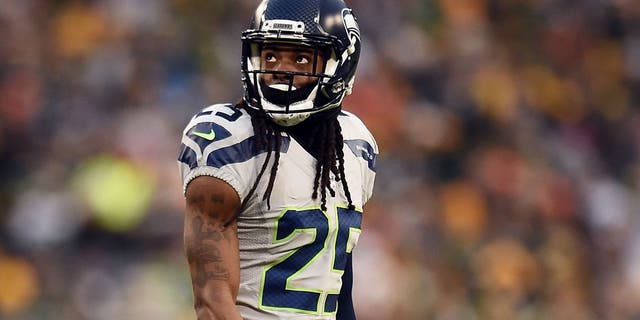 NEWYou can now listen to Fox News articles!
The Seattle Seahawks surprisingly made headlines this offseason when star cornerback Richard Shermans name was floated as a potential trade chip. It seemed outlandish in the beginning, but the Seahawks have made it very clear it was no false rumor.
On Thursday night, general manager John Schneider provided an update on Sherman's chances of being traded.
Right now, I dont think the odds are very good (of a trade), Schneider said, via the Seattle Times. But if someone comes cruising along and something happens and we do something, it happens.
Trading Sherman was always a slim possibility, it seems, considering how valuable he is to the Seahawks. It was an interesting trade scenario, though, and one that sparked a question in many peoples minds: Why?
Icon Sportswire (A Division of XML Team Solutions) All Rights Reserved contact: info@iconsportswire.com http://iconsportswire.c
Schneider explained why the Seahawks would even consider dealing Sherman, and the reason was fairly obvious.
The only reasons we would do it is to create some cap room and trying to become a younger football team. But thats just one option, he said.
Sherman is no longer a young buck at age 29, but he has plenty of good football ahead of him. This is probably just a matter of the Seahawks trying to get out of his contract before his play falls off the way Darrelle Revis did for the Jets.
Sherman'scap hit is $13.6 million in 2017 and $13.2 million the following year, so its not as though hes a cheap commodity. However, for his level of play, hes certainly worth the price.
Schneider said he and Sherman have had open conversations about the situation, and the GM said the Pro Bowl cornerback had a rough year likely alludingto his spats with the coaching staff and media.
We have a dialogue with guys all the time. I think he would admit he had a rough year, so he is looking for maybe a new spark. And hes either going to find that here in Seattle or he would find that somewhere else. But odds are hes going to find that here.
If a trade is going to happen, itll likely go down just before the draft, or during the big event. And even then, it seems unlikely.