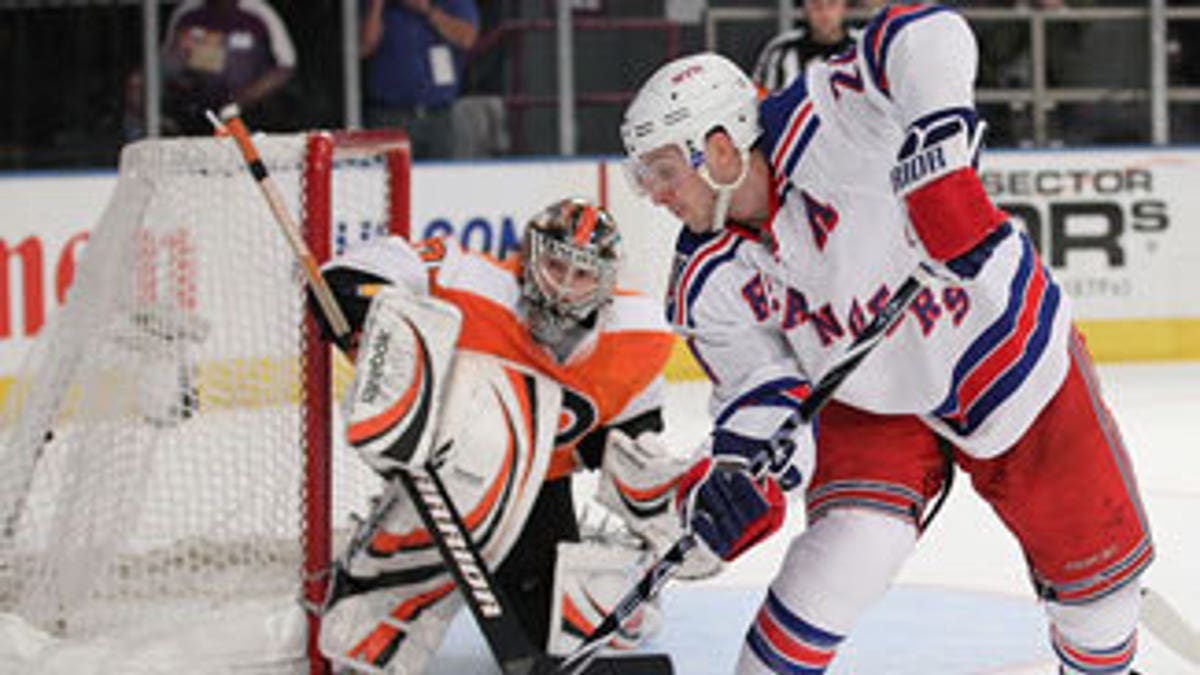 When the New York Rangers and Philadelphia Flyers meet Sunday afternoon in the NBC Sports "NHL Game of the Week" it could very well be a preview of Game 1 of an Eastern Conference quarterfinal series in a couple of weeks.
This matinee at Wells Fargo Arena could mean a lot more for both of these rivals than just a chance for an advanced scouting report. Both clubs are struggling of late and need a change of momentum -- New York needs to secure its place in the 2011 Stanley Cup Playoffs while Philadelphia wants to claim the top seed and home-ice advantage through the first three rounds.
The Rangers had won five games in a row and appeared close to being comfortably in the playoffs, but losses in three of the past four have dropped New York to eighth place in the conference. They will be trying to bounce back from an ugly 6-2 loss to the rival New York Islanders on Thursday.
"We're not in the 13th or 14th spot," Rangers coach John Tortorella told reporters. "We're right in the middle of it. We'll respond the right way. I have full faith in them."
Tortorella shuffled his lines for practice Saturday, moving Brandon Prust to a line with Artem Anisimov and Brandon Dubinsky while putting Ryan Callahan with Brian Boyle and Ruslan Fedotenko. Sean Avery skated with Boyle and Prust against the Islanders, but he was on a line with Erik Christensen and Wojtek Wolski.
New York could use more offense. The Rangers have scored only five goals in the past five games, though they have won two of them thanks to shutouts from goaltender Henrik Lundqvist. One of the problems has been the power play -- the Rangers are 0-for-15 in the past five contests with the man advantage.
"We've just got to get back to basics," defenseman Bryan McCabe told Jesse Spector of the New York Daily News. "Our problem right now is we're just getting one chance, and it's going back down the ice. When it was clicking, we'd sustain a lot of pressure and be in the zone for a minute-thirty, getting a lot of scoring chances. It's tough to score on one chance every time we get in there. We've got to get a little more gritty, and get pucks back, get back to basics, get pucks through from the point, and we've got some guys that can put it in if we do that. Just the basics."
Philadelphia has lost five of seven and 10 of 16 since March 1. The Flyers were in control of the Eastern Conference and challenging the Vancouver Canucks for the Presidents' Trophy, but their struggles have given hope to Washington and Pittsburgh that the No. 1 seed is still up for grabs.
They have had 77 shots on net in the past two games but come away with no points.
"We keep talking about this being the top team in the league, but we haven't played that way," Kimmo Timonen told reporters after the 4-2 loss to New Jersey on Friday night. "Right now we've got to worry about ourselves and make sure we get our game in order. These [last] four games I think are huge for us. Thinking about the playoffs, going into the playoffs, we got to get our game back on track."
Captain Mike Richards said the team has lacked the intensity to sustain offensive pressure and create more than one scoring chance during periods of possession. In each of the past two games, the Flyers have had a chance to eliminate their opponent from playoff contention, but Atlanta and New Jersey were able to stay alive against the Flyers.
While those teams understandably had more desperation, Philadelphia has also lacked enough urgency to finish them off.
"It's a little bit different than Game 5 of a playoff series with a chance to knock them out," Brian Boucher said. "You're trying to create that killer instinct and that urgency. But I don't understand why we haven't. We've got to find this killer instinct if we're going to want to go deep in the playoffs."
The Flyers also have a game against seventh-place Buffalo among their four games in the final week of the season. Jeff Carter said after the loss Friday that he expects them to need victories in all four contests to earn an Atlantic Division title and the No. 1 seed.
"The objective is to win every game we play and finish first in the conference," coach Peter Laviolette said. "That's still the objective."