Saban seeing progress from Bo Scarbrough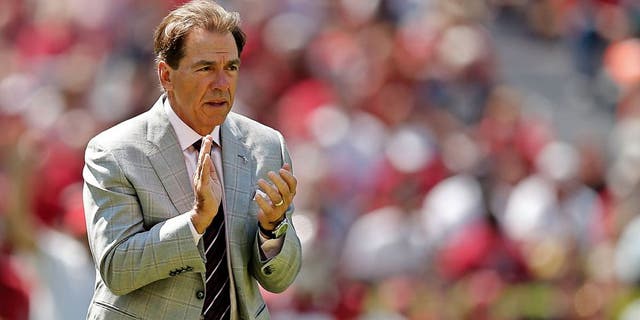 Could Alabama's offense soon be getting some extra explosiveness from Bo Scarbrough? Stacy Revere Getty Images
Alabama is still waiting for highly touted athlete Bo Scarbrough to live up to his enormous high school hype. According to head coach Nick Saban, the wait may soon be over.
"Bo's getting better and better every week," Saban said. "I see the speed coming back, the burst coming back. The biggest thing is we've got to get him up to speed on knowing what to do and getting him enough reps in practice to get him ready to be able to play in a game, although I do think he's ready to play in a game now. I do think he can make a contribution, and that's coming sometime soon."
The Tide have been extremely fortunate in terms of running back health seven games into the schedule, but as the season lingers on, depth at the position will likely be needed to continue to win games.
Alabama is hoping Scarbrough can contribute not only to its backfield but on special teams, an area the team continues to have issues with. Cyrus Jones lost a fumble on another punt return against Texas A&M which helped the Aggies get back into the game last weekend.
"We're also trying to work with him on special teams, get him up to speed on what he needs to do to be able to contribute there," Saban said, "because he could be a very good special teams player for us as well."
With the defense playing as well as any unit in the country heading into the second half of the season, any contributions Scarbrough can give an inconsistent offense could prove to be the difference between earning another SEC title and missing out on the championship game all together.
MORE NEWS: Want stories delivered to you? Sign up for our College Football newsletters.