Ryan Newman, media members operate 230,000-pound bulldozer from afar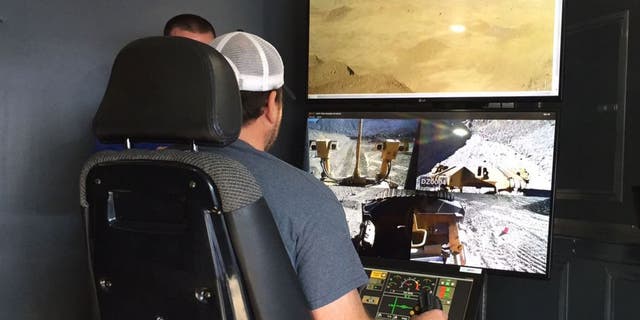 NASCAR sponsors routinely entertain clients at races, giving them a perfect opportunity to show off their products and services to a captive audience. But this weekend at Phoenix International Raceway, the folks at Caterpillar have taken that notion to an entirely new level.

In the hospitality area of the Phoenix track, the heavy equipment manufacturer set up a remote command center, where a driver can operate a 230,000-pound Caterpillar D11T bulldozer located south of Tucson, more than 150 miles away.

The D11T has a top speed of 7 miles per hour and controls that are fairly simple and intuitive to use -- the operator adjusts the throttle, raises or lowers the blade, turns left or right and goes backward and forward, all while watching video cameras mounted on the dozer.

Friday morning at PIR, Ryan Newman, driver of the No. 31 Richard Childress Racing Chevrolet, took the D11T for a spin, as did his crew chief, Luke Lambert, and several media members, including FOX Sports' Tom Jensen. It was a fascinating exercise.

"The ability of what you can do with it -- if you gave everybody here a shovel it would have taken us probably an hour and a half to move that dirt pile, and we did it in one push and 10 seconds," said Newman, who ran the D11T through a course laid out with orange cones.

"That's what it's about -- manpower," said Newman. "This remote technology gives us the ability to get the job done better, even more efficiently. And the use of technology is amazing."