Ryan Lochte tight-lipped about 10-month suspension – but not 'Dancing With the Stars'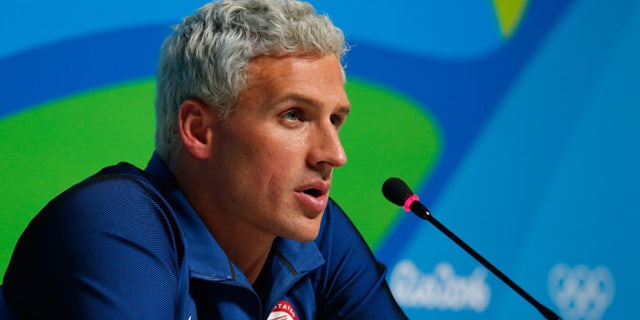 Ryan Lochte received a 10-month ban from international swimming competitions for his drunken encounter at a gas station in Brazil during last month's Olympc games and lost $100,000 in bonus money that was attached to the 4x200 freestyle relay gold medal he won in Rio.
The U.S. Olympic Committee and USA Swimming announced that Lochte, 32, has agreed to the ban, which lasts through next June and will include next year's world championships. Additionally, he won't get monthly funding from either group, will not be able to use USOC training centers and must perform 20 hours of community service.
He will also miss Team USA's post-Olympics trip to the White House.
Lochte, who is of Cuban descent, remained tight-lipped when he was hounded by a TMZ cameraman after arriving at Los Angeles International Airport. Lochte declined to make any comments when asked repeatedly if he felt his punishment was too harsh in comparison to that of teammate Michael Phelps, who was only given a 6-month suspension for two DUIs.
He only perked up when asked about his upcoming stint of "Dancing with the Stars." He told TMZ that he was more nervous about appearing on the show than about swimming. Why?
"Because I can't dance," Lochte quipped.
He also told ET that being on the show is a chance to redeem himself in front of fans.
"I think that's one of the things that's really going to help, me being on this show," he said. "There's so many other important things, issues going on in the world, and hopefully this helps, and helps put people in a different mind perspective of me, and, you know, just move on, move forward."
His pro partner, Cheryl Burke, told ET that she couldn't be happier to have him as a teammate and wants people to see that he is "a really great guy."
"Like he said, give him a second chance," she said. "I feel like 'Dancing With the Stars' is all about redemption, but he's wanted to do this before that, before all this stuff happened."
Burke went on to tell the entertainment outlet, "I think he genuinely does want to do well, and I hope people really see the Ryan I've seen in rehearsals the last couple weeks."
Lochte was not the only swimmer involved in the incident last month to receive a ban from the USOC. Teammates Gunnar Bentz, Jack Conger and Jimmy Feigen agreed to four-month suspensions which will end on Dec. 31. Their sanctions also strip funding, training access and preclude them from visiting the White House.
Bentz, 20, will also serve 10 hours of community service for violating a curfew rule for athletes under 21.
"As we have said previously, the behavior of these athletes was not acceptable. It unfairly maligned our hosts and diverted attention away from the historic achievements of Team USA," USOC CEO Scott Blackmun said. "Each of the athletes has accepted responsibility for his actions and accepted the appropriate sanctions."
The USOC pays a $25,000 bonus to Olympic gold-medal winners, and USA Swimming has awarded a $75,000 gold-medal bonus at past Olympics.
But that money pales in comparison to what Lochte lost last month when key sponsors, including Speedo USA and Ralph Lauren, abandoned him in the wake of his actions at the gas station, then his rapidly changing accounts of what really happened. Estimates have put the financial hit on Lochte at around $1 million.
Last month, Brazilian police charged Lochte with filing a false robbery report, but he has not said whether he'll return to Brazil to defend himself.
The International Olympic Committee's ethics commission is also looking into the incident.
"When Code of Conduct infractions occur, it's our responsibility to take action that reflects the seriousness of what happened," USA Swimming executive director Chuck Wielgus said. "Unfortunately, this story line took attention away from the athletes who deserved it the most."
The Associated Press contributed to this report.
Like us on Facebook
Follow us on Twitter & Instagram