Ryan Braun's potential path to the Giants is littered with obstacles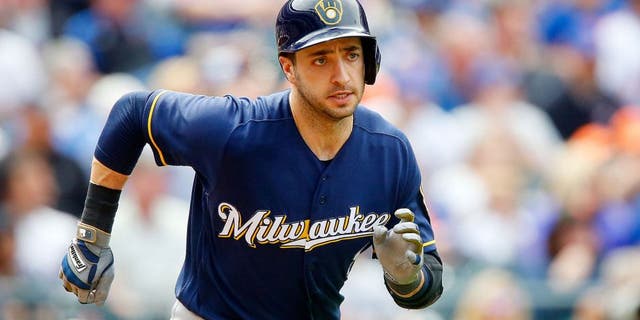 NEWYou can now listen to Fox News articles!
Yes, Ryan Braun makes sense for the Giants -- €" baseball sense at this moment, and maybe a bit beyond. But that's about it.
The Giants and Brewers have discussed Braun in one "very minimal conversation," according to a major-league source, confirming a report by USA Today.
Any Braun trade, however, would be decidedly complex, given his contract, his recent physical issues and his suspension for performance-enhancing drugs in 2013.
Braun, who turns 33 on Nov. 17, cannot block a trade to the Giants; they are one of six designated clubs in his contract that can acquire him without his permission, along with the Dodgers, Diamondbacks, Angels, Marlins and Padres, sources say.
The Giants certainly have an immediate and future opening for a slugger such as Braun. Right fielder Hunter Pence is out until at least the All-Star break after undergoing surgery on his right hamstring. Left fielder Angel Pagan is close to returning from a lesser hamstring injury but is a free agent after this season, as is the Giants' fourth outfielder, Gregory Blanco.
Strictly from a baseball perspective, then, the fit could not be much better. The Giants need a right-handed power bat to balance their predominantly left-handed lineup. Braun, batting .316 with a .919 OPS entering Monday night's play, certainly fits that description.
The obstacles, though, would include:
Braun's contract
Braun is owed the balance of his $19 million salary this season, plus $80 million over the next four years, including a buyout of his option in '21.
Those next four years cover his ages 33 to 36 seasons, and he already has missed time this season with back, neck and wrist issues.
Braun underwent surgery last October to repair a herniated disc in his back and also struggled with a right thumb problem in '14.
The Brewers' goals in a trade
Owner Mark Attanasio does not view Braun as a salary dump; he values premium talent more than financial savings, sources say.
The Brewers' payroll this season, even with Braun, is only $63.9 million, according to Cot's Baseball Contracts. Their commitments next season drop to $32.5 million, assuming they trade catcher Jonathan Lucroy.
Could the Giants even satisfy the Brewers?
Their farm system ranked only 19th in the majors when the season started, according to Baseball America. Infielder Christian Arroyo is highly regarded, but other teams probably would be a better match if it's elite prospects that the Brewers covet most.
The Giants' luxury-tax concerns
The team already is over the $189-million threshold, according to a source with knowledge of the team's payroll commitments.
Any money the Giants paid Braun this season would be added to their luxury-tax number, though it's possible the Brewers could negate the impact by covering the rest of Braun's 2016 salary as part of the deal.
The Giants' future payrolls
Yes, nearly $50 million is set to come off the Giants' books at the end of the season; in addition to Pagan and Blanco, their potential free agents include right-hander Jake Peavy and relievers Sergio Romo, Javier Lopez and Santiago Casilla.
The Giants, though, will need to rebuild their bullpen, and other players are due significant raises. The team, according to Cot's, already has nearly $140 committed in 2017 and nearly $134 million in '18.
Would the Giants want to add another 30-something outfielder to that mix? Pence, 33, and Denard Span, 32, are both under contract through '18.
Braun's past
Baseball suspended Braun for the final 65 games of the 2013 season for violating the league's policy on performance-enhancing drugs.
He had tested positive in Oct. 2011, but his 50-game suspension was overturned when an arbitrator ruled that his sample had been mishandled. The next day, Braun held a news conference proclaiming that he was vindicated and questioning the actions of his drug collector, Dino Laurenzi Jr. He later said that he had "made amends" with Laurenzi.
Even if a team was willing to overlook all that -- €" Braun has avoided further trouble since rejoining the Brewers in 2014 — the outfielder remains one positive test away from a potential 162-game suspension.
Put it all together, and it would be a lot easier for the Giants to trade for another right-handed hitting outfielder, even if that player was a lesser threat.