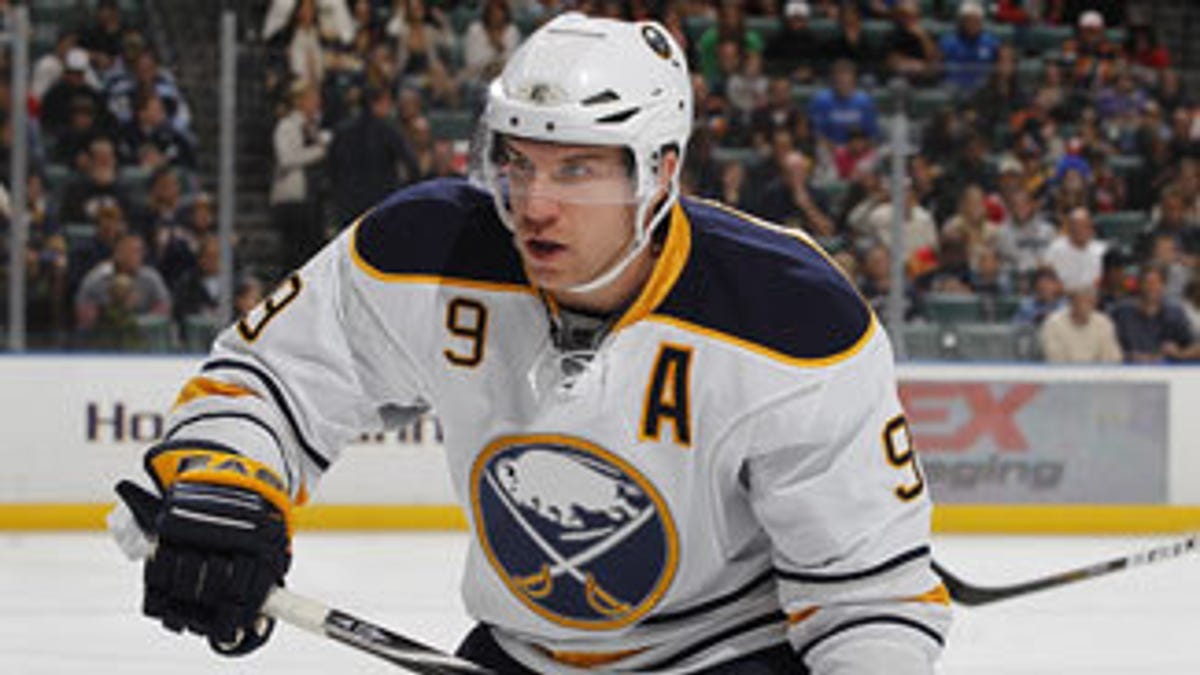 VOORHEES, N.J. -- The Buffalo Sabres will receive a much-needed inspirational lift on Tuesday for Game 7 of their Eastern Conference quarterfinal-round series with the Philadelphia Flyers at Wells Fargo Center.
Sabres center Derek Roy, who has been sidelined since late December after undergoing quad surgery, will make his much-anticipated return to the lineup. At the time of his injury, Roy was in the midst of his finest season, leading the Sabres with 35 points in 35 games.
"This is something I love to do and when someone tells you you can't do something, it's definitely difficult, but right now I'm back and ready and I feel I'm stronger mentally from this," Roy told reporters after practice at HSBC Arena in Buffalo on Monday.
He rejoins the team at a critical time since first-line center Tim Connolly, who left Game 6 at the 13:57 mark of the second period after getting boarded by Philadelphia captain Mike Richards, is ruled out for the series finale in Philadelphia. Connolly, who has a history of concussions and just so happens to be the Sabres' top penalty-killer, was driven headfirst into the glass on the play.
"It's a great experience to go out there and know that it's all on the line," Roy said. "It's going to be a moment that will last forever."
In addition to Connolly's absence, the Sabres will also be without right wing Jason Pominville, who suffered a lacerated leg during the first period of Game 5 on Friday and is likely done for the season.
"It's great to get back into the lineup because I've put in a lot of hard work," Roy said. "It's been a tough four months. I'm 100 percent … I wouldn't play if I wasn't. As far as minutes and shifts, we'll see how it goes. It's obviously going to be a lot difficult to get the stamina going, but I've skated a lot to get my endurance up and hopefully I'm ready to step right in.
"I'm going to just go out and work hard, if not harder than anybody else out there; I don't intend to let anyone down on this team."
Roy believes more puck possession will go a long way to producing a positive outcome.
"I think last game was our best offensive match," Roy said. "We made some plays, hit some posts and missed a few empty nets though. We have to bear down on those chances, make plays around the net and be confident around that area. It's all about confidence."
Buffalo goalie Ryan Miller, who has two shutouts in this series but has allowed 15 goals in four other games, feels his team can do a better job of frustrating the Flyers into mistakes.
"We can do a better job neutralizing their zone time in the neutral zone," Miller said. "They're a team that relies on turnovers and getting up ice and I think if we keep two or three guys together with good back pressure, that would be a frustrating style.
"It's something I don't think the Flyers have responded well to all season. I've watched them in the regular season, and the games that got away from them are those when they've gotten antsy and wanted to turn on the offensive power. They expect to be on the offensive and they cheat and push for it, and you have to try to make them do that. They have offensive weapons and that's how they want to play … they want to give that kind of look. We just have use their strength as a weakness and play our game."
Miller believes a victory on the road in an elimination game comes down to execution.
"The times we've beaten them, we've stuck to one plan all night and didn't let anything get too big," Miller sad. "Every game has been tight and right there. It's just another hockey game in this series and it's a race to (victory number) four. We have to go out and set the tone."
Follow Mike Morreale on Twitter at: @mike_morreale