Rose Namajunas eyes the winner of Jedrzejczyk vs. Gadelha after beating Tecia Torres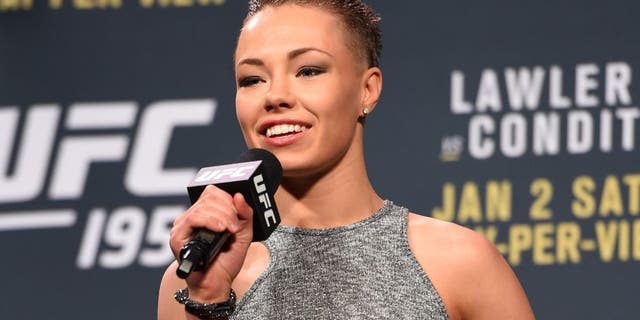 NEWYou can now listen to Fox News articles!
In her first fight after joining the UFC by way of "The Ultimate Fighter", Rose Namajunas battled for a title but came up short in a loss to Carla Esparza to crown the first ever women's strawweight champion.
It was a tough lesson learned for Namajunas as she suffered the second loss of her young career, but she quickly dusted herself off and got back on the horse where she's now won her last two fights in a row in very impressive fashion.
After bludgeoning Paige VanZant for the better part of 20 minutes, Namajunas finished her with a fifth round rear naked choke and now she's poised for another big fight as she faces Tecia Torres at FOX UFC Fight Night in Tampa in the co-main event.
There are no guarantees what comes next, but Namajunas is clearly looking at this fight as a No. 1 contender's bout as she hopes to get back to the title and a shot at either Joanna Jedrzejczyk or Claudia Gadelha.
"Absolutely," Namajunas told FOX Sports if she believes she should fight for the championship next. "I don't see after Tecia, I'm No. 3, Claudia and Joanna are No. 1 and 2 so I don't see what's after that? That's kind of what I'm looking at."
Jedrzejczyk and Gadelha are currently embroiled in the new season of "The Ultimate Fighter" as coaches before they meet in July with the title on the line.
Just recently, Jedrzejczyk was in Denver doing some training close to where Namajunas calls home and she actually sent the champion a message over Twitter asking to meet up for coffee.
It might sound strange for a contender to sit down with the champion to share a few words, but Namajunas promises she doesn't have to make it personal to want to beat Jedrzejczyk for the title.
"I had just tweeted the champ because she was training in Denver and I invited her to get some coffee. I don't know if she will oblige but we're going to fight anyway so we might as well sit down and talk," Namajunas said.
The way she looks at the division is everyone is eventually going to fight everybody else so there's no reason not to be cordial to each other.
Namajunas wants what Jedrzejczyk has around her waist right now but that's just her competitive spirit talking because she wants nothing more than to be UFC strawweight champion.
In other words, it's nothing personal, it's just business.
"I try to keep it as emotionless as possible because I'm already a fiery ball as it is," Namajunas said. "I need to drag all that energy towards the fight and I think emotions kind of cloud you. I think when people do make it personal, you can definitely tell the person is trying to make it personal and just playing that character. It's easy waters to get muddied in so I don't like to do that.
"It's survival at the end of the day, but you can't hold a grudge."
Before she gets to Jedrzejcyzk or Gadelha, Namajunas first has to conquer Torres, who handed her the first loss of her career back in 2013.
A lot has changed since that time so Namajunas is supremely confident she will beat Torres on Saturday and then she believes a title shot will be waiting just around the corner.
"I don't think there's a question whether I'll be facing the winner of that fight. Obviously, I've got to focus on this fight and that's it," Namajunas said.
"I'm just taking one day at a time and making sure I'm evolving as a martial artist so it doesn't matter who's in front of me. Whether it's Tecia, Claudia, Joanna, it doesn't matter, I'm just trying to get better everyday. All these girls are going to have to fight me eventually."