Rookie defense pairing getting job done for Rangers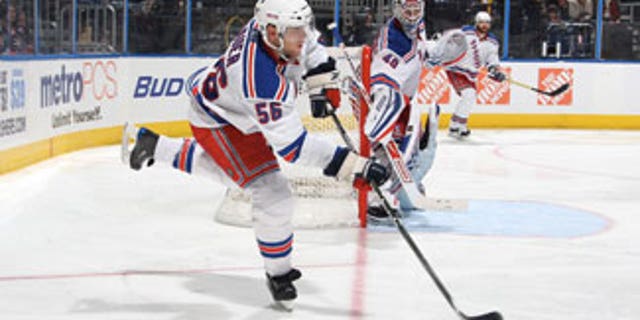 NEWYou can now listen to Fox News articles!
WASHINGTON -- Rookie defenseman Ryan McDonagh has played far beyond his years since making his NHL debut with the New York Rangers on Jan. 7, exuding a confidence and calm usually reserved for a more experienced blueliner.
In 40 games, the 21-year-old McDonagh had 1 goal and 8 assists while playing 18:44 per game, trailing only stalwarts Marc Staal and Dan Girardi among Rangers defensemen in ice time.
There was even a five-game stretch where McDonagh played nearly 24 minutes per game while Staal was nursing an injured knee. McDonagh logged 21:47 on Feb. 25 in a 6-0 win against the Washington Capitals, who the Rangers will face Wednesday night in Game 1 of the Eastern Conference Quarterfinals.
But despite the impressive, albeit short, resume, McDonagh had a surprising answer when asked if he still feels like a rookie.
"No," he said with a laugh. "I'm definitely still a rookie."
"This is going to be a good experience for sure, getting a taste of a seven-game series and what the playoffs are like. I've never had that before. I'm really looking forward to seeing the intensity level raised and physicality and the pressure that goes along with playing in the playoffs. It's going to be invaluable and it's going to be a lot of fun, for sure."
For most of the season, McDonagh hasn't had the luxury most rookies enjoy -- a veteran defenseman on which to lean. He's played the past two months with fellow rookie Michael Sauer, and together they've made up the Rangers' undisputed No. 2 defense pairing.
The 23-year-old Sauer broke camp with the Rangers and had 3 goals and 12 assists in 76 games. Sauer's plus-20 rating was first on the Rangers; McDonagh was second at plus-16.
Plus/minus might not be the best indicator of how a player is performing, but when Buffalo Sabres defenseman Tyler Myers won the Calder Trophy last season, he was just plus-13 in 82 games.
Sauer admitted to feeling far more comfortable than McDonagh with a full season under his belt, but said it took a while to feel that way.
"The first half, you're in a hotel, you're bouncing around, you don't know what's going on," Sauer told NHL.com. "You're just trying to go out there and do your job every day the best you can. It seemed like once I got more and more ice time, I started to get more and more confident. I started realizing I could play against these guys and do a good job."
Rangers coach John Tortorella has shown faith in his rookie defensemen since placing the two of them together in February. With the offensively gifted Capitals looming in the first round, Tortorella won't waver on putting his kids out there in important situations.
"They have succeeded. They have really been a big part of core this year," Tortorella said. "They've handled the ups and downs, especially the past couple of weeks when it's more in focus when you get down to the stretch run.
"If we're going to succeed, they're going to be a big part."
Sauer took a more direct route to the Rangers. He was their second-round pick (No. 40) in the 2005 Entry Draft. McDonagh was grabbed by the Montreal Canadiens at No. 12 in the 2007 Draft but never signed with the team, instead playing three seasons at the University of Wisconsin, the last two with fellow Rangers rookie Derek Stepan.
Rangers GM Glen Sather traded center Scott Gomez to the Canadiens in June 2009 in a deal that included the rights to McDonagh, who eventually signed with the Rangers in July 2010. Tortorella said it was a "great trade" after McDonagh scored the game-winner Saturday against the New Jersey Devils, a game the Rangers needed to win just to have a chance at the postseason.
McDonagh said when he got word of the deal, he couldn't believe it.
"It was shocking," McDonagh told NHL.com. "You hadn't even signed a contract or played in your first training camp and you've been traded already. It taught me a valuable lesson that there's a business side to this game. You never know what can happen."
Two years later, McDonagh will be riding shotgun alongside Sauer, who said he might be a little nervous in his first playoff game.
"It's a first playoffs for me at this level, but the last 20 have been like playoffs for me as well," Sauer told NHL.com. "Coming to the rink every day knowing you got to win, you got to get two points and that teams are chasing you and you're chasing other teams. There's a lot of pressure there."
And if two rookies playing together doesn't bother Tortorella, it's certainly not going to bother the confident McDonagh.
"We've been together now for a good month or two, and I think the biggest thing I've noticed is when one of us has a mistake or a bump in the game, we get over it pretty quick," McDonagh told NHL.com. "It's a pretty good sign. We work well together and we're both physical. We both take pride in playing defense in our own end. We both know that needs to be our foundation for us to be successful. We're both trying to be more offensive, too. It's just exciting."
Follow Dave Lozo on Twitter: @DaveLozo