Ronda Rousey screams at Holly Holm, fighters separated at feisty UFC 193 weigh-ins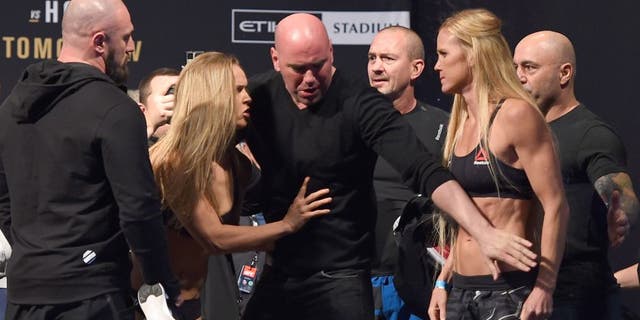 All the pleasantries between Ronda Rousey and Holly Holm went flying by the wayside on Friday as the two bantamweight fighters had to be separated at the UFC 193 weigh-ins in Melbourne, Australia.
In the final weigh-in of the day, Holm hit the scale first and made her mark at 134 pounds. Rousey followed with the exact same weight before charging across the stage for an intense staredown.
Rousey put her left fist up toward her challenger, and Holm returned the favor by putting her right inside the champion's arm, which caused the two fighters to start jockeying for position as UFC president Dana White stepped in immediately to stop them from throwing down 24 hours away from the event on Saturday night (Sunday afternoon local time).
Following the near melee on the stage, Rousey erupted when UFC commentator Joe Rogan asked what she said to her opponent after they were extremely cordial to each other during every moment in the lead up to the fight.
"I just wanted to get in her face and show her that I was there for a reason. She's the one that put the fist on my face, I didn't touch her, she's the one that touched me! I told her that fake, sweet act -- I see right through it!" Rousey shouted.
"It was all fake. All until now. All that respect all that everything, all you being sweet, I see right now that it's fake and you're going to get it on Sunday."
Rousey also took aim at Holm's camp, which is led by famed trainers Greg Jackson and Mike Winkeljohn, who the champion said have tried to game plan against her before -- and Rousey says it's failed.
Rousey said she plans to send Holm back to New Mexico with her first loss in MMA and a lesson in what it's like to go up against the best fighter in the world.
"You're not the first person that thought you had the perfect plan to beat me," Rousey said, pointing at Holm. "It's not the first time your camp thought that they had the perfect plan to beat me! I'm going to show you on Sunday why I'm the champ."
For her part, Holm didn't return fire or even engage in any real banter with Rousey while she calmly approached her interview with Rogan on the stage.
"I was just having a drink, you know?" Holm said. "I'm here and that's right, I am here to shock the world. But I know I have my hands full with Ronda, I have all the respect for her in the world. She's done a hard job there, she's run through everybody, but I'm a different fighter."
Rousey and Holm face off in the main event from Australia on Saturday night at UFC 193 with the pay-per-view kicking off at 10 p.m. ET.