Romo, Witten growing 'old' while seeking title for Cowboys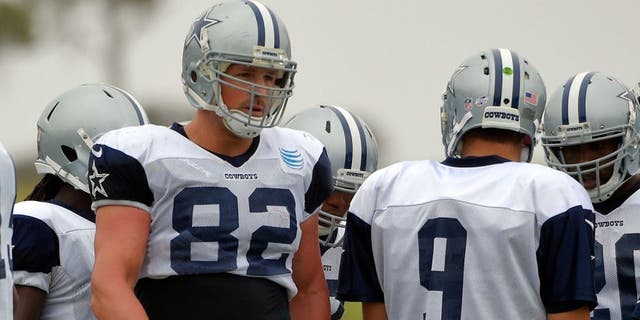 OXNARD, Calif. (AP) -- Tony Romo crouches to give his little son Hawkins instructions on running a pass route while Jason Witten carries one of his kids nearby, surrounded by autograph seekers.
This is the training camp tradition after practice these days for one of the best quarterback-tight end combinations in NFL history, and the steady force in the Dallas offense for nearly a decade.
Their desire to win a Super Bowl hasn't changed since Romo and Witten came into the league together 12 years ago, or from when Romo became a starter three years later. But their appreciation for how difficult it is to win a title has grown, along with the friendship that formed through the disappointments in trying.
"When you are competitors like we are and you've gone through the highs and lows like we have, you grow," said Witten, who needs 57 catches to become the NFL's second tight end with 1,000 for his career, trailing only Tony Gonzalez. "And then off the field, just the friendship and brotherhood. You get married. You have children. All in that course of when you first met."
The perception of the commitment for each of these teammates differed for years, reputations sewn a year apart starting with Witten famously running 30 yards without a helmet after a catch in 2007. When the next season ended in a blowout loss at Philadelphia that kept Dallas out of the playoffs, Romo infamously said his life would be pretty good if that was the worst thing that happened to him.
Only recently have views on Romo been changing, partly because he battled through three back injuries in just a year and a half to have the most efficient season of his career in 2014.
Then the Cowboys came close to winning multiple playoff games for the first time since Troy Aikman led the last of three Super Bowl-winning runs after the 1995 season. A loss at Green Bay in the divisional round turned in the fourth quarter when Romo's deep throw to Dez Bryant on fourth-and-2 was overturned on review after being ruled a catch near the goal line.
"When you're in the NFL and you're young, it's all about yourself," said Romo, the franchise leader in yards passing (33,270) and touchdowns (242) -- ahead of Hall of Famers Aikman and Super Bowl winner Roger Staubach. "And as you get older and you create the relationships that you have, through a Jason Witten and other people, you want to share those moments. Playoff games. Super Bowl."
Romo also frequently faced questions about his leadership in the locker room, but those have mostly subsided. When nobody -- Witten included -- could get Bryant to calm down on the sideline after a fight with cornerback Tyler Patmon early in camp this year, Romo slowly approached the scene. And Bryant quietly walked away with him.
"He's real. There's nothing fake," Bryant said. "If I'm doing something wrong, Tony's not afraid to let me know."
While Bryant is Romo's most dangerous target these days, Witten will go down as his most consistent. They lead the NFL in connections between quarterback and tight end with 632 since 1991, according to STATS. That's as far back as STATS tracks the numbers. They are second in yards, behind San Diego's Philip Rivers and Antonio Gates.
Romo dominates the season charts for Dallas quarterbacks, and Witten has the NFL season record for catches by a tight end (110 in 2012). The former Tennessee player likely will be at least 300 catches ahead of Michael Irvin on the Cowboys' career list when he retires, and Romo and Witten could end up with as many completions together as Hall of Famer Irvin had in his 12-year career (750).
"As much as they've played together there is always something new: `The guy covered me differently on this particular route; he played with this kind of leverage,'" coach Jason Garrett said. "So the fact that they know each other so well, communicate so well, I think they can take full advantage of those situations."
Romo and Witten don't figure to match Irvin's three Super Bowls with Aikman and NFL rushing leader Emmitt Smith. They're only worried about the first one. If it happens, their embrace could last a few seconds -- at least.
"If it's just you, it just seems a little bit like, `All right. It's fine.' But to have people with you, that makes it special, I think," Romo said. "And being with a bunch of people you care about, it makes it really enjoyable to go through the process and through the whole journey."
Together, Romo and Witten have lost four season finales with a postseason berth on the line, and their playoff opener after the 2007 season when they were the top seed in the NFC. Their first playoff game after Romo became the starter in 2006 was his famous flub of the snap that prevented a potential go-ahead field goal in a 21-20 loss at Seattle.
"I think the greatest thing I can ever say about Tony is through the tough times and all that was being said, his focus was simply on becoming the best quarterback that he could become," Witten said. "He always had a rare ability to kind of be above it and focus on what really mattered. I respect that. It's not easily done."
And it's not easy for two players to spend 13 years together in the NFL. Never mind that it will probably be at least 15 years, with both under contract at least through 2017.
"We want to win just as bad as for the team as for those guys," sixth-year safety Barry Church said. "They've been through it all. I know they want to win bad as hell."
That's one thing that hasn't changed.