Robert Whittaker stuns 'Jacare' Souza with brutal second-round TKO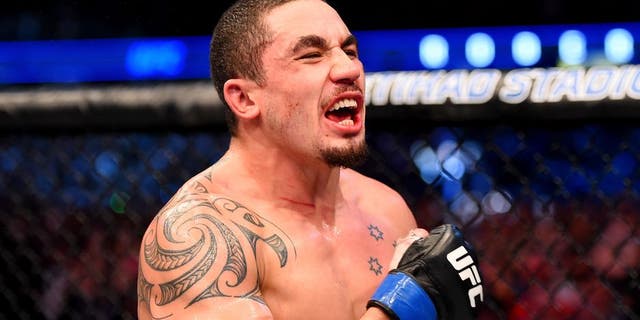 The middleweight division has a new contender.
Knockout artist Robert Whittaker announced his presence as a serious threat to middleweight champion Michael Bisping on Saturday night as he becomes the first person to finish Ronaldo "Jacare" Souza in nearly nine years.
Whittaker entered the event as a decided underdog while Souza was already celebrating after signing a new eight-fight deal with the UFC on Friday.
The tables turned in a hurry after "Jacare" got his first takedown on the fight in the opening round yet Whittaker was able to wiggle free and get back to his feet in just a matter of seconds.
From there, Whittaker started to pick Souza apart with his stinging combinations and superior footwork as the Brazilian struggled to keep up with his opponent's speed.
Whittaker's combinations came with even more confidence in the second round as he started to find a constant home for his punches including a clubbing right hand that dropped Sozua to the mat.
Rather than test his ground game against the multi-time Brazilian jiu-jitsu champion, Whittaker forced "Jacare" back to his feet where he continued his assault.
The end finally came after Whittaker rocketed a kick that slammed Souza in the head before he was dropped back to the ground for a second time after a few more punches came flying at him from the New Zealand native.
Smelling blood in the water, Whittaker was happy to go to the mat with Souza on this occasion as he unloaded a barrage of strikes that bloodied up the former Strikeforce champion before the referee finally saw enough to stop the contest.
The end came at 3:28 in the second round.
It was a huge statement win for Whittaker, who is now 6-0 since moving to middleweight and he now undoubtedly stands within inches of a title shot over his next couple of fights.
In fact, Whittaker was once matched up with current champion Michael Bisping before he won the belt, but the fight ultimately fell apart. Whittaker clearly never forgot and he had a message for Bisping after his win on Saturday night.
"Bisping owes me a fight," Whittaker said. "We were supposed to fight all those weeks ago and he's cool doing his own thing, but you owe me a fight."