Ricky Romero, a Blue Jay Flying Under the Radar in Toronto, Spreads His Wings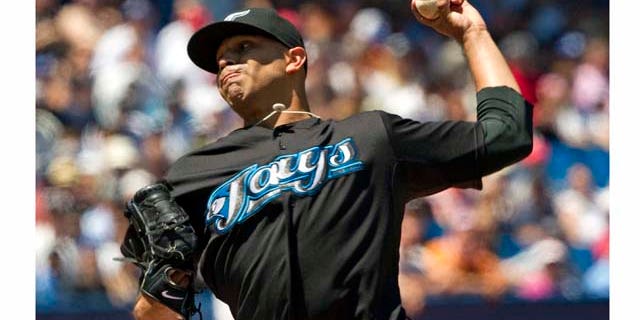 Ricky Romero represented his team proudly as a member of the 2011 All-Star team.
But back when the Toronto Blue Jays selected the left-handed pitcher with the sixth overall pick of the 2005 amateur draft out of Cal State-Fullerton, Romero was, well, a bit confused.
"When I got drafted, I didn't even know where Toronto was, I don't think," said Romero, who grew up in East Los Angeles, in the shadows of Dodger Stadium. "It was one of those things where growing up in L.A., I went to a different side of the country, or to another country."
That was then. Romero has since gained an appreciation of The 416.
"It's a beautiful city," he added. "It's been a really good experience."
Years later and far from home, Romero has truly taken wing with the Blue Jays. The 26-year-old lefty was named to his first All-Star team earlier this month, and is firmly entrenched as the ace of the Toronto pitching staff.
He's currently 7-9, but has a career best 3.18 earned run average and three complete games, the same total he needed the entire 2010 season to reach.
When the Blue Jays parted company with top-end starters Roy Halladay and Shaun Marcum in recent years, Romero was next in line to move into the No. 1 role in the starting rotation.
"His commitment and what drives him and what his motivation is, that's not monetary," Blue Jays manager John Farrell said of Romero. "He's a tremendous competitor and leads our pitching staff by example with his work in between starts as well as the way he goes out and competes.
"He's accepted the responsibility that goes along with that," Farrell added of Romero as leader of the Jays' pitching staff. "He's accountable for what he does on and off the field, so when he speaks in the clubhouse or with his teammates, it comes with credibility and it comes from the right place."
Farrell watched Romero from the opposite dugout prior to this season as the Boston Red Sox pitching coach. From May 7 to June 26, Romero had nine-start streak of pitching at least seven innings per outing.
"This year, he's done a much better job of consistency with his fastball location," Farrell said. "His secondary stuff is very good. When he's needed to get a strike he's been able to get it in a quality location."
The Blue Jays don't get a lot of exposure across the U.S., being in Canada and trailing in the AL East standings to the division's marquee franchises, Boston and the New York Yankees. But the Jays do have arguably the most feared hitter in the big leagues, All-Star outfielder and slugger Jose Bautista, and they have Romero, who with some additional run support (36th in the AL among starters at 4.88 runs per game as of July 19) would probably have a better win-loss record.
"He's pitching like an All-Star every day. He keeps the ball on the ground, holds runners and he gives us a chance to win," Bautista said. "He goes deep into games and strikes a lot of people out, so we couldn't ask for more from him and I hope he keeps going with what he's doing."
Romero has lost two games in his last three appearances, but is 4-3 at home with a 2.98 ERA and next faces the struggling Seattle Mariners Thursday at Rogers Centre.
Romero is often asked about his perceived lack of exposure in Toronto. He was recently asked what he would like baseball fans who don't follow the Blue Jays or his career to know about him, and said that he's a pitcher who "goes out there with my heart" and has "a lot of passion for the game."
"You can't get complacent in this game, and I'm just continuing to keep getting better," Romero said. "It's just more getting better at every aspect of my game, continuing to improve pitches, continuing to watch more video, add pitches and stuff like that."
Maybe few All-Stars made as much of the weekend in Phoenix as Romero. He brought his parents, siblings and significant other Rima Fakih, who just happens to be Miss USA, to Arizona for the festivities and even to the American League team's media availability session at a local resort.
It was obvious that Romero wanted those closest to him to share in every moment of being recognized as one of baseball's best.
Romero was among a handful of players who didn't appear in the game. But from the looks of his Twitter posts, he seemed pretty satisfied with having loved ones around. Another Mexican American major leaguer, San Francisco Giants pitcher Sergio Romo, congratulated Romero via Twitter.
The two referred to each other as "raza," vernacular for Americans of Mexican descent.
"I still can't believe it. It's a beautiful thing," he told a member of the Spanish-language media, easily switching back and forth between English and Spanish when taking questions during All-Star Week. "It's a dream that I never thought I'd reach this fast. These are the kinds of things you think about when you're a little boy.
"On the plane (to Phoenix) I thought about all the things I've done with my dad and to have my family here is so wonderful," he continued.
Despite being a first-round pick, Romero worked his way up through the entire Blue Jays' minor-league system for four years to find his place in the majors.
"It means a lot. It's something that now I can say I'm an All-Star. The day I retire I can say I was an All-Star at one point," Romero said. "That's something that no one will ever be able to take away from me."
José M. Romero, a freelance writer for the Associated Press, FoxSportsArizona.com and several other sports web sites, has covered Major League Baseball, the NFL and Major League Soccer. He is based in Phoenix, Ariz. Follow him on Twitter: @mividadeportiva.
Follow us on twitter.com/foxnewslatino
Like us at facebook.com/foxnewslatino