Richard Jefferson explains why the pressure is on the Warriors, not the Cavs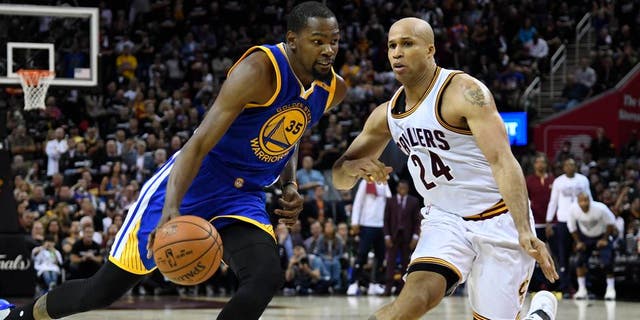 NEWYou can now listen to Fox News articles!
The Golden State Warriors have some margin of error in the NBA Finals unlike the Cleveland Cavaliers, who are staring at a 3-1 hole. But Cavs veteran forward Richard Jefferson believes that all the pressure is on Golden State as both teams prepare for Game 5.
You're damn right it is, Jefferson told reporters Sunday when asked if there was pressure on the Warriors to finish the series Monday night. Its not on us. Wheres the pressure on us? They had a 73-win team and they added a former MVP [Kevin Durant]. We added Kyle Korver and Deron Williams. They added an MVP to a 73-win team after being up 3-1 and then KD was up 3-1.
The pressure is all on them. Were the defending champs. We believe that we have enough here to win a championship. We havent played great thus far, but theres no pressure on us. There never has. Its been about them proving that last year was a fluke, KD validating the move here, which its been validated. We feel very comfortable.
The Cavs can play free and loose since virtually no one gives them a chance to be the first team in NBA history to overcome a 3-0 deficit. But proving the naysayers wrong isnt uncharted territory for the defending champs.
Cleveland became the first team in Finals history to erase a 3-1 deficit last year against Golden State, but the Warriors addition of Durant makes pulling off this seemingly impossible task all the more daunting.
Jefferson knows the pressure will only grow on Golden State if the Cavs can pull off the upset in Game 5, sending the series back to Cleveland.
I could just tell you this, Jefferson said, a lot of people didnt believe wed want to get on a plane and come back here. I can guarantee you they dont want to get on a plane and go back to Cleveland because they will probably be getting on a plane to come back.
Jefferson isnt wrong about that final statement. The Warriors would be coming back to Golden State after a potential Game 6, either celebrating a championship or getting ready for a pressure-packed Game 7. We all know what Jefferson is hoping for.