Rex Ryan offers LeBron James a spot on the Buffalo Bills roster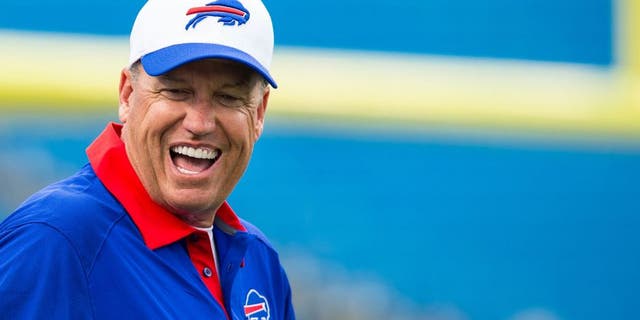 NEWYou can now listen to Fox News articles!
By now, you've almost certainly heard the tall tales of LeBron James' football playing days back in the early 2000's. That's right, the man they call 'King James' was once not only a basketball star, but one of the top rated wide receiver prospects in the country, a guy who was recruited by just about everyone (including Notre Dame receivers coach Urban Meyer) before opting to give up football and focus on basketball full-time.
Yet although it's been a full decade since LeBron last hit the gridiron, it hasn't stopped plenty of NFL coaches from wondering 'what if' LeBron had decided to stick with football instead of hoops.
The latest was Rex Ryan on Wednesday, who essentially gave King James an open invitation to come to Buffalo (which is actually just a short three-hour drive from Cleveland) and play for the Bills.
"I don't know a whole lot about [basketball], but that big ol' rascal can come play tight end for us, if he wants to," Ryan told the media Wednesday, according to ESPN.
So how would Ryan --- a notoriously stingy offensive coach --- use his newfound weapon? By getting him the ball early and often.
"I think it would work out well," he said. "You look at him. He's physical. Unbelievable. Look at the range. There's nobody that can cover him. There's no way you can cover him. Fast, physical. We'll give it a shot."
Given LeBron's obvious physical gifts, Ryan would give him more than 'a shot' if he showed up in Buffalo.
I'm also guessing that even if the Cavs lose Game 3 of the NBA Finals tonight, there's still less than a zero percent chance LeBron takes up Ryan on his offer.