Reds honor hit king Pete Rose with statue outside of Great American Ball Park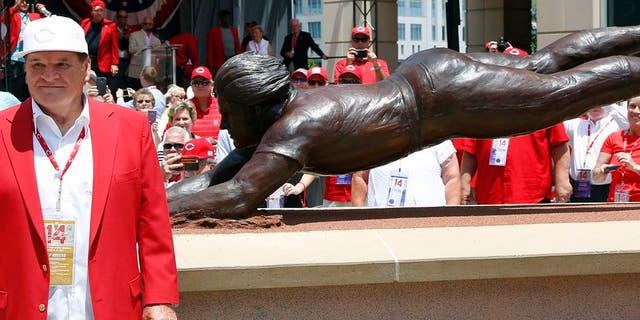 NEWYou can now listen to Fox News articles!
The Cincinnati Reds honored Pete Rose, Major League Baseball's all-time hit king, with a statue during a special ceremony on Saturday.
Charlie Hustle posed in front of the statue, which is located outside Great American Ball Park.
Also in attendance: fellow members of the Big Red Machine, which won the 1975 and 1976 World Series:
Rose, who currently serves as an MLB analyst on FOX and FS1, played for the Reds from his rookie season in 1963 until he signed as a free agent with the Phillies prior to the 1979 season. He also played the final three seasons of his career (1984-86) with the Reds, with whom he managed from 1984-89.
He remains the majors' all-time hits leader with 4,256, though he is ineligible for Hall of Fame induction because of the lifetime ban from baseball that he agreed to in 1989. Multiple attempts at reinstatement have been denied, keeping him out of Cooperstown.
Rose, 76, played 24 seasons in the majors with the Reds, Phillies and Expos.