Red Bulls goalie Luis Robles hopes for more than just his name in the record book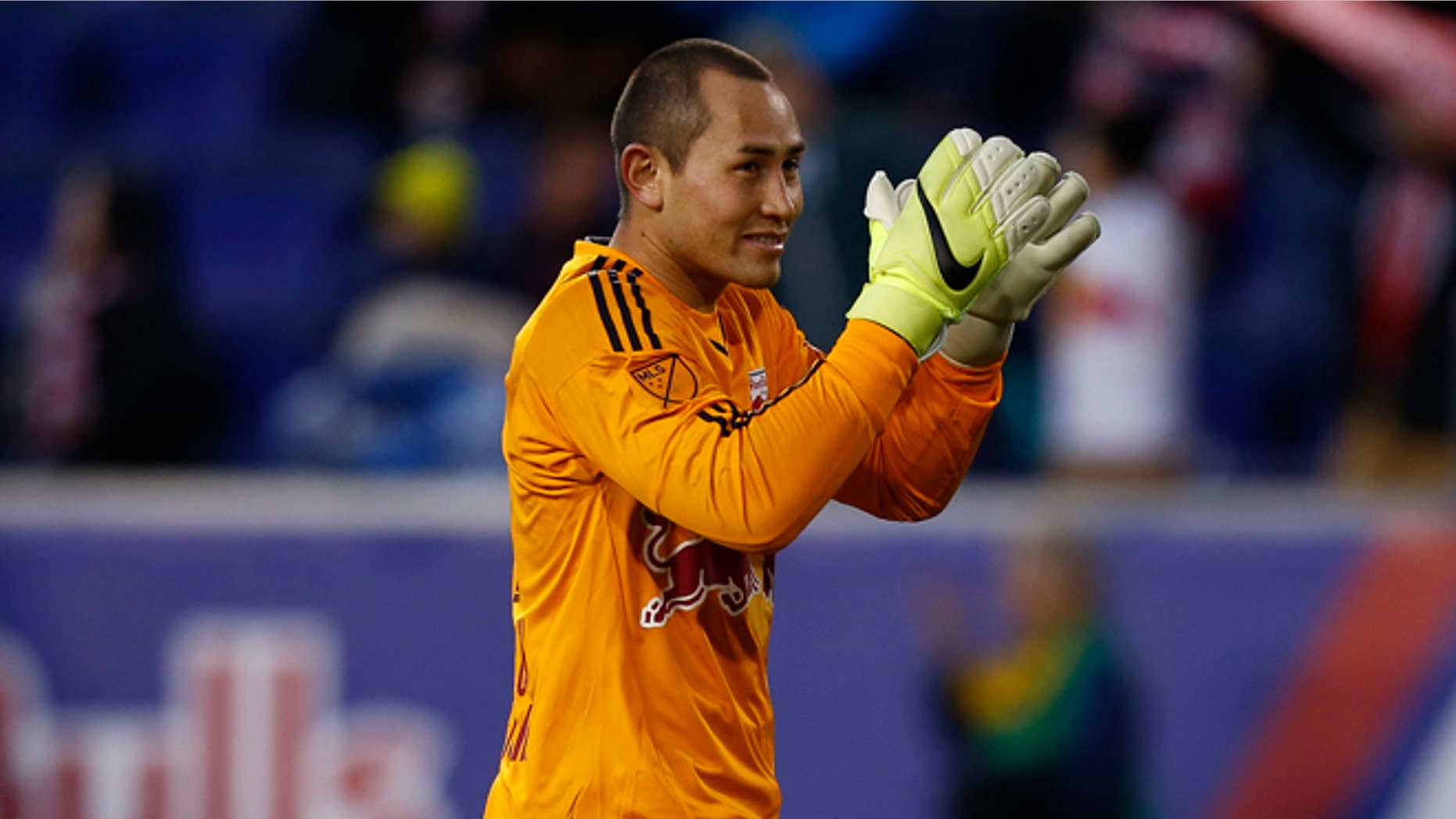 Harrison, N.J. – For the past three years, Luis Robles has become part of the scenery at Red Bull Arena.
Whether he is wearing his blue or orange shirt, there is a damn good chance that Robles will be backstopping the New York Red Bulls, many times to victory. He has started and finished 105 consecutive Major League Soccer regular-season matches.
What makes the streak, which started on Sept. 29, 2012, even more remarkable is that Robles was just happy to have a job in professional soccer after being released by Karlsruher S.C. in Germany after a season in which he'd ridden the bench, appearing in only five games.
Robles had decided to try to get a realtor license when the equally desperate Red Bulls came calling.
So Robles was happy to have a job, right?
"I was happy to have health insurance," Robles told Fox News Latino.
His wife Cara was seven months pregnant with the couple's son and he figured the birth would cost them around $30,000 in hospital fees.
Robles, an Arizona native whose father hails from Puerto Rico, signed with the team on Aug. 8, 2012. Ryan Meara, a promising rookie, had injured his hip midway through the season, and his back-up Bill Gaudette suffered a lower back injury, so Coach Hans Backe decided to give Robles a chance against Toronto FC on Sept. 29.
Robles, now 31, acquitted himself well in a 4-1 win.
"I've never been so anxious – only because it had been so long since I was in a competitive game," he said.
Moreover, Robles remained a pillar in goal for the rest of the season and MLS playoffs that year.
And for 2013. And for 2014.
And ditto for the first 33 regular-season matches this year.
His streak is second only to former Major League Soccer standout goalkeeper Kevin Hartman (112)
"Is the streak necessarily a priority? No," Robles said. "I am grateful for the opportunity to play that many games, but my biggest priority is helping this organization win."
Which he has done – breaking his own team record this year for wins as a goalie. And it has been a remarkable run given the potential injuries and yellow card suspensions he might have had.
"You're trying to jinx me right now," he joked with this reporter.
"When I think about it, it's fortunate in a sense that I'm a goalkeeper. So the wear and tear is different," Robles said. "It's not necessarily the same sort of fatigue and exhaustion. It's staying sharp mentally and taking care of my body between games. You still need a little bit of luck. There are certain variables that I can't control, such as injuries."
In an early October match against the Columbus Crew, Robles told FNL, "[Crew striker] Kei Kamara, he bumped me. I tweaked my left calf a bit and it was bothering me the entire second half. For the most part, I haven't had too many of those occurrences. So I don't want to attribute too much of it to my preparation. Sure, there's some of that involved, but also you have to be a little fortunate."
Robles' Red Bulls teammates certainly don't view him as part of the scenery or take him for granted.
"Robles and I were signed basically the same week back in 2012. I've been around him a lot for a few years, and I've seen him work his way into the team," midfielder Lloyd Sam said. "I know what he's capable of, one of the best shot-stoppers I've worked with. I've got full confidence in him."
Added striker Bradley Wright-Phillips, "You need a great goalkeeper and Luis, especially in this league, is a great goalkeeper. He makes some unbelievable saves. He's that guy that keeps you in the game. When they should score, he makes a save ... and you get relief from that. If he keeps up what he's doing, he'll be one of the best who's played in this league."
Robles gets the focus on his streak. He is humble and grateful he's had an opportunity to display his talents.
"It didn't end well in Germany, and a lot of it was out of my control," Robles told FNL. "Sometimes you're put in a situation there's so much turnover that you get lost in the [shuffle]. So to be able to come to an organization such as this, to be given another opportunity – another lifeline, if you will, I wanted to be able to pay them back by answering the two questions every single day: 'Was I the best teammate possible?' and 'Did I give it my all'? If I can answer [those] positively more often than not, then I'll be in a decent position."
Still, it has been a while since he received the ultimate recognition, a call-up to the U.S. national team. He has earned one cap, in a 2-2 draw with Haiti at the 2009 CONCACAF Gold Cup.
"I think Luis should be a part of the goalkeeping pool for the national team," Red Bulls coach Jesse Marsch said earlier this season. "He's had a very good year for us, and, seeing him up close, I see all the qualities that he has, and they can hold up at the higher level."
These days, Robles has other things on his mind. The Red Bulls are in position to clinch their second Supporters Shield in three seasons (for having the best regular-season record) with a win at the Chicago Fire Sunday.
"The ball's in our court," he said after a 4-1 home win over the Philadelphia Union that clinched the Eastern Conference last Sunday. "There's a lot on the line. There's a lot of extra motivation because of the Shield, and I am very confident we'll go in with the right mindset."
Then there's the MLS Cup, which the team never has won.
Robles likes the Red Bulls' chances of making a long run in the playoffs.
"There have been several times this season that we might not have played well," he told FNL. "There was a string of games where we lost four in a row, but you look at the resolve of this team and the mental fortitude, and we know when [that] quality comes out – that sort of mental toughness – we're going to be very difficult."
Robles added, "So if we can maintain that hunger, if we can continue that resolve, there's no reason for us not to think we can't do something special."