Recruiting numbers support Kentucky's bid for bowl berth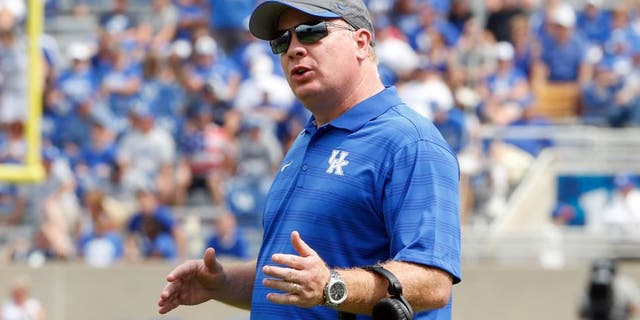 NEWYou can now listen to Fox News articles!
Is this the year Kentucky gets over the hump and gets into a bowl game? That's the million-dollar question for the Wildcats and coach Mark Stoops, who is entering his third year at the program's helm.
As a team, Kentucky has even publicly stated its goal of reaching the postseason. At SEC Media Days, offensive tackle Jordan Swindle said, "We have meetings, and every week we talk about going to bowl games. I feel like if we go to a bowl game, that's a success for this year. I want to do better than that, but that's my minimum bar."
But will it happen? The Courier-Journal this week published a piece trying to identify the Wildcats' peers in terms of recruiting during the Stoops era, which theoretically would provide a framework for realistic expectations now that the coach has his players in place.
Kentucky's three recruiting classes under Stoops have ranked 29th, 17th and 35th, respectively, with a total of 15 four-star players included. For comparison, the three prior classes had an average ranking of 58th and included three four-star players.
According to the Courier-Journal, the closest comparable program is Ole Miss from 2010-12 (other comparables including Arkansas, Michigan State, Mississippi, Nebraska, Oklahoma State, Virginia, Virginia Tech and Washington). The Rebels saw their average class ranking during that time move up to 26th, with 16 four-star players in tow. And in that time, they went from 2-10 in 2011 to 7-6 in 2012, 8-5 in 2013 and 9-4 in 2014.
That sort of incremental progress would represent massive improvement for Kentucky, which hasn't been to a bowl since 2010. It won't be easy in the SEC given how loaded the rest of the conference is talent-wise (11 of the SEC's 14 teams signed top-25 recruiting classes this year), but Stoops says he thinks the team is ready to take that next step -- and he wants the fans to know it.
"We want a packed house," Stoops told the media this week. "We're proud of the brand-new stadium. We're proud of the work that these players have done. We're getting in a position to be as competitive as we want to be. We're getting to that point where we feel good about our team."