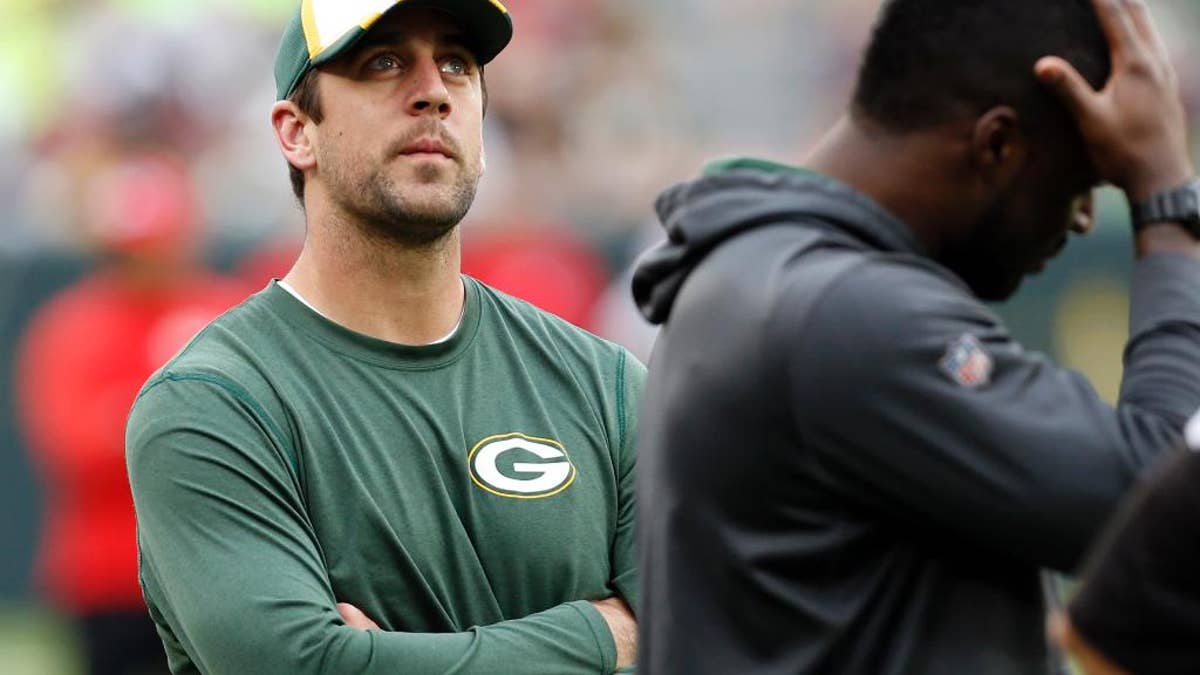 GREEN BAY, Wis. – In Eddie Lacy, the Packers' offense has found balance.
The physical running back had 1,178 yards rushing and 11 touchdowns when he won the Offensive Rookie of the Year Award in 2013 — and that was with quarterback Aaron Rodgers sidelined for seven weeks with a collarbone injury.
Just imagine what a full year of Lacy and Rodgers together in the backfield could do for Green Bay's already potent attack.
"Together, we definitely can be explosive," Lacy said Sunday.
Better not leave out the offensive line, too — not with a difficult season opener looming Thursday against the Super Bowl champion Seattle Seahawks.
"It takes the guys up front, as well, and they've been working hard and making sure they block their man. So, it should be a good year for us," Lacy said.
There is no tougher place to get started than in Seattle in front of the Seahawks' notoriously loud crowd, and against a defense that, when last seen, overpowered Peyton Manning and the Denver Broncos.
Rodgers witnessed the rout in person from a box at MetLife Stadium in chilly East Rutherford, New Jersey, back in February.
"I was having some hot dogs," he joked.
OK, maybe he didn't give the game his full attention the whole time, but he certainly saw enough.
"They got into a rhythm there with their pass rush and with their coverages, you know made some good plays," he said. "They play with a lot of confidence, have a little swagger about 'em, and it's a tough place to play."
There's nothing, then, like having the option of being able to hand off to one of the top young running backs in the league to help keep a defense guessing. Opponents brought a safety down closer to the line of scrimmage more often last year while Rodgers was out to concentrate on slowing Lacy.
"I'm not sure what's going to change with me back in there full-time, but either way we should at different times find some more one (safety), one-on-one looks" for receivers Jarrett Boykin, Randall Cobb and Jordy Nelson, Rodgers said. "And we've got to win those one-on-one battles."
As usual for the Packers, there is an emphasis on tempo. Coach Mike McCarthy likes picking up the pace, and the first-string offense looked good during limited preseason snaps in operating without a huddle.
It's all about trying to dictate the tempo. A no-huddle attack theoretically makes it more difficult for defenses to substitute to match personnel, and keeps bigger defensive linemen on the field longer.
"We're going to try to go out and do what we do best and that's our no-huddle. Speed the tempo up and try to be successful," Nelson said.
McCarthy also has placed an emphasis this preseason on getting Lacy and backups James Starks and DuJuan Harris ready for three-down work, in part to minimize substitutions during a series and avoid interrupting the tempo.
Lacy has had extensive work on pass-catching drills in practice. He also wants to get better on the run when getting past the first wave of defenders in the trenches.
Rodgers described Lacy as an instinctive runner.
"He's a talented guy. He's a smart, smart player. He knows how to play the game. He plays at a very good tempo," Rodgers said. "He's a talented guy in the protection schemes. And he can catch the ball out of the backfield. But it's like we've seen in this league, you need multiple backs to be successful."
Also Sunday, the Packers signed 10 players to their practice squad, all of whom took part in Green Bay training camp. Those players are: receivers Kevin Dorsey, Alex Gillett and Myles White; safety Chris Banjo; offensive linemen Garth Gerhart and Jeremy Vujnovich; linebacker Adrian Hubbard; running back Michael Hill; tight end Justin Perillo; and defensive end Luther Robinson.
___
AP NFL website: www.pro32.ap.org and www.twitter.com/AP_NFL