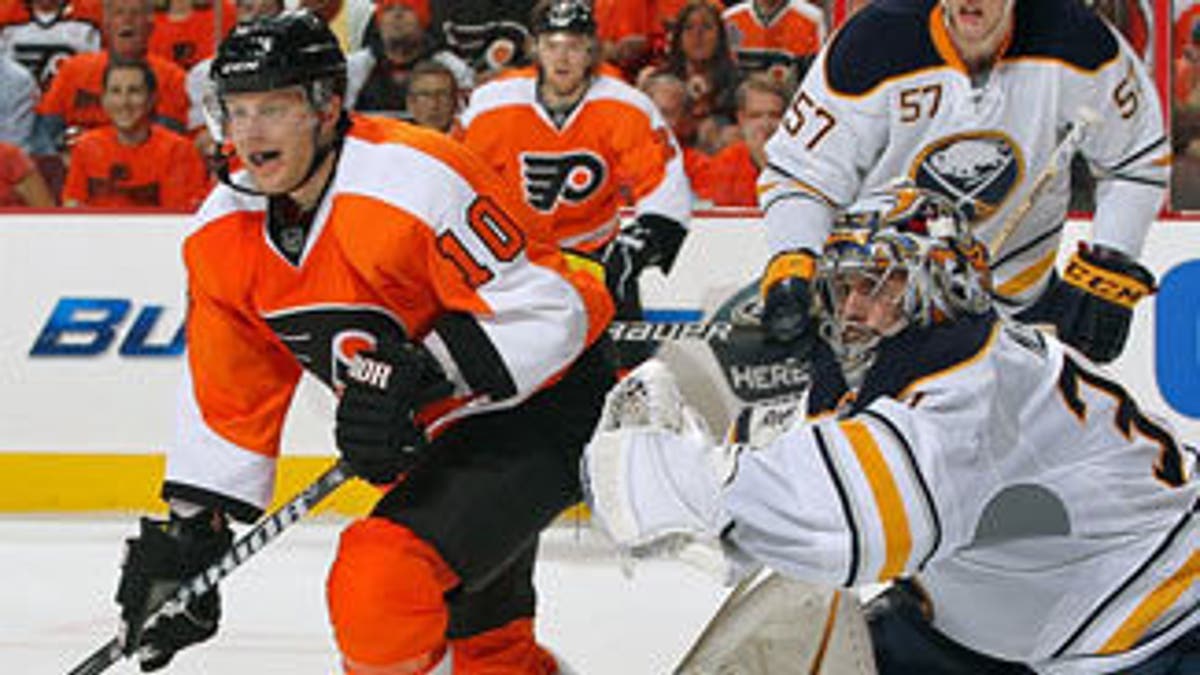 In Monday night's Stanley Cup Playoff action, one team that had previously trailed 3-1 in its first-round series won its second straight to force a Game 7, while another club prevented the same thing from happening in its series and punched its ticket to the conference semifinals.
In Tampa Bay, the Lightning did what they were unable to do in Games 3 and 4 and defended their home ice successfully. In getting third-period goals from Steve Downie and Ryan Malone after Pittsburgh had evened the score, they staved off elimination again and the series will now come down to a decisive seventh game Wednesday at the Consol Energy Center.
Meanwhile, in Los Angeles, the Kings also had dreams of rallying from a 3-1 deficit to draw even with the Sharks, but they were ended early in overtime when Joe Thornton beat Jonathan Quick to give San Jose the six-game series victory. The Sharks won all three games they played at the Staples Center in a series that saw the road team win five of six overall.
Tuesday's schedule features a pair of Game 7s, as Chicago plays in Vancouver looking to become the fourth team in NHL history and second in as many years to rally from a 3-0 series deficit to win, while Philadelphia hosts Buffalo for the right to advance. There's also a Game 6 in Montreal which will see the Canadiens try to send the series back to Boston for a seventh game while the Bruins attempt to win their fourth straight to finish off their Northeast Division rivals.
Here's your daily NHL.com Reading List for a set of quick links to some of the stories you won't want to miss:
Big Joe gets it done
In past instances where San Jose hasn't gotten it done in the postseason, much of the blame has fallen on its top line. But when the Sharks had the Kings on the ropes and Game 6 went into OT, perhaps its biggest star stood front and center to make sure they didn't let opportunity slip. Rick Sadowski was on the scene.
Kings come up just short
For the second straight year, Los Angeles' stay in the postseason lasted only six games. Captain Dustin Brown said too many mental mistakes -- particularly in the defensive zone -- sunk the Kings, and he breaks down for Curtis Zupke how they made the difference against the Sharks.
Roloson performs like a star
Only 67 seconds elapsed between the time Jordan Staal tied Game 6 in the third period for the Penguins and when Downie connected for the game-winner, but a huge save by Lightning goalie Dwayne Roloson on a Maxime Talbot breakaway may have turned the tide. As Dave Lozo reports, that sort of stop is exactly why Tampa GM Steve Yzerman picked up the veteran.
Canucks turn back to Luongo
Vancouver coach Alain Vigneault stunned many in the hockey world by giving backup Corey Schneider the start in Game 6 against Chicago, but with the season now on the line for the Canucks as well as the Blackhawks, he's going back to Roberto Luongo for Game 7. Dhiren Mahiban gets word from coach, player, and GM Mike Gillis on what they're thinking.
Feels like the first time
While the Blackhawks still have a sizable contingent of players who won the Stanley Cup with the club last year, many of them have never faced a Game 7 situation. But as Brian Hedger finds out after speaking to Patrick Kane and others prior to their flight to Vancouver, they feel they still have plenty of big-game experience.
Not much to change
Montreal has gone from being in complete control after winning the first two games of its series with Boston on the road, but after losing three in a row the Canadiens are now on the brink of elimination. Despite that, Arpon Basu tells us the Habs don't think there's a whole lot they need to be doing differently, other than finding a way to come out on top on the scoreboard.
Sabres get a key return
While a hit by Philadelphia captain Mike Richards has knocked Tim Connolly out of the series, Buffalo will have Derek Roy back in its lineup for Game 7 at the Wells Fargo Center. Mike Morreale spoke with the center who was thought to be lost for the season when he underwent quad surgery in late December, but rehabbed hard to get back in time to help his team.