Rays' James Loney critical of umpire who ejected him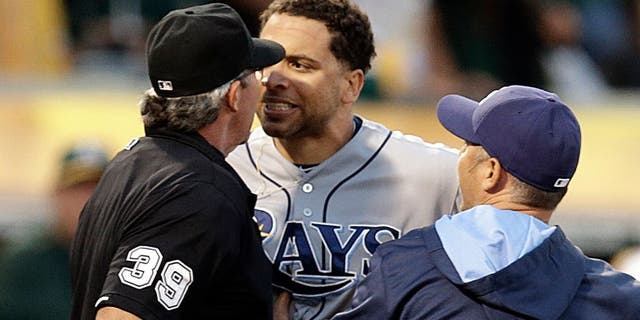 Tampa Bay Rays first baseman James Loney was ejected Saturday after striking out. He then turned to umpire Paul Nauert to vent some frustration, bumping him in the process.
You can see the video here:
After the game, Loney didn't hide how he felt about Nauert.
"I thought it was a ball when I took it, but I was still like, 'I struck out.' You're kind of mad," Loney told the media via the Tampa Tribune. "But if I'm not saying anything to you, just relax. You're an umpire. Nobody is coming to watch you."
It didn't end there.
"I've heard that guy, I've been around him a couple of times, but I heard he doesn't have much of a personality and kind of a (jerk), so I can't say I disagree," Loney said.
As of Sunday, the Rays have yet to hear about a possible suspension from Major League Baseball.
(h/t Tampa Tribune)