Raptors fan ejected from Game 4 for heckling refs murdered in Toronto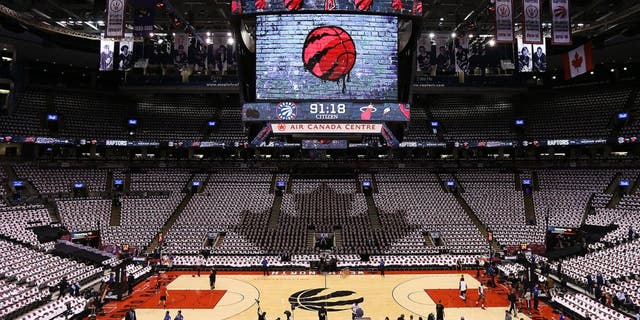 NEWYou can now listen to Fox News articles!
The Raptors fan who was ejected from his courtside seat during Game 4 of the Eastern Conference finals for heckling a referee was murdered in Toronto on Tuesday, according to the Toronto Sun.
Sukh Deo, 34, was reportedly fatally shot while sitting in his Range Rover in broad daylight in midtown Toronto. Police say two men wearing construction vests fired at Deo's vehicle in an alley near a busy intersection, leaving at least 14 visible bullet holes in the driver's side window.
Toronto police Supt. Reuben Stroble told reporters at the scene that the shooting was "a big surprise for this area, especially at this time of day."
The Vancouver Sun referred to Deo as a "former gangster" who was well-known to police in the area, noting he was a suspect in at least one continuing investigation in the Lower Mainland at the time of his murder.
His brother Harjit was convicted in a 2005 gangland kidnapping along with others in the Independent Soldiers gang. The kidnap victim had been held in the garage of the Deo family home in New Westminster, where police later arrested several suspects.
Sukh's father Parminder is wanted on an Interpol warrant on drug smuggling charges laid in India. He earlier told The Sun he was innocent and had hired a lawyer in the Punjab to fight the case.
Deo's family told reporters that they have no idea why he was targeted.
Deo, an avid Raptors fan, is shown in the video above being escorted out of the Air Canada Centre after NBA officials asked security to remove him for excessive heckling during Game 4 of last month's Raptors-Cavaliers series.