Rangers overcome no-goal call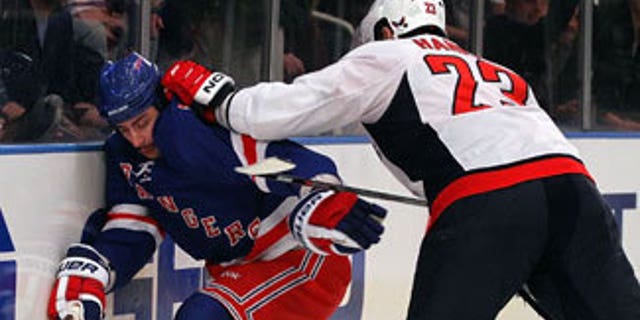 NEW YORK -- Fans at Madison Square Garden exploded as players on the ice celebrated. The Rangers had just scored a goal that narrowly beat the second-period buzzer, giving them a 2-1 lead that they would carry into the third period of a crucial game against the Washington Capitals.
Replays shown on the Jumbotron at the arena used the NBC telecast, and it appeared there was 0.1 seconds remaining when the puck slid off the post and across the goal line. The building erupted, a sign that the sell-out crowd of 18,200 was convinced the goal would be allowed.
Little did they know disappointment was mere minutes away.
The call of a goal on the ice was overturned by the situation room in Toronto, and rightfully so. While the NBC clocks showed time remaining when the puck crossed the line, the official game clock that is embedded into all overhead replays viewed in Toronto showed no time left.
It was ruled no goal, and both teams went to the locker room deadlocked at 1-1.
"It was a little bit frustrating, obviously," Rangers defenseman Marc Staal said. "That would've been a big goal for us but we were still in good shape. We came out and played a really good third period and stayed with it as best we could."
The Rangers went on to win 3-2 and cut the Caps' lead in the best-of-7 series to 2-1, but players couldn't be blamed for being surprised at the no-goal call when they didn't have the proper information available that Toronto had.
"We were excited," Rangers forward Brian Boyle said. "It's kind of tough to tell from the Jumbotron, but it's obviously the right call. They're not just going to take a goal away for no reason."
"I thought that was our lucky play for the game," Capitals forward Matt Bradley said. "We got to come into the third period tied and a chance to win the game with 20 minutes to go."
The following is the official statement from the situation room on the review: "Video review was used to determine if the puck crossed the line before time expired in the second period. The official burn-in clock on the overhead camera had time expired before the puck crossed the line. No goal."
Follow Dave Lozo on Twitter: @DaveLozo