Rangers' Hamilton nearing activation from DL but 'not ready' for full-time duty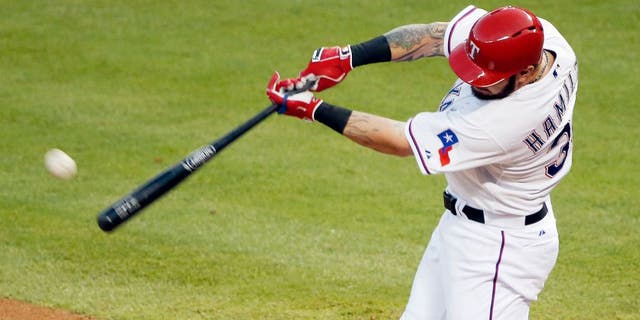 NEWYou can now listen to Fox News articles!
A balky right knee has kept Josh Hamilton out of action for the Texas Rangers since August 16, but the club is hoping to activate him from the 15-day disabled list on Tuesday.
However, according to Evan Grant of the Dallas Morning News Hamilton isn't quite 'ready' to resume full-time playing duties for the hard-charging Rangers, who won again on Sunday thanks on the strength of a complete game shutout by Derek Holland.
As Grant reported on Saturday, Hamilton's knee still won't let him run. Said Hamilton: "If there is a double into the gap, I want to make sure I can run it out and not cause more of an issue. I felt no improvement in it for almost two weeks and then it was, like, one day, everything felt a lot better. It feels OK to throw on it and hit, but it's still not there running."
Manager Jeff Banister said the team will welcome Hamilton back as soon as he's medically cleared, but they definitely will not do anything that might jeopardize his chances of contributing over the next month: "He is improving, but not ready. We would take Josh in whatever capacity is he capable of playing because he is still capable of being a game changer. But we are not going to push him to a point where it is a detriment to him or our future."
Given Hamilton's busy injury history, that's probably a wise decision by the Rangers.