Randomness of Chase format keeps owners, drivers on edge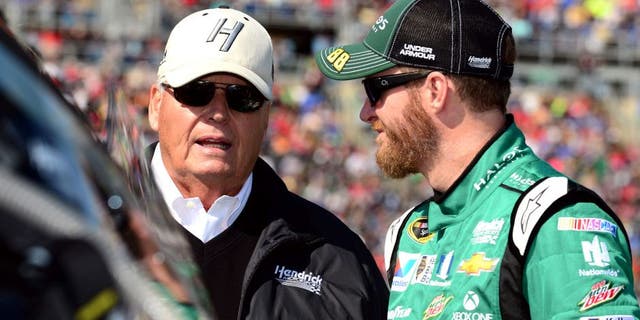 NEWYou can now listen to Fox News articles!
When NASCAR came up with its new format for the Chase for the NASCAR Sprint Cup last year, it made it almost impossible to predict a champion. Now in its second year, the Chase is more random than ever. Some might even say too random.
Consider the fate of some of the sport's biggest stars at playoff time:
Jimmie Johnson, a six-time NASCAR Sprint Cup Series champion and four-time race winner this year, was knocked out of the Chase in the very first round.
Matt Kenseth, one of two five-time race winners this year and the 2003 champion, is in grave danger of being eliminated in the second round. So is his teammate Kyle Busch, who has four wins this season, and two-time race winner Dale Earnhardt Jr. That's four drivers who have won 15 of the 31 Cup races run so far, and they could all be gone from title contention after Sunday's CampingWorld.com 500 at Talladega Superspeedway.
And with only Joey Logano guaranteed to advance to the Eliminator Round of the Chase, even past champions Kevin Harvick, Jeff Gordon, Kurt Busch and Brad Keselowski could be kicked out of the Chase, too.
The randomness of the current Chase format doesn't give team owners or drivers any comfort this time of year.
"I've never seen luck play such a part of racing today," Hendrick Motorsports team founder and owner Rick Hendrick told FOXSports.com in an exclusive interview. "You can be so good, like Kenseth or Jimmie and end up in a jam. Jimmie and Kenseth should be in the final four, or the final eight, anyway, if you look at their wins and how they've led and what they've done."
Hendrick is not alone in his concern.
Stewart-Haas Racing co-owner Tony Stewart has two drivers still in the Chase, Harvick and Kurt Busch. Whether they are still there after Talladega is anyone's guess.
"From the owner's side, there's nothing you can do about it anyway," said Stewart. "It's all out of your control, because everybody else dictates everybody else's outcome."
Stewart, like several other drivers, has said he's not in favor of Talladega being a Chase race. "I've never thought it was a good idea to have it in the Chase, especially with this format," he said. "You've got teams that have worked too hard all year and two guys in front who aren't a factor in it could totally dictate somebody's season this weekend. ... You work too hard all season to have one race dictate your season."
"You almost need a Mulligan in this sport for things you can't predict," said Hendrick.
The drivers are equally concerned.
"It's wide open," said Kurt Busch, who is third in points, but only has a narrow 13-point margin from elimination. "Talladega is that race the (NASCAR chairman and CEO) Brian France wanted to see, where the unknown factor will go all the way to the buzzer at the end when the checkered flag drops."
Busch, speaking Thursday at SHR's announcement that Monster Energy will come on board to sponsor the No. 41 car, said tensions are high for everyone. "I was out there talking to Tony Gibson (Busch's crew chief) on the shop floor, right before this press announcement," said Busch. "And he's as nervous as everybody. I'm nervous. We're all nervous. Everybody's nervous."
Earnhardt, who like Kenseth likely must win Sunday at Talladega or be knocked out, summed up his emotions before the Contender Round of the Chase began.
"I don't enjoy it," Earnhardt said of the Chase. "It is stressful and it's not enjoyable, but as a fan I would love the hell out of it, right? I'd love to watch somebody else go through this s--t besides me. So I get it. I don't think that they should get rid of the Chase or anything like that because I think as a fan, once I'm done driving, it's going to be really fun to watch somebody else squirm through this process. But it's pretty nail‑biting, man. It's pretty tough."