Preview: Marlins cap off road trip with finale against Pirates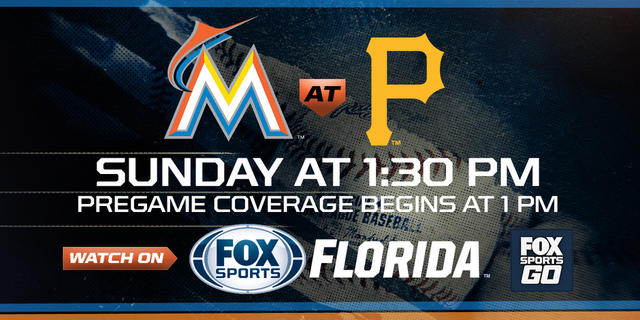 NEWYou can now listen to Fox News articles!
TV: FOX Sports Florida
Time: Pregame coverage begins at 1 p.m.
CAN'T GET TO A TV? WATCH IT LIVE ON FOX SPORTS GO
PITTSBURGH -- The Miami Marlins could be without outfielder Giancarlo Stanton when they face the Pittsburgh Pirates on Sunday at PNC Park.
Stanton left in the first inning of Miami's 7-6 loss Saturday after Pirates right-hander Trevor Williams hit him with a pitch. Stanton labored to first base before outfielder Ichiro Suzuki replaced him.
X-Rays came back negative on Stanton, who sustained a right wrist contusion. He is day-to-day.
"It seems like it was OK," Marlins manager Don Mattingly said. "No fracture or anything like that. So we're just going to see where we're at."
In 60 games this season, Stanton has hit .288 with 16 home runs and 42 RBIs.
Mattingly did not rule out Stanton for Sunday.
"We'll just see where he's at," Mattingly said. "If he's ready to play, he's ready to play. If he comes in tomorrow and he wants to play, and everybody says he's good to go, then we go."
The Pirates (27-35) will attempt to win a second straight game after losing their previous four before defeating the Marlins (27-34) on Saturday. Pittsburgh has allowed at least six runs in each of its past five games.
In their win Saturday, the Pirates used left-handed reliever Felipe Rivero to get the final four outs. He struck out three of the four batters he faced for his first save of the season.
Pirates manager Clint Hurdle did not disclose whether Rivero would come in during the ninth inning Sunday if Pittsburgh has a lead. He also did not say whether there would be a definitive closer moving forward.
"We're going to use the bullpen to win games, not count saves," Hurdle said.
One thing Hurdle did admit is that he's confident in his group heading into Sunday after the win Saturday.
"I liked the fight in the offense. I liked the fight all over the place," he said. "That's one thing we've continued to do."
Pirates right-hander Ivan Nova is projected to start.
Nova's status remains uncertain after he left his last start with left knee inflammation after pitching six innings against the Baltimore Orioles on June 6. He allowed three runs and five hits in that start and was handed a second straight loss.
Before those two losses, Nova had won his previous three starts. He is 5-4 with a 3.04 ERA in 12 starts in his second season with the Pirates.
If Nova is healthy enough to pitch, he is expected to face former Pirates left-hander Jeff Locke (0-1, 3.48 ERA), who has allowed five combined runs (four earned) in his first two starts of the season. Locke lost his previous start by allowing four runs (three earned) in 4 2/3 innings in a 10-2 loss to the Chicago Cubs on June 6.
Locke spent his first six MLB seasons in Pittsburgh and was an All-Star with the Pirates in 2013. Last season with Pittsburgh, Locke was 9-8 with a 5.44 ERA.
He was 35-38 with a 4.41 ERA in 123 career games (110 starts) with the Pirates.