Preview: Marlins call upon Jeff Locke for Game 2 in Atlanta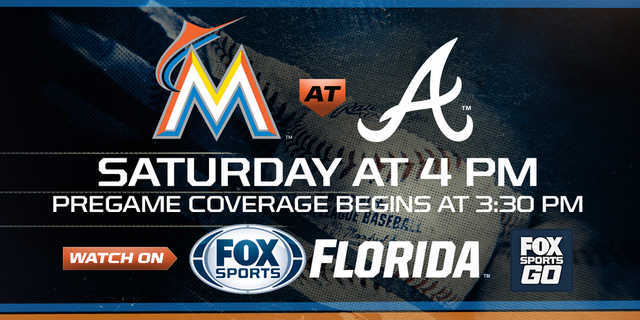 NEWYou can now listen to Fox News articles!
TV: FOX Sports Florida
TIME: Pregame coverage begins at 3:30 p.m.
ATLANTA -- Jaime Garcia, who won 62 games with the St. Louis Cardinals, has pitched some of the best baseball of his career during the past month in his first season with Atlanta.
The Braves left-hander now has victories to show for it.
Garcia, who faces the Miami Marlins on Saturday, has completed at least seven innings in four of his past five starts and got a loss or no-decision each time as the Braves supplied two runs or less of support in each game.
"That happens sometimes," Braves manager Brian Snitker said. "That's part of the job and the part he can't control. He can control shutting a team down. He's done a great job with that. It's just one of those things guys go through."
How bad is the 31-year-old veteran's luck?
Garcia, 2-5 with a 3.16 ERA overall, has a 1-3 record despite a 1.49 ERA in his past five games -- all quality starts -- and is 0-3 with a 2.48 ERA in four home outings.
"We need to turn it up soon for him because he's pitching really well," Atlanta catcher Tyler Flowers said.
Jeff Locke will start for the Marlins opposite Garcia in the middle game of the weekend series at SunTrust Park. The former Atlanta draft choice will be just the seventh left-handed starter the Braves have faced this season, going 3-3 so far.
Locke, who left Pittsburgh to sign with Miami as a free agent, has made three starts since opening the season on the disabled list with left shoulder tendinitis. He is 0-2 with a 4.02 ERA.
Locke is 2-3 with a 5.44 ERA in eight careers starts against the Braves, all with the Pittsburgh Pirates.
Garcia is 2-1 with a 3.60 ERA in seven career outings against the Miami, the first six for the Cardinals. He worked five innings in a no-decision for the Braves at Miami in April, giving up four runs (three earned) in five innings.
Braves left fielder Matt Kemp, batting .327 with 11 homers, sat out Friday's 5-0 loss to the Marlins with tightness in his left hamstring. He is day-to-day as the Braves try to avoid a second DL stint for Kemp.
The Marlins got back first baseman Justin Bour and he made an immediate impact.
Bour, who hit his 17th homer of the season in his second at-bat Friday, missed the minimum amount of time after going on the 10-day disabled list with a left ankle contusion.
The quick return was good news for the Marlins, who are still without third baseman Martin Prado and shortstop Adeiny Hechavarria.
Bour missed two months last season after spraining his right ankle during a game in Atlanta at Turner Field. He missed only eight games this time and the Marlins were 5-3.
"The fear for him was how much he missed last year, when he thought he'd be back in a few weeks and he wasn't back until September," Marlins manager Don Mattingly said. "We were careful with it and he bounced back quickly. Two off days there really limited the games he missed."
Friday's series opener against the Marlins started a 10-game homestand in 10 days for the Braves and manager Brian Snitker said the team would go to a six-man pitching rotation.
Bartolo Colon, on the disabled list since June 6 with an oblique strain, will be activated during the San Francisco series and start "probably Wednesday" against the Giants, Snitker said.
The 44-year-old went on the DL after falling to 2-7 with a 7.78 ERA by giving up eight runs in 3 1/3 innings against Philadelphia.