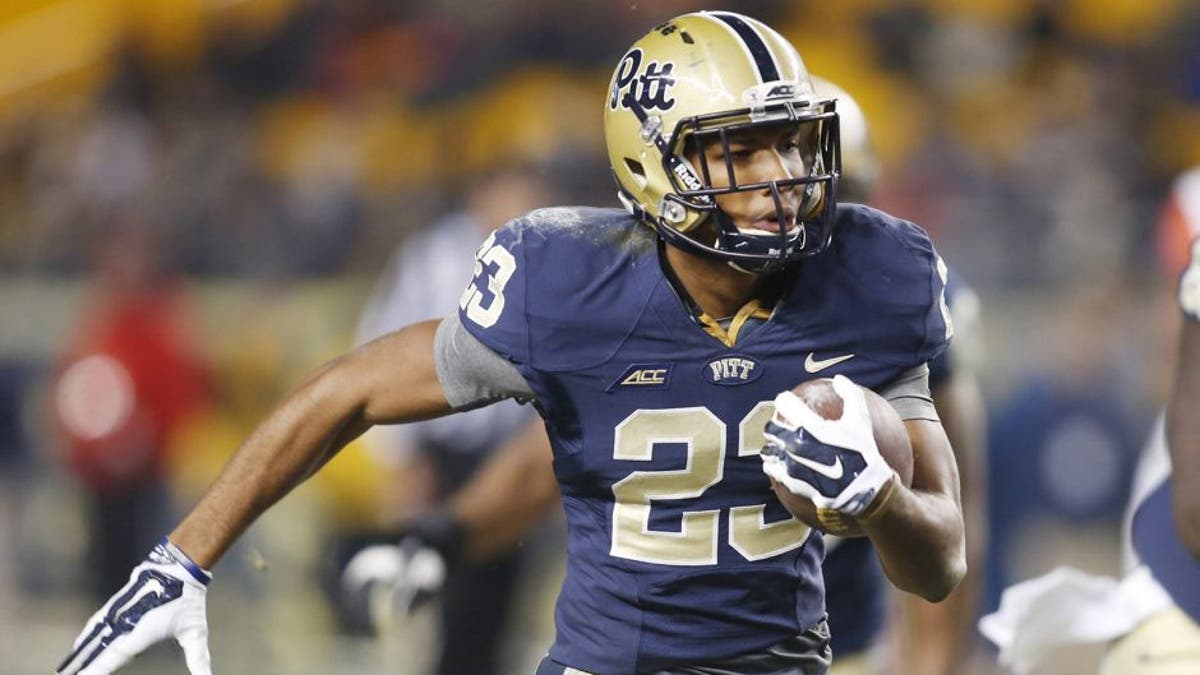 Pat Narduzzi brings a celebrated defensive resume to Pitt, but there's little star power on that side of the ball for the Panthers in his first season.
If the program's fifth coach in five years is going to give the Panthers their second winning season since 2010, it's going to hinge heavily on two dynamic offensive players.
FIVE TO WATCH IN 2015
1. James Conner, RB, Jr.
Seventh in the nation in rushing last season with 1,765 yards and 26 touchdowns, Conner is a legitimate Heisman Trophy contender. The problem, though, is that he shares a conference and a voting region with two of the early season favorites in Clemson quarterback Deshaun Watson, who's healthy after a debut year full of injuries. It's going to take a massive season for Conner to establish himself as the league's premier player, but the ACC Player of the Year in 2014 when he beat out Jameis Winston, should thrive under Narduzzi. At 250 pounds, Conner is a workhorse and Narduzzi comes from a system in Michigan State that made a living out of riding big-bodied runners. Case in point, Le'Veon Bell and his 382 carries in 2012. Expect Conner, who ran 298 times as a sophomore, to push for well over 300 this time around.
2. Tyler Boyd, WR, Jr.
It helps Conner's effectiveness that he has a proven weapon on the perimeter in Boyd, who in '14 became the ACC's first to have 1,000 yards receiving in each of his first two seasons in the league. He had 78 receptions for 1,261 yards as a sophomore. All that being said he was left off the Biletnikoff Award watch list, which the Pittsburgh 'Post-Gazette' found out per an award spokesperson was due to his DUI charge. He's entered a first-time offenders program, had his license suspended 90 days and is required to complete a safe driving program. Doing all that can get the charge expunged from his record. With that road laid out in front of him, and that he's back with the Panthers after a month-long suspension from team activities, means Pitt will have that weapon at its disposal. The Biletnikoff, by the way, is still an option despite that initial snub.
3. Chad Voytik, QB, Jr.
What good are toys like Boyd and Conner if the Panthers don't have a capable triggerman? He was a counselor at the Manning Passing Academy, one of about 40 college QBs invited to the camp, and got the best of Mississippi State's Dak Prescott and USC's Cody Kessler in a throwing competition. Of course, none of that matters if he can't build off a season in which he threw for 2,233 yards, 16 TDs and seven picks. He had a strong completion percentage of 61 and ranked third in the ACC in pass efficiency at 140.2. With his Spartans roots, Narduzzi is likely going to want a game-manager, a task that with the playmakers around him, Voytik seems capable of meeting.
4. Matt Galambos, LB, Jr.
The Panthers were 33rd in the nation in total defense last season, but they're down both of their top two tacklers. That leaves Galambos, the middle linebacker who had 72 last season, as the most potent player back from that unit. Narduzzi demands a physical, aggressive style from his defenses, as does coordinator Josh Conklin, who ran a system based on Narduzzi's at FIU. It's a simple scheme, a 4-3 Over/Cover 4 that allows his players to adapt to how the offense is lining up. From that end, it may not be a huge learning curve. "I think 100 percent it's simpler right now. We're just playing football," Galambos told the 'Post-Gazette.' "First few days there's going to be errors, there's still going to be mistakes at practice but I think we're going to limit them each time." There are questions with this D, but it's a new scheme that Galambos, who is especially strong against the run, should thrive in.
5. Rori Blair, DE, Soph.
He survived a stroke and dealt with more off-field issues last month when it was revealed he was caught driving more than 100 mph while under the influence of a drug. Narduzzi says Blair has been punished and more could come, but his inclusion is crucial if the Panthers are going to bring the kind of pressure that's expected in this new D. Blair had a team-high five sacks as a freshman.
Follow Cory McCartney on Twitter @coryjmccartney