Phelps looking to dominate 200 fly at trials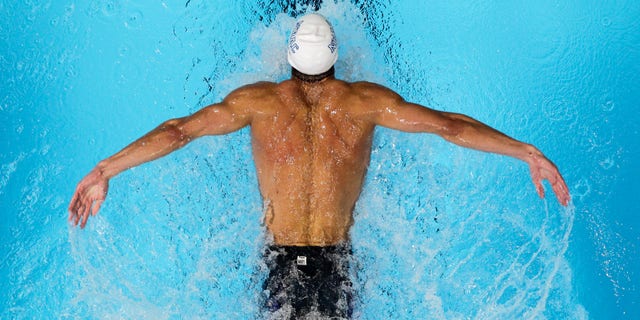 OMAHA, Neb. – Michael Phelps finally gets a night off from battling Ryan Lochte.
The 14-time Olympic gold medalist has the spotlight to himself in the 200-meter butterfly final on Thursday night at the U.S. Olympic trials. It's an event Phelps has dominated over the years, including the last three Olympics and three world championships. He owns the world record in it, too.
And without Lochte, it figures to be a race for second place behind Phelps.
Phelps qualified third-fastest in the semifinals on Wednesday night, trailing leader Bobby Bollier and second-place Davis Tarwater. Also trying to get his hand on the wall second will be Scott Clary. Only the top two earn a berth in the London Games.
Phelps will be watching the rest of the field.
"Every race I track where everybody is," he said. "Anything can happen at any given day."
He finally earned his first victory -- and beat Lochte for the first time -- at the trials in the 200 freestyle. It was another thrilling race between the world's two best swimmers. They churned through the water stroke for stroke, the crowd of nearly 13,000 in full voice, until both stuck out their arms at the wall.
Phelps touched first, by five-hundredths of a second.
He won in 1 minute, 45.70 seconds to Lochte's 1:45.75.
Phelps' coach, Bob Bowman, might be glad to see his superstar swim a race without Lochte, if only to squash the way they've been toying with each other.
"They are so focused on racing each other, they do stuff like tonight, not take it out so fast," Bowman said. "Michael got ahead, and he was like, `Well, I'm ahead of Ryan, I'm okay.' And then Ryan is just waiting to make his move, and he makes his move and they do the cat-and-mouse stuff, and in the process of that they forgot to swim fast."
Lochte won their first showdown of the eight-day meet in the 400 individual medley on opening night, his third straight major victory over the winningest Olympian ever. He followed up by edging Phelps in the 200 free semifinals before Phelps got his revenge in the final.
"We kind of see what each other does and play it out by feel the first couple of laps," Phelps said, "and then when it comes down to it we just put every ounce of energy into the last 50 that we can and need to."
Lochte said he went out too slow in the beginning of the 200 free, a mistake he intends to correct when he gets to London. Phelps' winning time was nearly 3 seconds slower than his gold-medal effort in Beijing, though that was aided by high-tech bodysuits, which have since been banned by the world governing body.
"We didn't really try to pick it up until, like, the last 75, so I'll save that for the Olympics," said Lochte, whose time was 1:45.75. "I was just really relaxed for the first 125, and then the last 75, I was like, `All right, now we've got to put it in gear.' So I kind of waited a little late, but I'll take it."
Lochte will be around Thursday morning competing in the prelims of the 100 free. He's in the same heat as 36-year-old Jason Lezak. Also competing in the sprint event are Nathan Adrian, Cullen Jones and Matt Grevers, who made the team in the 100 backstroke.
Missy Franklin has been expending plenty of energy making her first Olympic team. She won the 100 backstroke, chasing down two-time defending Olympic champion Natalie Coughlin on the final lap to win with an American record of 58.85 seconds.
The 17-year-old nicknamed "Missy the Missile" will swim the 200 free final on Thursday night. Franklin comes in with the third-fastest qualifying time behind Allison Schmitt and Dana Vollmer. The event isn't Franklin's strongest, but she can insert herself into the relay pool for London by finishing among the top six.
"I'm still at this point not even going to consider London," she said. "I'm going to focus here still in the meet. We're not even halfway through it yet, so staying here where I am right now and focusing on the other swims that I have."
Coughlin was looking ahead, too. The 29-year-old swimmer who owns 11 Olympic medals in her long career has one more chance to make her third Olympic team. She would like a shot at winning at least one medal in London, which would tie her with Jenny Thompson and Dara Torres as the most decorated U.S. female Olympians.
Coughlin swims the 100 free prelims on Friday
"I'm looking forward to that," she said. "For the rest of this season, I'm a freestyler."
The trials haven't gone the way Coughlin expected, but not for lack of preparation.
"I've done everything I could possibly do this year," she said. "My training has been frankly amazing and the races haven't been quite there. I'm a little bummed, but not nearly as much as everyone is expecting me to be."
Thursday night's third final is the women's 200 IM. Caitlin Leverenz and Elizabeth Beisel, already on the team in the 400 IM, are the two fastest qualifiers, followed by Ariana Kukors, the 2009 world champion and world record holder.
Grevers won the 100 back on Wednesday night with the second-fastest time ever, 52.08. Breeja Larson scored a big upset in the 100 breaststroke, outracing world champion Rebecca Soni to make her first Olympics in her first trials.